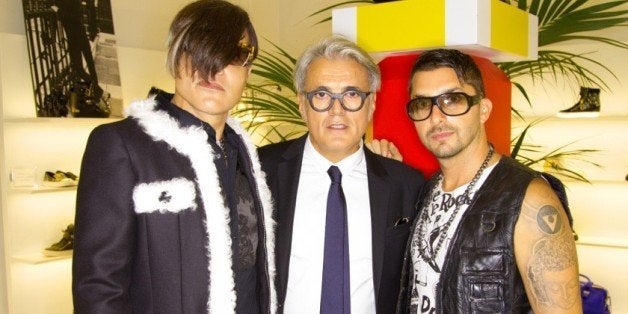 "Come with me, and you'll be, in a world of pure imagination....".
Ah... the magnificence of those simple songs lyrics from my childhood came rushing forth the second I walked into Giuseppe Zanotti's showroom, in the pulsating heart of Milan. The parallels between the scene from the 1971 classic film Willy Wonka & the Chocolate Factory, when the door was opened into this land of flowing chocolate, edible flowers and Oompa Loompas and where I stood awestruck, was undeniable. I was venturing into a fairyland of fashion, where the shoes and sneakers had supplanted the candy and confectionary. The proverbial Magic Box had just been opened for me, where in the rarest of mystical moments, fantasy had become reality.
"We'll begin with a spin, traveling in the world of my creation. What we'll see will defy explanation."
My god, the words from the song kept coming, flowing effortlessly and wistfully from somewhere in the subconscious of my youth to this here and now moment. The magic in the air was palpable to the point where you could almost grab it with your hand. I was on the threshold of a journey. Bolstering this venture was the fact that where I standing was once the former residence of Napolean Bonaparte. Dripping chandeliers adorned the room lending not only to its 18th Century charm, but emboldening its sense of history that permeated my already enlightened senses. But this, pardon the pun, was only the window dressing. The real allure here were the works of Zanotti, whose shoes, sneakers and boots almost seemed to say hello with each passing view. I first noticed the leopard calfskin boot -- which has always been a favorite of mine. But there was something different about this year's debut -- the heel. Zanotti had wrapped the entire 2-inch heel with thin metal plates, giving the boot a more contemporary artistic design. It was the perfect amount of "right", as it brought the boot from a place of great to epic, in a rock & roll, superstar superglam type of way.
My gaze quickly shifted upon a pair of radiant red, high top sneakers, perched in the corner of the showroom, which beckoned me like a beacon spilling its effulgence over the crowd. I had realized that this was not only a unique piece of fashion but a work of art. With its Asian gold metallic dragon design complimenting its sanguine motif, Zanotti's fantastical vision was becoming more and more apparent with each glance of this breath-taking shoe. This man was obviously well aware of the undeniable synergy between music and fashion.
Turning away I was struck by a sense of warmth, which seemed to tap me on the shoulder like an old friend saying hello. I then realized I was standing next to this Willy Wonka of the Fashion world. His gentle aura and disarming smile greeted me with a welcomeness only few people can relay. As he began too speak of his new line, Mr. Zanotti's eyes aglow and replete with wonderment, he explained how the sheer spirit of rock & roll plays a major influence on the designs of some of his new men's boots and sneakers. He referenced artists like Kurt Cobain and Janis Joplin; and excitedly intoned how he views his showroom collection as a candy store, with something for everyone. He loves how people express themselves through his creations, and he strives to give people as much of an imaginative palette as possible. On the flip side, he does opine on the banality of looking through a showroom window with lifeless mannequins and almost wooden shoe accoutrements. The words average and mundane are just not in this man's vocabulary.
But his genius lies in breathing life into this world of fashion. Much like Mr. Wonka, the laces are woven like vibrant strands of taffy, to be pulled to and fro. The high-end fabrics and materials are carefully selected, each delectable ingredients that comprise each work giving them uniqueness and luminescence.
"Want to change the world? There's nothing to it."
My admiration for this man's work goes without saying. His work, vision, and candor all dipped into a big swirling pot of Pure Imagination has made such a profound impact on me, I can still taste it as I wear it. I was going to say that I was simply gobsmacked but I think I'll add everlasting to that. Shit, I was everlasting gobsmacked. Viva La Pure Imagination, Mr.Wonka and Pure Genius, Mr Zanotti!

And now it's Fashion Week in New York --- SUPER GLAM!!!
Related