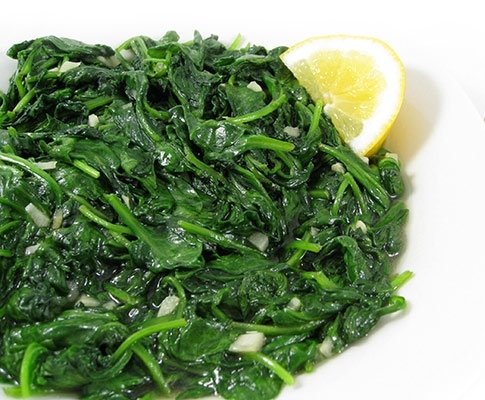 Sauteing with garlic and olive oil brings the taste of spinach up to a whole new level. It's so easy to make and really delicious. Each serving has just 41 calories, 3 grams of fat and only 1 Weight Watchers SmartPoints.
1 tablespoon garlic, minced (about 3 cloves)
1 (12 oz) bag baby spinach leaves
¼ teaspoon salt, or to taste
Fresh ground pepper to taste
1. In a large, deep, nonstick pan or pot, heat olive oil. Add garlic and saute for 1 minute.
2. Add all spinach, salt, pepper and toss with garlic and oil. Cover pan and cook on low for about 1 minute. Uncover pan, turn the heat on high and cook spinach for another minute, or two, stirring with a wooden spoon until all the spinach is wilted.
3. Using a slotted spoon, lift the spinach into a serving dish or bowl and squeeze with a little fresh lemon all over the spinach.
Food Facts
There are two main varieties of spinach: flat-leaf and curly (baby spinach). The flat-leaf kind can be round or pointed while young baby spinach is tender and delicate.
Fresh spinach cooks down to nothing. About 1 pound of raw spinach will yield 1 cup cooked.

Weight Watchers SmartPoints 1
Weight Watchers POINTS PLUS 1
Weight Watchers (old points) 1

SKINNY FACTS: for 1 serving
41 calories, 3g fat, 0.3g sat. fat, 0mg chol, 2g protein, 4g carbs, 2g fiber, 138mg sodium, 0g sugar
Related