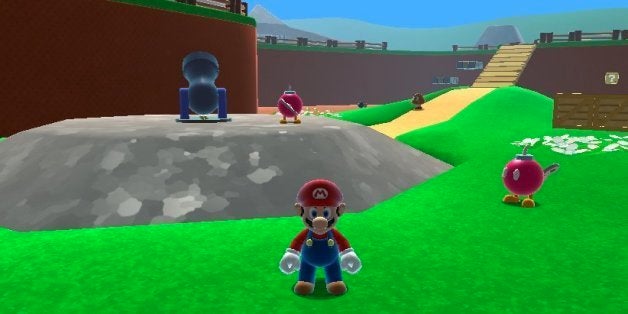 "Super Mario 64" is almost 20 years old. Almost 20! Still, it's endured as a classic game that millions enjoyed -- which is why it's so exciting that you can play the first level in glorious high-definition in your Web browser right now.
Developer Erik Roystan Ross has released a fully functional version of the "Bob-Omb Battlefield" stage, which you can access simply by clicking here. If you don't have it already, you'll be prompted to install the Unity Web Player for it to work. You can also download desktop versions for Windows, Mac and Linux -- it works with your keyboard or Xbox One, Xbox 360, DualShock 3 and DualShock 4 controllers.
Dubbed "Super Mario 64 HD," the game was built using Ross' "Super Character Controller" program and features graphics that are smoothed out and overhauled from the jagged edges present in the original Nintendo 64 version. In fact, it looks a bit like something you might see on Nintendo's Wii U system. We can dream, can't we?
A representative for Nintendo did not immediately respond to a request for comment. This doesn't appear to be an authorized use of the company's famous mascot, though, so you might try giving it a whirl before any cease and desist letters go out.
UPDATE: "Super Mario 64 HD" has been removed from Ross' website following a copyright complaint from Nintendo of America. In a statement to The Huffington Post, a spokesperson for Nintendo said, "Nintendo respects the intellectual property rights of others, and in turn expects others to respect ours. Nintendo is passionate about protecting its creative works developed to entertain its fans and takes the necessary steps to remove unauthorized content distributed via the Internet."
Popular in the Community