 My third and final interview for my "Super Moms" series wraps up with mom-terpreneur, Melissa Lopata. Along with her business partner Ellen Bari, Melissa created a website called the Momasphere, a site that encourages mothers to become "whole women." While the Momasphere is currently local to Brooklyn, New York, Melissa and Ellen are taking it national very soon. A lot of the advice she gave in her interview can be applied anywhere, not just in New York.
Past and future events by Momasphere include book readings and signings, workshops, spa nights, dinner parties, film screenings, and "Mommy Needs a Cocktail" evenings at local bars and restaurants.
And oh, look at that! What a coincidence! The very next Momasphere event is a reading and panel discussion this Thursday, 10/29, on the book, "Does This Pregnancy Make Me Look Fat?" by Claire Mysko and Magali Amadei, and guess who is on the panel? Moi! How about that! For more info, click here.
After interviewing three "Super Moms" for my series I've found two common threads among those women I am inspired by and consider truly "super:" first, they all have fulfilling lives outside of their roles as mothers. And second, they have amazing support systems at home, especially from their husbands. In the year that I've been a mom I've found it incredibly helpful to me as a woman, and to my role as wife and mother, to have activities and things that I do without my husband and son. I go to yoga on Sunday mornings. The Princeling goes to daycare twice a week so I can do freelance writing for money. I'm able to do these things because my husband understands that I did not quit being Meredith when I became Mommy. If I don't cook dinner every night, he'll live. If I leave him alone with the Princeling for two hours every Sunday morning, they'll both live - and thrive, because that helps nurture their father-son bond that has nothing to do with me.
The mantra of Momasphere is "Whole Women Make Whole Mothers." When a woman is happy with herself, when she feels creatively, spiritually, and emotionally fulfilled, then she has the mental and physical energy to be the best mom she can be: a Super Mom. That's something that all three of my interview subjects have made clear, and something I hope will inspire everyone, not just moms or moms-to-be.
One Friday afternoon she brought her two-year-old son over to play, and my husband kept the boys busy while Melissa and I chatted about juggling work, life, and kids, Momasphere, and what, exactly, makes a Whole Woman or a Super Mom.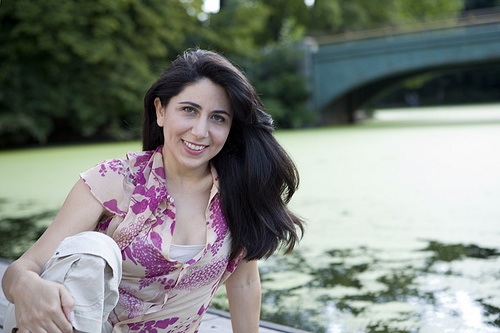 Photo of Melissa Lopata by Hilary McHone
What inspired you to start Momasphere?
I had left corporate America and a very high-pressured position as a VP of marketing. I had made a decision, before I went on maternity leave, to just leave corporate America for at least a little while and stay home with Baby Sphere. It was definitely an economic sacrifice for my family, to lose one very good household income. [Laughs] But we made the decision together.
I think in the back of my mind I always had the DNA of an entrepreneur simmering in me. So I also decided to use that time away to do a bit of soul-searching and figure out what my calling was. I think in the course of that time period when I was with Baby Sphere and doing all this soul-searching...you know, motherhood just becomes so all-encompassing in your life!
It really does!
I don't think moms, or moms-to-be realize how completely all-encompassing it is, what an incredible change of lifestyle it is. It's a different way of thinking about your whole life.
It was interesting to me, and I felt like my transition into the world of motherhood was kind of daunting. I felt like I had to reinvent myself. It became a little overwhelming. For me, I couldn't quite find my niche. [At this point our two boys decide to have a screaming match.] I [didn't really feel like a] stay-at-home mom. Especially, a lot of moms in the city have their babies a little later in life. I had my child when I was almost 40, so I feel like I had developed this character, this personality and way of living that was so embedded in me, so deep, so well-formed, that I didn't really know what to do with myself. I didn't really feel like I fit into the whole "mommy meet-up" environment. [Laughs] I felt like there really wasn't an environment that dealt with the mother in her whole spectrum of being. It seemed like the mommy blogs that were out there, and the mommy meet-up groups, and playgroups, all focused around the child. Very baby-centric.
In a different generation there really was that village, and it really did take a village to raise a child. And it was really good to have that proximity to family. You hung out with people of different generations who were mothers, but not new mothers like you. [With the modern mommy groups] it was the blind leading the blind for me, where we all have this panicked look on our faces. Especially for urban moms and women we live in an environment where we are more transient. You're in the city but you're away from your family. You're not connected to a real support system, necessarily. Sometimes it feels a little contrived, like your access to support is through the same preschool that your child goes to and finding moms in that same environment.
I thought, why not create an environment that transcends all that? Have a wide spectrum of moms, even trans-generational. Everyone [in the Momasphere] is experiencing motherhood at different levels. We all have the same thing, whether it's going to PTA meetings because our kids are older, or talking about diaper changes. I really felt like there was a need to meld ALL moms together and create a place that's not such a baby-centric environment for moms to create themselves as women, beyond just being moms.
So do you see Momasphere, or the Internet in general, as the modern take on "It Takes a Village" for new parents?
Yeah. Actually, my community grew out of my blog, Hip Slope Mama. It was a really interesting way for me to network, while being at home. It's fast, it's quick, and it's incredibly practical. Yeah, I think it's great. I'm all for the community that moms have built online.
But I also feel like there's something to be said for face-to-face contact, and that will never replace the Internet. Especially women, we're drawn to be communicators and have that rapport with one another face to face. So I felt it was important to create something that would blossom off of Hip Slope Mama.
The whole mommy-blogger thing IS fantastic, but I feel like it could also be detrimental, because you can isolate yourself, live online. As my child got bigger I didn't want to create this reality of constantly being online. But it served it's purpose, and for the two years that I've had it I've built up a network of subscribers that are now the base membership for the Momasphere, which is great.
What kind of events is Momaspere having in the near future? Where does the inspiration for these events come from?
Actually, our mantra is "Whole women make whole moms," so at the base of it I really believe that we're all about strong families. We definitely believe that happy moms make happy families! [Laughs]
[I laugh and look knowingly at my husband] I think everyone would agree that when Mom's happy, everyone is happy!
I think my husband would agree also!
At the very foundation, our philosophy for Momasphere and as we put together our programs and events or classes, it's something where we feel like it will enlighten and inspire moms to really dig deep and understand who they are as women AND as moms. I felt like [last night's reading of the new novel, "Prospect Park West" by Amy Sohn] was definitely...I mean, the whole topic of "Park Slope Moms" and everything we're going through and why the book is so controversial, definitely strikes a chord with people. And that's because, while not every word in the book is true and it certainly doesn't apply to every parent in Park Slope, it's still coming from a place of truth, at least initially.
Park Slope definitely has a certain reputation for being militantly family and the moms here are a certain way.
Right, and I feel like if you can't laugh at yourself about being a mom... [Laughs] I think that not every mom is that complete character, which is an overcharacterization. But there are certainly certain aspects of the characterizations that I think I can laugh at myself about.
Where do you see Momasphere a year from now? Five years from now?
A year from now I think we're striving for creating a real grassroots community out of this. We'd like to start focusing in on community. We've had incredibly responses, especially from local businesses, so we're striving to partner with them to bring really amazing services and businesses to moms.
We're looking to expand nationwide, but we want to get it right locally first, get the market right. We've also gotten great support from corporations and national businesses wanting to sponsor us. It's beyond our wildest dreams, really. I feel like the message we send out - whole women make whole mothers - is a way that we approach motherhood, where it's not like we're trying to throw products down mommies' throats, which a lot of moms are already sick of.
Like, if you don't have this, you're a bad mom.
Right! We really are very open to sponsorship, but we are firm on creating an environment for moms where it's all about their development and not so much selling them things like a lot of businesses that target mommies tend to be.
Can you elaborate a little on taking Momasphere nationwide? I know you've also mentioned to me that you're creating mom-friendly programs for the workplace. Tell me a little about that.
Both my partner, Ellen Bari, and I have spent time in the trenches ourselves, living firsthand the lives of hard-working, corporate women and moms, with experience on both sides of the client/vendor relationship. We deeply understand what it's like to be a working mom, whether it's full-time in an office, part-time as a consultant, or any creative variations in between. We've often seen how working mothers tend to be judged with a different kind of scrutiny, eventually rendering them less viable because of the prevailing view that suggests that additional family responsibilities, naturally cut into their loyalty and dedication to the corporation. And while everyone is talking about how moms are leaving the workforce in droves, the reality is that the majority of mothers don't have the financial luxury to simply opt out and stop working altogether.
But in the current economy, even businesses with the best intentions are not able to offer the kinds of family policies, benefits and flexibility that would encourage talented mothers not the leave their companies. So what happens is, these same corporations are actually creating a competitive situation where jumping ship to freelance or work part-time for another company is becoming more attractive than staying in one's current job, because if nothing else, it allows for more flexibility. In both cases, retention of talented mommy workers has become a corporate issue.
This is where Momasphere helps bridge the gap. We are stepping in to offer corporations dynamic programs for their mom employees, to help equip them with valuable information, resources and solutions to navigate this new and challenging landscape. Our programs are innovative, thoughtful and engaging, led by hand-picked experts, who understand the predicament working moms find themselves in.
While many of the issues facing corporations today, particularly with respect to the fraying relationships with their mom employees, requires broad changes in family policy, gender equity and flexibility, Momasphere can step in, in the meantime, to help companies navigate a successful, beneficial retention strategy relationship with their valuable mommy employees. In addition to our creative grassroots events, this is another way Momasphere is committed to building strong families, one mom at a time. As these issues are faced by mothers throughout the country, we hope to create prototype programs that can be replicated nationally.
How important is it for moms nowadays to have a life and an identity outside of their families beyond "mommy" or even "wife?"
It's incredibly important. I feel like a lot of motherhood in the last few years has become over-glamorized. All those celebrity moms make it look so easy! It seems like everyone now aspires to be the coolest mother. I don't think anyone wants to admit that behind the scenes it could get messy! [Laughs] Life's a moving target when you have a child. There's no such thing as a Super Mom. Actually, I shouldn't say that. I think what's happening is that before you're a mom you have all this time and energy and so you take it a little easier on yourself. And then when you have a child and you HAVE to multi-task it sort of forces you to rise to the occasion. I think every mom is a Super Mom!
Ultimately, if you're a working mom then you have to be a multi-tasker at work and at home and it's exhausting. There's no getting away from it. So much of your life, so much of your identity, so much of your character, and everything that you've put into your goals and your creation of yourself was pre-motherhood. So why would more than half of your life suddenly disappear when you become a mom? I feel like a lot of companies and businesses, speaking of exploiting mothers, really are very one-dimensional about how they approach mothers and motherhood.
At the core of it we're women, and I think that's an important aspect of Momaspere.
How do you juggle Momasphere and being a mom?
[Laughs] That's a great question! It's really, really difficult. It's not an easy thing. I have to say, it's two years into being a mom and working on being an entrepreneur, and creating and managing timelines and schedules. My husband and I have had really intense talks about negotiating boundaries related to staring a new business and dedicating time to family. Priorities are always changing, so we're always working on how to transition these boundaries in constructive ways so everyone wins, and it's not easy! Life could be stressful, so it takes commitment and amazing communication skills to create limits and structure around our family life. It's an ongoing process, but I'm lucky to have an incredibly supportive husband.
I remember I was at the Brooklyn Blogfest, on the panel talking about what it's like to be a mom who blogs, and I was one of the only people up there who was like, "It's incredibly difficult and I have had fights about 'How are you going to post tonight when we have to cook?' or I have to do this or do that tonight." It takes an incredibly supportive husband. It's a team effort. Just walking here with the stroller I was walking uphill, on the phone, talking to a potential sponsor-
Ah yes, the slope in Park Slope!
It's just hilarious! I'm always on the phone when I push the stroller, that's my talk time. It's amazing the amount of naptime that becomes phone time. We viewed as an investment sending him three days a week to preschool from 9 to 12:30. But that's time for me to work at home. And of course, my mom is incredibly helpful, too.
So I think it's a combination of creating a support network around yourself, and you have to put yourself first. Because ultimately I'm looking for Momasphere to grow, also so that my family can benefit from having this business and giving back to the community. Hopefully that'll be something that Baby Sphere will learn from.
What do you think are the best and the worst parts of being a parent here in Park Slope?
I love Park Slope. I think in terms of how picturesque and how beautiful it is, it's hard to find a community where you're right by the park, and right by public transportation. You have a ton of baby places!
We were between apartments and had to move out to Long Island. I grew up in Long Island, but I had kind of a culture shock! [Laughs] What I love about Park Slope is being able to walk short distances and have everything right there for you. I'd go to parks out on Long Island and there were no mommies! I was like, "Why did they build this park???"
I would say it can be a little difficult because of that and what I was saying earlier, how I didn't feel like I fit in because everything is so compartmentalized by the age of your child. It was really hard to intermix with older moms and get a feel for other situations out there, common situations.
And yeah, it can be a little competitive. There's definitely...we've already spoken to Joyce Szuflita who is a New York school counselor, and our child is only two, because we feel like we have to have our child ready for the gifted and talented program by the time he's four.
I've heard horror stories about kids not getting into the "right" pre-K!
Right. It's definitely competitive.
I mean, it's great that you can go on any Brooklyn listserve and find, like, a bilingual playgroup. It's all out there. But at the same time it can be so overwhelming.
Speaking of bilingual playgroups, your son, like mine, is multi-cultural, and I've noticed a lot of other of what I call "hybrid kids," or what Children's Health magazine calls "The Obama Generation." [Melissa is South American and her husband is Jewish.] How do you and your husband celebrate your child's multi-cultural heritage, and how do you plan to continue doing so?
That is a REALLY good question! We're kind of still exploring how it's really important for him to have a solid foundation for spirituality, but we don't want him to have cultural ADD. [Laughs] I think, at the end of the day, all roads lead to enlightenment.
We're lucky that we do live in the age of...I forgot what you called it?
The Obama Generation?
The Obama Generation! It makes it a lot easier for us to explore our options.
Do you think living in Park Slope helps that, too? Or living in Brooklyn, in New York City?
I think so. I think that urban kids definitely have an advantage in terms of diversity. I think they really have a dynamism about them. You can definitely tell who grew up in an urban environment, they're just so quick on their toes. I can already see that Baby Sphere is already developing that adjustability that is a great thing to have in this world.
Just the fact that we are multicultural, and we did find each other and we are his parents is just a great lesson in life for him growing up. He'll see that represented within his own family.
What advice do you have for moms out there who are looking for their own voice, or online presence, or even just a little niche of support in their own communities?
I was completely blown away and amazed by the helpfulness and willingness to give people are on the Internet. Although, I feel like it does have its place and can be a very powerful source of connection for women, I feel like it's important to meet face-to-face as well. Nothing ever will replace picking up the phone or meeting face-to-face. But I do feel like you have to be proactive about it. Networking is an art. And when you do it face-to-face in a social occasion it's an art.
But everything on the Internet is also an art and requires research. You need to have that persistence. People want to be approached as specialists, and if you approach people and you ask for advice or to be a guest blogger on your blog, that's a great way to connect. I started my blog and then started asking tons of people who were specialists on the environment, or specialists on something else, to be a guest on my blog, and it was a great way to learn from other women. I definitely think that's one way.
Also, becoming involved in your community is a great way, and it's an important lesson to be learning, that you can give back to your community. You can create events for moms. It's not hard to do. It's important, that connection back to your community.
Check out the Momasphere at http://www.momasphere.com.