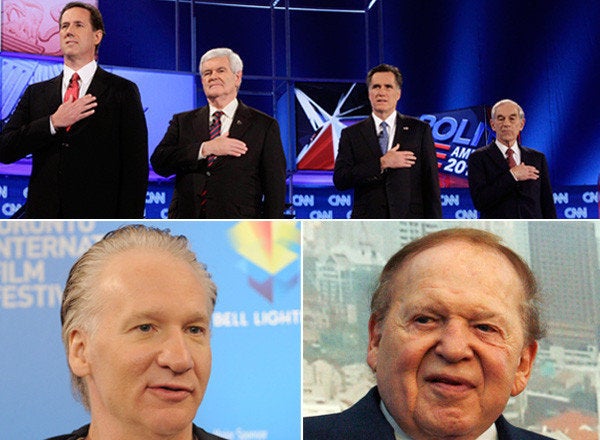 WASHINGTON -- Confronting the reality of big-moneyed donors writing million dollar checks on a whim, presidential campaigns and allied groups are resorting to shame as a political response.
This past week, a coalition of progressive groups launched a campaign to ostensibly warn CEOs of would-be financial repercussions for their companies, should they back conservative candidates or causes. That campaign came on the heels of a concerted push by Republicans to turn a million-dollar check written by HBO's Bill Maher to an Obama-backing super PAC into a political liability. By week's end, the focus on Maher's most politically incorrect barbs had produced results: the president's top communications hand, David Axelrod, had canceled an appearance on Maher's show.
Going after the big political donors has always been considered fair game. But the advent of super PACs in the wake of the Supreme Court's Citizens United decision has forced campaigns to ramp up what once was a side component of opposition research. The goal, increasingly, is not just to draw attention to the big givers, but also to make their lives miserable.
"You are always attacking the messenger and giving voters more information about who the messenger is," said one top Democratic campaign operative. "Now, you are not just dealing with the message but attacking the money-men behind it."
Added a Republican official who, like his Democratic counterpart, was not authorized to speak on the matter: "Both sides have done this for quite some time. What is different now is Citizens United ... Donors who have given big money are now making political statements."
There is an important technical difference that has made big-moneyed giving more prominent and suspect to attack during the 2012 cycle. Political benefactors could write large checks in the past. But their money often went to issue advocacy groups, meaning that it was usually cloaked in secrecy and more limited in its campaign impact. In 2012, wealthy individuals can now write unlimited checks to super PACs, which aren't forced to spend half their resources on policy-based campaigns.
Donors, in short, have more potency. But with it has come an intense spotlight. Business transactions, policy positions and personal associations are fair game. The Koch Brothers, who had for years funded conservative causes, have now been tied to Republican policy as firmly as the lawmakers proposing it. George Soros, long presented as a liberal boogeyman by his conservative critics, continues to be evoked though he has largely shunned the president. Casino-magnate Sheldon Adelson's position on the Israel-Palestine conflict is generally assumed to animate the stance of the candidate he supports: former House Speaker Newt Gingrich (R-Ga.). And when Foster Friess, the wealthy benefactor of the Rick Santorum-supporting super PAC, declared that an effective form of contraception was an aspirin between a "gal's" knees, former Sen. Santorum (R-Pa.) himself was forced to answer.
"It is not just about making it as uncomfortable as possible for the donors, you just find every opportunity to poke holes in every aspect of your opponent's record," said another Democratic operative, also not authorized to speak on the matter. "You make the candidate pay a price for taking their money."
If donor misery is now firmly a goal of campaigns, Democrats have been late to the realize it. Back in 2008, Tom Matzzie, an operative with extensive ties throughout the party, launched Accountable America, a group whose goal was, in its most crass form, to dig up dirt on Republican donors. Aided by research help from Judd Legum, an operative who had run Hillary Clinton's opposition research team, the idea was to turn a tiny bit of start up money into an operation that would scare conservative donors from writing much larger checks to groups like Karl Rove's American Crossroads.
Matzzie quickly ran into problems. Not only was he having trouble fundraising, he was facing skittishness within his own ranks.
"People criticized me for doing it because they were afraid of backlash against progressive donors," Matzzie said. "I was like, 'Are you kidding me? The Right has been attacking MoveOn and George Soros since like 2004.'"
Four years later, sensibilities towards such an operation have changed dramatically. Accountable America remains disbanded. But the function has been embraced more fully by the political parties and campaigns themselves. Turning the heat on a major political donor is not only viewed as an easy way to cause problems for the candidate he or she supports, it's seen as an effective mechanism for keep other prospective donors on the sideline.
"I think the donor community as a whole are very sensitive to these issues. It is very new to them. They are giving big checks and seeing their names in the paper more and more," said the Republican operative.
Added Matzzie: "Now, if you don't have a David Koch part of your campaign you're behind the times ... I think this is a new vertical in politics that is just going to be part of the landscape from here on it out."
Popular in the Community