 WASHINGTON -- The Republican presidential campaign of Mitt Romney and Paul Ryan got another boost from big donors in July. Republican super PACs, particularly the pro-Mitt Romney Restore Our Future and the Karl Rove-founded American Crossroads, both of which are spending big to help the Romney-Ryan ticket, continued to dominate in fundraising after raising $19.4 million in July, compared to $9.73 million raised by their Democratic counterparts.
After pulling in nearly $30 million in July, super PACs have now raised more than $300 million for the 2012 election. Mega-donors giving $500,000 or more to these unlimited money groups remain the biggest source of funds, accounting for 68 percent of all contributions.
Republicans rule among these mega-donors. In total, mega-donors have now given $229.9 million to super PACs out of a total of $337.8 million contributed through July. Of that, $166.9 million came from just 79 Republican mega-donors. Democratic mega-donors, of which there are 42, have given $57.2 million. Another three donors have given $5.7 million to nonpartisan super PACs.
These donations have helped the two top GOP super PACs -- Restore Our Future and American Crossroads -- spend in excess of $18 million to help the Romney-Ryan ticket in July and August.
Super PACs are independent political committees that can collect unlimited contributions from corporations, unions and individuals. The Huffington Post has collected a list of $500,000-plus donors to these groups since the beginning of 2012. New numbers added for July only include super PACs that file on a monthly basis.
The two biggest donors to super PACs in July were Texas homebuilder Bob Perry, with a $2 million contribution to Restore Our Future, and Texas investor Robert Rowling, who, through his own contributions and those of his company TRT Holdings, contributed $2 million to American Crossroads.
Perry is the third biggest super PAC donor, with $13.9 million in contributions while Rowling is now the sixth biggest donor, having given $4.135 million.
A few other previous mega-donors continued to use their deep pockets and those of the corporations they run to fill the coffers of super PACs. Renaissance Technologies CEO Robert Mercer gave $1.45 million in July, including a $1 million contribution to American Crossroads. Subsidiary companies owned by retirement community operator H. Gary Morse chipped in $250,000 to the pro-Romney super PAC, while LGBT activist and architect Jon Stryker gave $750,000 to the pro-Barack Obama Priorities USA Action.
In July, twelve new donors or groups of donors entered the mega-donor club. These donors split along ideological lines, with six giving to Democratic groups and six giving to Republican groups. They included six individuals, three unions and three corporations.
The most notable corporate donor crossing the $500,000-plus line was Weaver Popcorn, popularly known for their microwaveable Pop Weaver brand. The company has contributed $1.4 million to American Crossroads, the super PAC founded by Karl Rove and other top Republican Party operatives.
The Renco Group, owned by reclusive billionaire Ira Rennert, gave $1 million to Restore Our Future, the super PAC backing Mitt Romney's presidential campaign. Renco, which owns subsidiaries specializing in resource extraction and production, is currently embroiled in a lobbying effort to push the United States government to back them in a dispute with Peru over a smelting operation that has caused heavy pollution and health problems in that country.
The third new mega-donor corporation is the Larry H. Miller Group of Companies, which controls the Utah Jazz, the arena in which they play, and a host of other properties in Utah. Miller, who passed away in 2009, was a prominent member of the Mormon church and longtime supporter of Romney. The companies, now controlled of Miller's family, has given $987,000 to Restore Our Future.
Two unions -- United Association and the International Association of Fire Workers -- have now given more than $500,000 after hefty donations in July. United Association, which represents plumbers and pipe fitters, gave $250,000 to Priorities USA Action in July. Its total giving is now $605,000. The fire workers union gave $250,000 to House Majority PAC in July to pump its giving up to $500,000. A third union, United Steelworkers, was discovered to have given $505,000 to super PACs prior to July.
Among the people newly entering the super PAC mega-donor club three were donors to the pro-Obama Priorities USA Action. These included Philadelphia real estate mogul and LGBT activist Mel Heifetz, Cox Enterprises billionaire owner Anne Cox Chambers, and billionaire hedge fund owner and scientist David E. Shaw. The three combined to give $2 million to Priorities USA Action in July and helped bump up their number of mega-donors.
Republican groups pulled in two new mega-donors including the Lindner family, which owns American Financial Group, and Darlene and Gerald Jordan, two major Romney supporters. The Jordans have given $500,000 to Restore Our Future while the Lindners have $600,000 to the pro-Romney group and $500,000 to American Crossroads.
A third individual donor, Stephen Oskoui, cracked the $500,000 threshold by providing in-kind services through his Internet advertising company, Smiley Media, to the pro-Ron Paul super PAC, Endorse Liberty, that he founded.
Aaron Bycoffe contributed reporting to this article.
Before You Go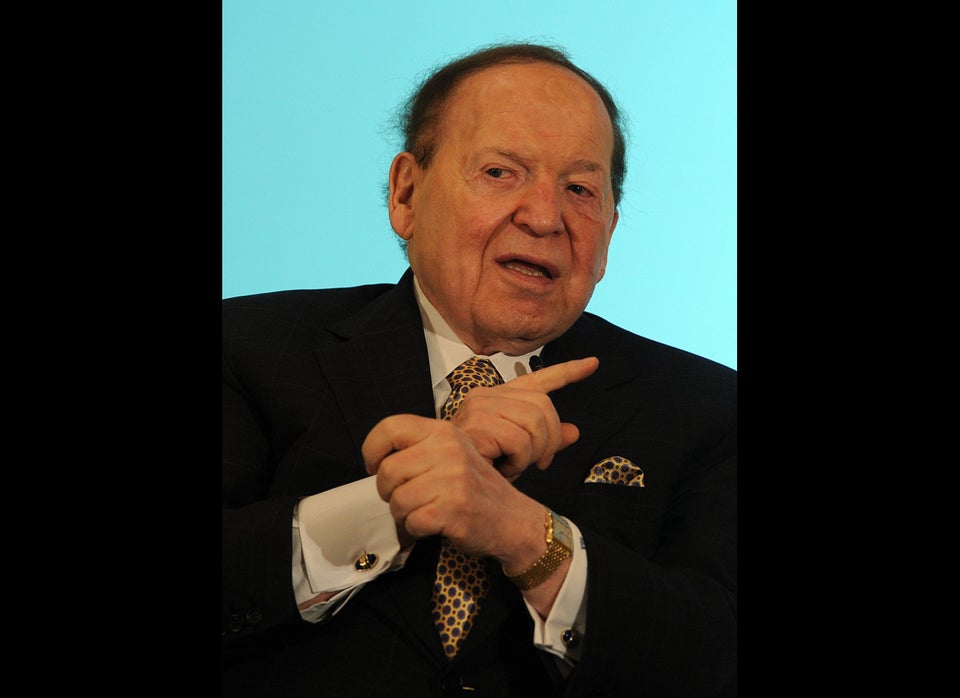 Donors Giving $500,000-Plus To Super PACs
Popular in the Community