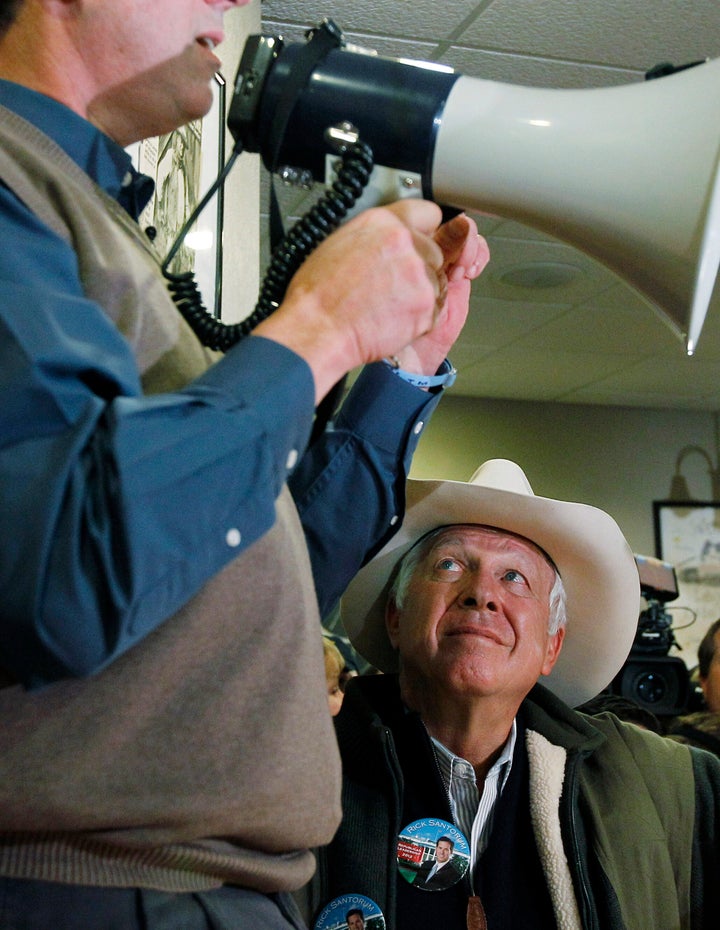 Don't cry for the sugar daddies. Rick Santorum may be down and Rick Perry may be out, but the billionaires and millionaires who bet big on them have plenty of other politicians to bankroll -- especially those running for powerful seats at the state level, like governorships in swing states.
The donors pumping money through federal super PACs in the post-Citizens United universe have in many cases also given extensively at the state level, according to a report from the National Institute on Money in State Politics. Showering local politicians with money has been easy to do for decades, especially in states immune to the tighter post-Watergate campaign finance laws that tried to rein in spending on presidential and Congressional races.
Among the big five super PAC donors -- the handful who have donated a full 25 percent of money flowing through super PACs -- Harold Simmons, Sheldon and Miriam Adelson, and Bob Perry have all spread hundreds of thousands, or even millions, of dollars at the state level. Only Peter Thiel, the iconoclastic libertarian backing Rep. Ron Paul (R-Texas), gave relatively little to local candidates between 2008 and 2011.
Before the Supreme Court's landmark 2010 decision in the Citizens United case, which essentially opened the spigot to unlimited campaign contributions at the federal level as long as they were funneled through super PACs, some states already offered examples of what a donations free-for-all looked like. Candidate Mitt Romney himself has likewise seen the value in spreading campaign cash around to win influential friends at the state level. Since 2008 he has doled out nearly $1.8 million in donations to state officials, according to iWatch News.
Such state contributions have proved especially critical in swing states like Nevada, New Mexico and Pennsylvania, where money changed hands with scant legal limits and donations that would seem relatively minor on the national stage could push the needle in key races.
At the time, the then-"press-shy" Friess lived in relative obscurity. But the conservative Christian had a mission: reverse the social and economic changes made by the Obama administration. In June 2010 Friess joined other major Republican donors in a post-midterm, Koch brothers-sponsored conference that included a session on "how supporters of economic freedom might start planning today" for the 2012 election, according to The New York Times.
Friess seems to have been thinking strategically. Along with other states in the Mountain West, New Mexico has turned into a crucial swing state since 2000, and with that status has come campaign cash. "We just haven't seen that money until recently," said Viki Harrison, executive director for Common Cause New Mexico. But now, she said, national political players are looking to spend in the state, where the political kingmakers of tomorrow are running today -- "and that's going to really trickle down to our state elections."
After Martinez went on to win in New Mexico, the new state campaign contribution law took effect, so Friess won't be able to give a candidate for governor in the state so much money again. But the January 2010 Citizens United decision meant that Friess could spend huge sums directly on candidates' super PACs at the federal level instead.
In Pennsylvania, where Friess also gave Gov. Tom Corbett (R) $100,000, state Rep. Babette Josephs (D-Philadelphia) said such free-flowing campaign cash is bound to create a scandal, or at the very least alienate voters. Think of Friess's shudder-worthy comments about contraception, Josephs said -- comments that inevitably became associated with the candidate and former Sen. Santorum (R-Pa.) himself.
"If I were a Republican operative right now, I would be looking for places to reverse Citizens United, because what a mess," Josephs said. "Be careful what you wish for, because it might come true."
Pennsylvania, like 11 other states, has no limit at all on what an individual may contribute to a candidate's campaign. Corbett's history of accepting massive lumps of money from oil and gas companies there has opened him up to heavy criticism as the state debates how much to tax natural gas drilling. Corbett's office has defended a plan to charge hydraulic fracturing, or fracking, companies only a nominal fee on the grounds that he was "was elected under the premise that we do not tax ourselves to prosperity."
The fact that individuals can throw around huge sums in local races is "outrageous" and "needs to be stopped," Josephs said. She is sponsoring a bill in Pennsylvania to put limits on campaign giving there.
"There is no reason in the world why somebody who happens so be rich should be able to snuff the voices of the rest of us."
Texas homebuilder Bob Perry gave Romney $500,000 in March 2011, and then gave Texas Gov. Rick Perry (no relation) $100,000 once he jumped in the race. Perry also gave $2 million in 2011 to American Crossroads, the Republican super PAC unaffiliated with any individual candidate and headed by Karl Rove.
In Texas, critics alleged, that kind of money bought influence. After Bob and Jane Cull bought a house through Perry Homes, they soon discovered, according to NPR, that "The clay soil underneath was expanding and contracting like a sponge as it got wet and dried out. The edges of the foundation began lifting, and the wooden frame began to bow under the stress."
An arbitrator awarded the Culls $800,000 in damages -- but Perry Homes fought the case all the way to the Texas Supreme Court. All nine members of the court, an elected body in Texas, had received money from Perry. The justices overturned the award.
A Bob Perry spokesman denied to NPR that Perry had bought any influence with the campaign contributions. But in nearby New Mexico, where Perry and his wife also gave Martinez $450,000 in 2010, it was the appearance of improprieties that eventually led both Democrats and Republicans to agree to put an end to unlimited campaign donations. Martinez's office did not respond to a request for comment on the donations.
"We've had scandals for decades with that kind of money and with unregulated money, and all the scuttlebutt stories of legislators receiving a briefcase full of cash," said Harrison of Common Cause New Mexico.
Corruption may not always be clear-cut, she said. But the influence of money in politics can be more insidious. "Somebody donates a thousand dollars. Somebody donates nothing," she said. "Who am I going to pick up the phone to first?"
CORRECTION: An earlier version of this article stated that South Carolina Gov. Nikki Haley and her husband spent a weekend at a Texas ranch with Foster Friess and Virginia Gov. Bob McDonnell. Haley and her husband spent the weekend with Friess and T. Boone Pickens, who owned the ranch.
Popular in the Community