WASHINGTON -- Though the next presidential election is still almost three years away, America's super PACs threw themselves into fundraising last year and the coffers filled up. The unlimited-money groups, which drew so much attention in the 2012 elections, raised far more in the off year of 2013 than they did in 2011.
According to reports filed with the Federal Election Commission by last Friday, super PACs raised more than $140 million last year. That's $41 million more than the $99 million the groups raised in 2011, the year preceding both a very busy Republican presidential primary and the most expensive general election contest in history, between President Barack Obama and GOP nominee Mitt Romney.
Super PACs and their flood of money have become entrenched in the American political process in a mere four years since the Supreme Court's landmark Citizens United decision opened the door to unlimited spending by independent groups raising funds from corporations, unions and, ultimately, individuals.
"Now that we have super PACs, federal funds are easier to raise and it's a more centralized way for people to structure their organization," observed David Mitrani, a lawyer at Washington's Sandler Reiff Young & Lamb who specializes in campaign finance law.
Source: Federal Election Commission
To see the increasing embrace of super PACs, one need only compare the records over the past three years. Not only are there more super PACs raising money in 2013 -- 156 groups pulled in at least $10,000, compared to just 96 in 2011 -- but there are more of the groups raising very large sums. Last year, 30 super PACs pulled in more than $1 million, compared to just 16 in 2011.
Some of the top fundraisers in 2013 hail from the new class of super PACs that did not exist just two years ago.
Americans for Responsible Solutions, the pro-gun control group founded by former Rep. Gabrielle Giffords (D-Ariz.) and her husband, Mark Kelly, leads the pack with $12.5 million raised in 2013. Billionaire investor Tom Steyer, the top super PAC donor last year, pumped $11.1 million into his CE Action Committee to elect candidates ready to fight climate change.
Other well-funded groups have emerged to promote single candidates or to focus political organizing in a single state. These include super PACs working to support the reelection campaign of Senate Minority Leader Mitch McConnell (R-Ky.), a more robust Democratic Party in Texas and a potential 2016 presidential bid by former Secretary of State Hillary Clinton.
The Tea Party Patriots Citizens Fund is the leading super PAC among Republican-aligned groups with $6.4 million raised in 2013. The group, which Chairman Jenny Beth Martin has called "community organizing for conservatives," is focused on challenging incumbents, including McConnell and Sen. Lindsey Graham (R-S.C.), in primary races.
The rise of the tea party super PAC comes as establishment Republican groups, like the Karl Rove-founded American Crossroads, have faltered following their failings in the 2012 elections. American Crossroads pulled in just $3.6 million in 2013, down from $18.4 million in 2011.
American Crossroads' collapse is indicative of a larger trend as Democratic super PACs have eclipsed Republican groups. Fourteen of the top 20 super PACs in 2013 spend money almost exclusively to aid Democrats, while just six work to elect Republicans.
Democratic-aligned groups like Senate Majority PAC, House Majority PAC and American Bridge 21st Century -- which were formed to provide Democrats with a counterweight to the conservative super PAC onslaught they faced in 2010 -- saw the largest increases in funding among super PACs focused on federal races. Their successes in the 2012 cycle have likely helped them raise more money in the past year.
"We can say this is what we've done," American Bridge communications director Chris Harris said. "We can point to a body of work that we're proud of and donors are impressed with."
Republicans, on the other hand, are increasingly reliant on the "dark money" nonprofit network created and funded by the billionaire Koch brothers. Unlike super PACs, these nonprofits are not required to disclose their donors.
The Kochs' Americans for Prosperity is already leading the way in the congressional midterm elections with more than $20 million spent to run over two dozen ads. This puts the group's spending well ahead of that of any super PAC, a feat noted by Senate Majority PAC spokesman Ty Matsdorf.
"While we may have outraised certain groups, our supporters know the Koch brothers have unlimited funds, so we have to be even more aggressive earlier this cycle," Matsdorf said.
While the Kochs and their conservative donor network dominate the world of dark money, Democratic-aligned donors filled the ranks of the top funders of super PACs last year. Of the 38 donors who gave $500,000-plus to super PACs in 2013, 29 gave to groups working predominantly to elect Democratic candidates. These included Steyer, former New York City Mayor Michael Bloomberg, father-and-son investors George and Jonathan Soros, hedge fund executive Donald Sussman, Silicon Valley billionaires Marc Benioff and Sean Parker, trial lawyers Steve and Amber Mostyn, and Austin, Texas-based doctor and lawyer Carolyn Oliver.
Twelve different labor unions -- representing teachers, carpenters, plumbers, public sector workers, engineers and more -- were also among the $500,000-plus donors with the majority of their contributions flowing to Democratic-aligned groups.
Two of the top donors to Republican groups last year -- indeed, two of the biggest funders of the GOP over the past two decades -- will not be making any more contributions. Wealthy Texas businessmen Harold Simmons and Bob Perry both died in 2013. They each gave more than $1 million to Republican super PACs last year and tens of millions in the 2012 election cycle.
Overall, mega-donors like Simmons and Perry contributed a lesser share of super PAC donations last year. Donors giving $500,000 or more accounted for just 48 percent of all contributions so far this election cycle. That is down from the 60 percent they accounted for in the 2012 cycle.
This drop can be traced to both the decrease in funding for groups that relied on million-dollar donations, like American Crossroads and the now irrelevant pro-Romney Restore Our Future, and the increase in super PACs with a wider base of not super-wealthy contributors. The Tea Party Patriots Citizens Fund raised most of its money from small donors giving less than $200, while boasting only 14 donors who made contributions of $10,000 or more. Similarly, Ready for Hillary garnered most of its money from smaller donors and has voluntarily capped donations at $25,000.
The spending habits of super PACs in 2013 were also quite different from 2011. While the best-funded groups in 2011 focused on the Republican presidential primary contest, many of the better-funded groups last year dropped large sums on state-level races.
Steyer's CE Action Committee, Bloomberg's Independence USA PAC and the Democratic Governors Association's super PAC, DGA Action, all spent big in state-level races. Combined, the three groups pumped in nearly $10 million to support Democrat Terry McAuliffe's successful gubernatorial bid in Virginia. Independence USA PAC also spent $1.3 million to help Democrat Mark Herring win Virginia's attorney general race.
Battleground Texas, the super PAC created by former Obama aides to build the Democratic base in the Lone Star State, focuses almost exclusively on organizing at the state level. Super PACs formed by unions also spent large sums last year on state and local elections, including transfers to state-based groups.
Support HuffPost
The Stakes Have Never Been Higher
Before You Go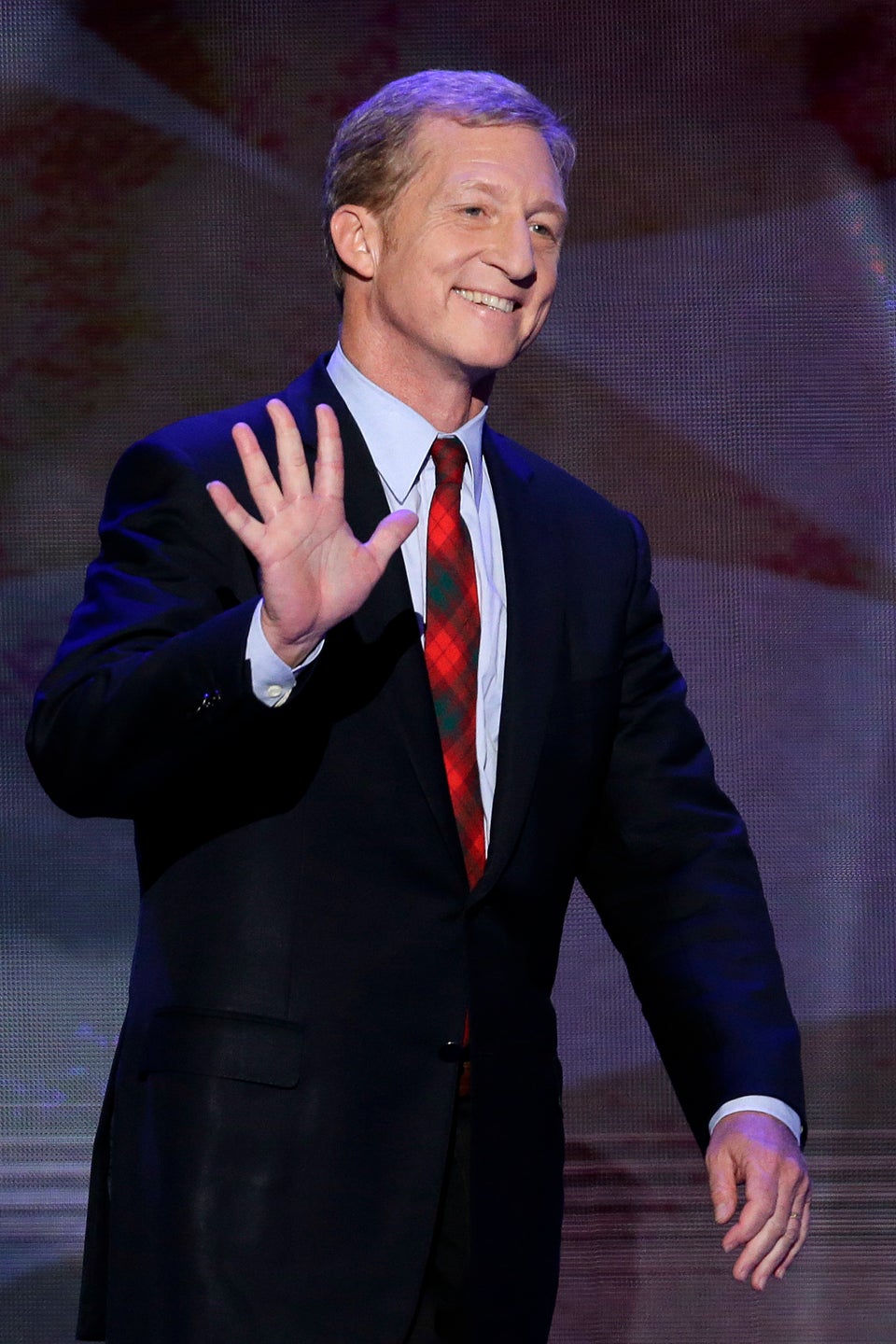 2014 Election: $500,000-Plus Super PAC Donors
Popular in the Community