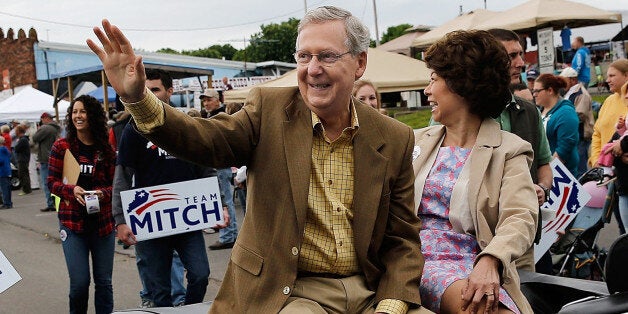 WASHINGTON -- This year, for the first time since the Supreme Court's 2010 Citizens United ruling unleashed the unlimited-money super PAC, the majority of Senate races feature super PACs that focus on just one candidate.
These personalized super PACs had entered the presidential contest in a big way in 2012, as groups emerged to back President Barack Obama, GOP nominee Mitt Romney and practically every other Republican candidate running in the primaries. The groups also appeared in some Senate and House races that year -- but it was nothing like their prevalence today.
The personalized super PAC has become the hot new weapon in 2014's heavily contested Senate races and crucial in some House primary contests. With four months to go until the election, the amount of money raised by these groups is already closing in on the total they spent in the 2012 congressional races.
By the end of June, single-candidate super PACs had raised $35.6 million or slightly less than the $40 million such groups raised for all congressional races in 2012, according to a review of Federal Election Commission records by The Huffington Post. Twenty-two of the 36 Senate contests -- which include both seats in Oklahoma and South Carolina -- feature at least one single-candidate super PAC. Overall, there are 41 in play at the Senate level.
"It just shows you how quickly and dynamically things are changing," said Daniel Tokaji, an election law professor at The Ohio State University's Moritz College of Law and co-author of a recent report on super PACs and other independent political groups. "Evolution isn't the right word for it. We've seen massive shifts."
Back in 2011, Democracy 21 President Fred Wertheimer issued a warning over the presidential-wannabe super PACs. "If these candidate super PACs are not shut down quickly, they will also spread like wildfire to Congress and come into routine use by senators and representatives and their political associates," he said. The dean of campaign finance reformers was on target.
These groups are now fully deployed in every real Senate battle. They have been a little slower to spread to the lower chamber: In the 16 House contests featuring single-candidate super PACs, all but two of those groups have been entirely focused on a primary election.
Who fills for these war chests? Donors range from family and friends of the favored candidate, to loyal party contributors, local businesses and even ultimately undisclosed sources.
In some cases, these single-candidate super PACs, which are directing their efforts to one state, nonetheless receive significant funds from a larger super PAC with a national profile.
Put Alaska First, which supports Sen. Mark Begich (D), has raised $4.4 million, more money than any other single-candidate super PAC. Nearly of its funds have come from Senate Majority PAC, a national Democratic group, and not from Alaska donors.
In North Carolina, the Grow NC Strong group backing Republican Senate nominee Thom Tillis has received $170,000 -- more than half its funding -- from American Crossroads, the national super PAC founded by Karl Rove.
All Citizens for Mississippi, a super PAC run by Bishop Ronnie Crudup to help get out the African-American vote for Sen. Thad Cochran in the bitter GOP primary campaign, was fully funded by another pro-Cochran super PAC, Mississippi Conservatives. The latter group was, in turn, partially funded by American Crossroads and the U.S. Chamber of Commerce.
In a number of other cases, these super PACs, which are legally barred from coordinating with the candidates they support, are funded by family members of those candidates.
Republican Senate candidate Dan Sullivan, who is running to oust Alaska's Begich, is backed by a super PAC funded by his family and individuals connected to his family's Ohio-based business. A super PAC supporting Democratic House candidate Gabriel Rothblatt, who is challenging Florida Rep. Bill Posey (R), is funded by the candidate's mother, United Therapeutics CEO Martine Rothblatt.
Oklahoma Republican Mike Turner was helped in his failed primary bid for a House seat by a super PAC to which his family's trust contributed. Maxey Scherr, a losing candidate in Texas' Democratic Senate primary, was similarly boosted by a super PAC funded by her family members.
In one of the oddest pairings, Republican candidate George Demos, who ran (and lost in the primary) for a New York House seat as a tea party-type bomb-thrower, was supported by a super PAC that received more than $1.3 million from his father-in-law and major Democratic donor Angelo Tsakopoulos.
Sen. Al Franken (D-Minn.) has even helped raise money for the WIN Minnesota PAC, which backs his re-election. (A candidate can legally raise money for a super PAC so long as he or she asks for no more than $5,200 per person.) Donors include Franken friends from Hollywood and New York like Larry David, Michael Douglas, Bette Midler, Mike Myers, Seth MacFarlane, Bill Maher and James Belushi.
New Hampshire Republican candidate Daniel Innis, who is challenging Rep. Carol Shea-Porter (D), receives support from a super PAC funded by businessman Peter T. Paul. Innis had previously solicited $25 million from Paul for the University of New Hampshire business school where he served as dean.
In Nebraska Senate candidate Ben Sasse's case, the GOP nominee received the backing of a super PAC funded by his great-uncle Robert Dunklau, who also had a business school named after him at Midland University, where Sasse was president. Sasse had solicited a super PAC contribution of $5,000 from Dunklau, who actually gave $100,000.
These kinds of close ties between super PAC donors and super PAC beneficiaries raise questions about the possibility of improper coordination. In a recent report based on interviews with former members of Congress and political operatives, Moritz College of Law professors Tokaji and Renata E.B. Strause found that the wall between super PACs and candidates is, in practice, incredibly thin and easily evaded.
"[A]t the end of the day, it's all just kind of a fiction –- it's just kind of a farce, the whole campaign finance non-coordination thing," an unnamed campaign operative told the professors.
The single-candidate super PACs that do not rely on one larger super PAC or a friends-and-family connection often tap a mix of national party donors and local business interests. In fact, many single-candidate super PACs receive a larger share of their contributions from corporations than do their national, party-linked counterparts.
Southern Conservatives Fund, a super PAC supporting Republican candidate Jack Kingston -- who is running for the Georgia seat being vacated by Sen. Saxby Chambliss (R) -- has received more than half of its $748,000 from Georgia-based corporations. These include Medicare supplemental insurance seller State Mutual Insurance Company, real estate property owner Walters Management Company and elderly care facility operator PruittHealth.
The Mississippi Conservatives super PAC that helped Thad Cochran win the Republican nomination also received a big boost from business interests, including Bollinger Shipyards, a past recipient of Cochran's directed appropriations, and Ergon, which operates an ethanol plant that receives subsidies supported by the senator.
Local businesses similarly aided Rep. Mike Simpson (R-Idaho) when he, like Cochran, faced a more conservative primary challenger. The pro-Simpson Gem State Prosperity Fund was run by the Idaho Association of Commerce and Industry and took contributions from J.R. Simplot Company, Potlatch, Micron Technology, Blue Cross of Idaho Health Service and the Idaho Association of Realtors.
A super PAC supporting Sen. Mark Warner (D-Va.) has raised money from Atlantic Cellular Investments, the hedge fund Blue Ridge Capital and a holding company for MicroStrategy stock named Alcantara LLC.
And then there are two single-candidate super PACs that are primarily funded by "dark money" nonprofits, which do not need to publicly disclose their donors.
In Georgia's Republican Senate primary, the Citizens for a Working America PAC, which backs businessman David Perdue, has received nearly all of its $2.1 million from two non-disclosing nonprofits, the Jobs and Progress Fund Inc. and the Government Integrity Fund. The Government Integrity Fund has also pumped $1.05 million into the super PAC Government Integrity Fund Action Network, which supports Arkansas Republican nominee Tom Cotton in his challenge to Sen. Mark Pryor (D).
Because they must report their contributors to the FEC, the money pouring into single-candidate super PACs this year -- and the links between that money and the candidates -- can at least be tracked. Kentucky, Oklahoma and other states have also seen a rise in dark money groups focused on single candidates, and their donors are secret.
Calling all HuffPost superfans!
Sign up for membership to become a founding member and help shape HuffPost's next chapter
BEFORE YOU GO
PHOTO GALLERY
2014 Election: $500,000-Plus Super PAC Donors