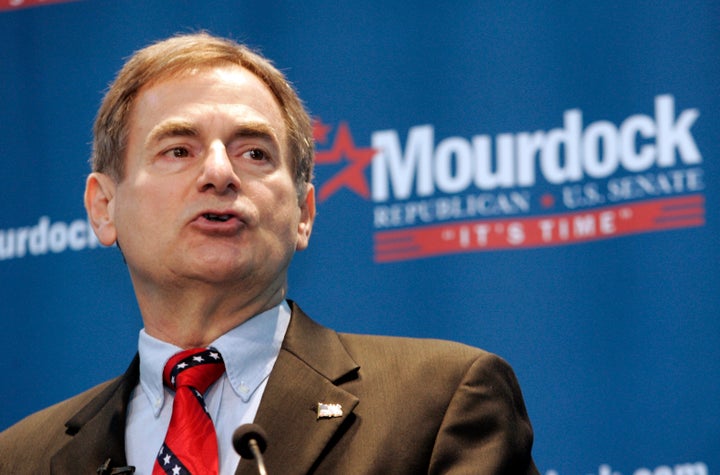 WASHINGTON -- On Tuesday night Indiana conservative upstart Richard Mourdock defeated 36-year incumbent Sen. Dick Lugar in a primary battle that featured no fewer than 12 independent groups -- not connected to candidates or political parties -- spending money to support their favored candidate.
The spending in Indiana was part of an April trend of more independent group involvement in congressional races. As the Republican presidential primary wound down, spending by independent groups in congressional races ticked up.
These groups, the unlimited-money super PACs and nonprofits, spent $7.87 million on congressional races in April, a rise of more than 500 percent from the $1.9 million spent in March, according to a review of Federal Election Commission records.
Congressional races also accounted for two-thirds of the $11.9 million spent by independent groups in April, far greater than the 12 percent expended in March. Spending on the congressional level by these groups is expected to remain high in May and through the year once the general election races begin.
Having been created or freed to raise unlimited contributions in the wake of the Supreme Court's ruling in Citizens United v. Federal Election Commission, these groups have led a massive increase in spending by those unaffiliated with candidates and political parties in the 2012 election. Independent group spending is more than triple the level it was at the same point in the 2008 presidential election cycle.
Spending for congressional races surged in April because of the involvement of conservative groups in Republican primaries, a contested special election to replace retired Rep. Gabrielle Giffords and the emergence of congressional-candidate-specific super PACs.
The biggest driver of the April spending was the Indiana showdown between Lugar and Mourdock. A multitude of super PACs and social-welfare nonprofits inundated the state, spending $3.6 million on television advertising, direct mail, phone calls and even a Tea Party Express bus stop.
Most of that money came from groups opposed to Lugar. They outlaid $2.3 million compared with the $1.2 million spent by pro-Lugar groups. The conservative Club for Growth, mainly through a new super PAC arm, spent $1.68 million to lead the anti-Lugar forces' efforts to defeat the six-term incumbent.
Club president Chris Chocola crowed about the success of the new super PAC, Club for Growth Action, in a fundraising appeal sent Wednesday morning, "The independent expenditure ads run by Action were absolute game-changers in this race. Back in October Lugar led Mourdock by 12 points in the polls and had it not been for the pivotal role Club for Growth Action played in this race, Mourdock might not have been able to overcome Lugar's early and substantial lead."
Conservative groups like FreedomWorks, the National Rifle Association, Citizens United and the Tea Party Express all contributed to the effort to defeat Lugar. And to support the incumbent, establishment groups like the American Action Network, the Eric Cantor-linked Young Guns Network and two super PACs funded by mainline Republican Party donors put up money.
The groups opposed to Lugar did not limit their spending to Indiana. Aside from investing in the Hoosier State, the Club for Growth, FreedomWorks, Sen. Jim DeMint's Senate Conservatives Fund and other conservative groups spent $2.7 million in April on other primary races across the country. That spending will only tick up in May as those elections approach.
These groups are spending big to support Senate candidates Don Stenberg in Nebraska and Ted Cruz in Texas and to oppose Sen. Orrin Hatch in Utah. Spending in these races has accelerated in May as the Club for Growth announced a $1 million investment in Texas to attack Cruz' opponent Lt. Gov. David Dewhurst. The groups have also forked out nearly $500,000 in Nebraska so far in May.
The Club for Growth additionally invested more than $300,000 in April to support Scott Keadle's bid for the Republican nomination in the open seat race in North Carolina's 8th Congressional District. Keadle finished second, but kept the first-place finisher, Richard Hudson, from reaching 40 percent, triggering a runoff election between the two.
In a number of states and congressional districts, the driving force in independent spending is mini super PACs, those supporting just one candidate at the congressional or statewide level.
The ability of these groups to raise unlimited money from big donors and corporations along with a frequent pattern of a candidate's former aide or associate running these super PACs has raised concerns from those at the other end of the spear as well as campaign finance observers and local media outlets.
"If someone drops $15 million in a congressional election it is earth-shattering," said Rick Hasen, a University of California, Irvine law professor.
The proliferation of these super PACs could also raise questions about influence since the majority of these groups are funded by wealthy local businessmen with interests specific to that congressional district or the state concerning government appropriations, tax expenditures and targeted tax relief.
"The people who are spending to influence are not only trying to influence macro political issues. They may have their own local, parochial interests," Hasen said.
The most prolific of these mini-super PACs is the American Foundations Committee, a super PAC that helped George Holding win the Republican nomination on Tuesday in North Carolina's 13th Congressional District. The super PAC, largely funded by Holding's wealthy family members, spent $320,390 to support Holding's bid in April and $550,000 in total.
Following the pattern of the most famous candidate-specific super PAC, the Mitt Romney-supporting Restore Our Future, the American Foundations Committee has expended most of its money to attack the candidate's opponent, Paul Coble.
The News & Observer noted that the super PAC helped increase Holding's name recognition in counties outside his Raleigh home base: "Holding's advertising firepower made a difference outside of Raleigh, where he and Coble have spent their lives. Holding was the top vote-getter in eight of the nine counties."
In Kentucky's 4th Congressional District, a super PAC supporting candidate Thomas Massie, AmeriGOP Super PAC, spent $26,000 to support his campaign in April. The super PAC is run by an associate of Massie and the candidate has even attended fundraising events for the group, which has been okayed by the FEC.
One of Massie's primary opponents, Marc Carey, wrote on his campaign blog that Massie's appearance at the super PAC event raised questions about illegal coordination: "I only know what they say happened and based upon what they said happened, there is the clear impression that discussions relating to a super PAC and it's [sic] support of Thomas Massie for Congress have created an impression where the public could conclude there's coordination."
In Texas two well-funded super PACs have popped up to support Lt. Gov. Dewhurst's candidacy. These two -- Conservative Renewal PAC and Texas Conservatives Fund -- have received big contributions from Republican mega-donors Bob Perry and Harold Simmons. Conservative Renewal spent more than $100,000 to support Dewhurst in April and $175,000 in May.
Both major candidates in the Republican Senate primary in Pennsylvania, Sam Rohrer and eventual winner Tom Smith, had super PACs operating solely to support their bids. Those two groups spent in excess of $100,000 in April.
In May, a super PAC backing Rep. Howard Berman in his primary battle with Rep. Brad Sherman in a newly redrawn congressional district dropped $500,000 into advertisements. The super PAC, called the Committee to Elect an Effective Valley Congressman, has reported contributions totaling $210,000 through the end of March, with $200,000 coming from Peter Lowy, the co-CEO of the shopping mall company Westfield.
Rep. Sherman filed a complaint with the FEC, claiming that the Committee to Elect an Effective Valley Congressman was engaging in illegal coordination. The complaint said a vendor paid by the group had been previously listed as paid by Rep. Berman's campaign.
That vendor, Jerry Seedborg, denied any improper relationship. "I'm am not involved with any consulting or strategy with a super PAC," Seedborg told the LA Daily News. "They simply purchased advertising space on a slate mailer I've produced for more than 20 years. Nothing more."
Super PACs and candidates are barred from coordinating, although a lot of behavior is exempted from this rule and enforcement is practically impossible.
These mini-super PACs will undoubtedly continue to play a role in the coming months. There are at least two dozen of them supporting individual candidates across the country.
UPDATE: 9:20 p.m. -- This article has been updated to include Jerry Seedborg's comments on Rep. Sherman's complaint to the FEC.
Popular in the Community