WASHINGTON -- Tales of super PAC spending in the Republican presidential race talk about the millions of dollars pouring into their coffers. A few specific donors are mentioned.
There's Sheldon Adelson, the casino magnate whose contributions have kept Newt Gingrich in the contest far longer than his own meager fundraising would normally have allowed. And hedge fund billionaire Ken Griffin, who recently told the Chicago Tribune that he thinks the wealthy "actually have an insufficient influence" in the political system.
But Griffin has given only $400,000 to super PACs in the 2012 cycle, which puts him on the lower end of the scale of leading super PAC donors.
At the end of January, there were 59 donors who had given $500,000 or more to at least one super PAC. These donors, whose contributions total $80.12 million, accounted for 61 percent of all contributions to super PACs. Contributions from donors giving over $100,000 -- $111.1 million in total -- account for 85.5 percent of all super PAC donations.
"Super PACs are for the 1 percent," said University of California-Irvine election law professor Rick Hasen.
Just who are the 59 donors who have given at least $500,000?
Forty-one are individuals. Nine are corporations. Seven are unions. The final two are a trade group and a nonprofit funding their own super PACs.
Twenty of those individuals are billionaires or related to billionaires. The other 21 individuals are millionaires and, in a few cases, have a publicly estimated net worth above $500 million.
The reigning king of the super PACs is Harold Simmons, an octogenarian Dallas businessman and head of Contran Corp. Simmons and Contran Corp. have combined to give $14.2 million to multiple super PACs so far this cycle. Nor is Simmons new to independent political spending: He gave major sums to groups like Swift Boat Veterans for Truth and Progress for America in earlier presidential campaigns.
Adelson, his wife and his daughter have combined to contribute $10.5 million to a super PAC supporting Gingrich. Another Adelson daughter and her husband each gave $250,000 to the super PAC as well.
Hedge fund managers, both current and retired, are the single largest group of billionaires contributing more than a half-million dollars each to super PACs. Seven of the biggest names -- John Paulson, Paul Singer, Bruce Kovner, Julian Robertson, Peter Thiel, Louis Bacon, and James Simons -- have given a total of $7.35 million. With their vested interests in tax laws and financial sector regulation, these executives are mainly spending their money to back Mitt Romney's presidential candidacy -- with the exceptions of Simons, who is donating to Democratic super PACs, and Thiel, who bankrolls a super PAC boosting Rep. Ron Paul.
The other super donors hail from a variety of industries. There is Univision founder Jerry Perenchio, investor Robert Rowling, industrialist Jon Huntsman Sr., hoteliers J.W. and Richard Marriott, New Balance Shoes CEO James Davis, coal executive James Craft, TD Ameritrade founder J. Joseph Ricketts, and Kenny Troutt, who formerly ran a multi-level marketing company. All of them, save for Ricketts, are giving to Republican-leaning super PACs.
As of Jan. 31, super PACs backing Republican candidates had received $63.8 million from 35 individuals, nine corporations and one nonprofit each giving over $500,000. Four individuals and seven unions gave more than $500,000 to super PACs backing Democratic candidates for a total of $12.5 million. Three donors gave $3.7 million to ostensibly nonpartisan super PACs.
Before court decisions in Citizens United v. Federal Election Commission and SpeechNow.org v. FEC spurred the creation of the independent expenditure-only committees popularly known as super PACs, the very wealthy had a few other ways to influence elections through independent groups. The most prominent of those were political nonprofits created under section 527 of the U.S. tax code, which were then barred from engaging in express advocacy for a particular candidate. In 2004, wealthy donors funneled millions of dollars into 527s to spend on voter mobilization and political advertising.
There were politically active 527s that "claimed they were not PACs, they did not engage in express advocacy. And they were of questionable legality," explained Hasen, who recently wrote an article for Slate comparing super PAC and 527 spending.
That "questionable legality" likely discouraged some donors. After the 2004 election, the FEC found that many of the big groups -- including Media Fund, America Votes and Americans Coming Together, all financed by billionaire George Soros, as well as MoveOn.org and Swift Boat Veterans for Truth -- had violated campaign finance rules by running express advocacy ads and accepting unlimited contributions to run those ads.
The Citizens United and SpeechNow rulings provided the spark for the outside-spending boom since 2010 by removing that legal uncertainty. That, in turn, has freed candidates, including Romney, Gingrich, Rick Santorum and even President Barack Obama, to embrace the flood of outside spending. The super PACS have revived the same "soft money" fundraising tactics of the 1990s, in which the candidates and their surrogates appear at events where donors pay huge prices for access.
In defense of super PACs, some commentators have suggested that they might help create a more robust democracy by pulling in and speaking for small-dollar donors. As the numbers show, however, super PACs are predominantly relying on large donations from the wealthy.
Moreover, small donors by definition don't need the no-limits option offered by super PACs. Their contributions won't exceed the limits set by campaign finance laws -- an individual donor can give $5,000 per year to a traditional PAC -- allowing them to pool their money in those groups and undertake the same type of spending that a super PAC can.
"Super PACs do nothing to help small donors," Hasen said. "In fact, they can hurt small donors by making their contributions less important."
The sheer number of super PACs may also give the illusion of diffuse political voices. This is also deceiving. While 358 super PACs have been created since the FEC officially allowed their formation in July 2010, only 161 have raised any money at all. Of those 161 super PACs, the 35 groups raising more than $1 million each accounted for 91 percent of all donations.
So Ken Griffin need not worry about the wealthiest Americans not having enough influence over the political system. With the help of super PACs, whose sole function is proving to be allowing rich and powerful interests to pool big checks through innocuously named groups, millionaires and billionaires are sure to be a major force in the 2012 elections.
SEE a slideshow of top super PAC donors:
The slideshow featured below has been updated to include new contributions reported by super PACs in their monthly filings covering the month of February. These numbers no longer align with the above story, but represent a more up-to-date presentation of $500,000-plus super PAC donors.
Before You Go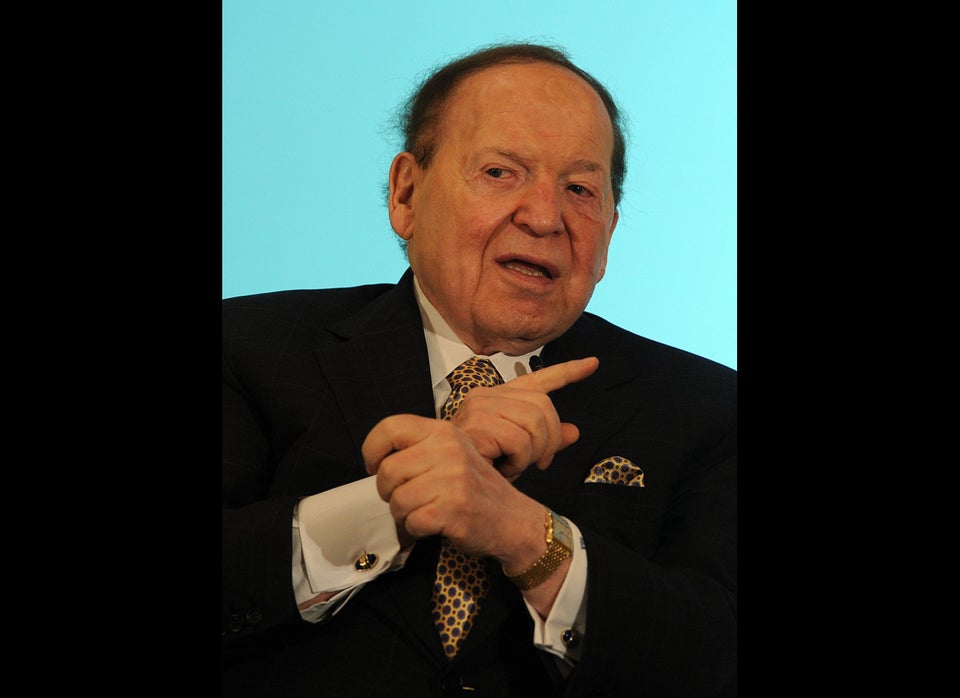 Donors Giving $500,000-Plus To Super PACs
Popular in the Community