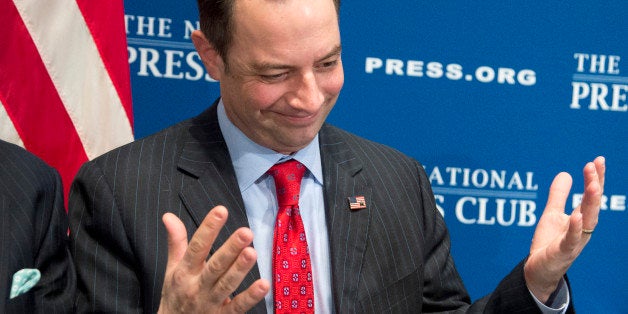 As I've had the opportunity to write about before, the Republican National Committee emerged from the 2012 election bent on making a series of dramatic changes in the hopes of achieving better results. One major area that the RNC examined was the length of the 2012 primary season itself, which to their mind had become a debate-happy horrorshow that ended up playing a role in imperiling their chances. As The Washington Post's Aaron Blake noted in the wake of the RNC voting to "significantly compress its presidential nominating calendar," the big takeaway from the 2012 contest was that it had become "a long, sometimes nasty primary process that Republicans think hurt their chances of winning the presidency."
The race for the Republican presidential nomination is shaping up to be one of the most drawn-out in a generation.

The candidate field looks unusually crowded, with more than a dozen contenders appealing to different slices of the GOP. The rise of super PACs allows candidates to stay in the race longer than before. And nominating rules meant to compress the process may complicate a front-runner's ability to amass the delegates necessary to win.

The result, some GOP strategists say, is that next year's contest has the ingredients to be the longest since then-President Gerald Ford prevailed over Ronald Reagan at the 1976 convention.
The most eye-catching thing about this? That whole part about "the rise of super PACs," which threaten to artificially keep primary bids aloft long past their sell-by date. Republican pollster Bill McInturff shows up in O'Connor's report, emphasizing this:
This cycle, because of all these structural rules changes and the advent of super PACs, people are not going to drop out," predicted Bill McInturff, a Republican pollster who advised Arizona Sen. John McCain in both of his presidential bids.

Candidates abandon their bids and unify behind the front-runner when either they run out of money or a rival has gathered a majority of delegates, conditions that won't materialize quickly this time around, he said. "Republicans have created a system where, because of super PACs, it is hard to project someone winning until late May or early June."
So, it's our wonderfully new and corrupt system of financing elections that's going to ruin it for everyone? I have to say, that's as deliciously ironic as it was predictable.
Calling all HuffPost superfans!
Sign up for membership to become a founding member and help shape HuffPost's next chapter
BEFORE YOU GO
PHOTO GALLERY
Potential 2016 Presidential Contenders