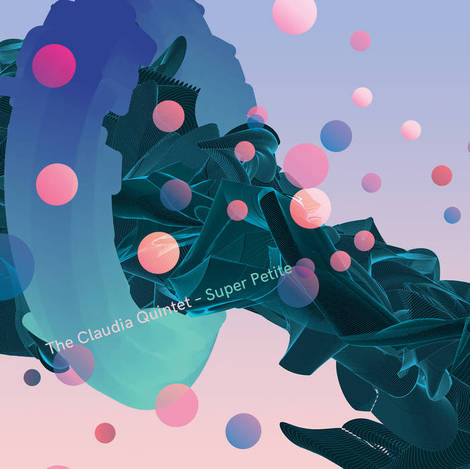 The multi-talented artist John Hollenbeck has been serving up a cornucopia of music that defies categorization since his debut as a leader back in 2001. Besides being a versatile and talented percussionist, Hollenbeck is becoming more generally known as an acclaimed arranger/writer of adventurous music for multiple formats. Looking to expand the breadth of his music, Hollenbeck found it necessary to enlarge his palette of sounds to be able to truly express his musical vision. He has written and arranged for varying formats including his duo with experimental vocalist Theo Bleckman, his Trio Refuge with both Bleckman and keyboardist Gary Versace, his chamber music-like Quartet Lucy, his nineteen-piece John Hollenbeck Large Ensemble (JHLE) and his longest tenured group the Claudia Quintet.
Along the way Hollenbeck, whose name is hardly known outside of a fairly specific segment of the music world, has garnered tremendous critical and professional acclaim. He has received an impressive array of awards for his genre defying work including the 2012 Doris Duke Performing Artists Award, the 2010 Jazz ASCAP Jazz Vanguard Award and a prestigious 2007 Guggenheim Fellowship. His JHLE received Grammy nominations for both of its releases: A Blessing in 2006 and eternal interlude in 2009, and John was nominated in 2014 for his arrangement of Jimmy Webb's "The Moon's a Harsh Mistress" from the album Songs I Like a Lot
.
Super Petite is the Claudia Quintet's eighth and latest release and it once again defies any attempt at categorization. The group is made up of Chris Speed on woodwinds, Red Wierenga on accordion, Matt Moran on vibraphone, Drew Gress on acoustic bass and John Hollenbeck on drums and percussion. As with many of Hollenbeck's titles, the name has a dual meaning. An amusing term used to describe one of the friends of the band as well as a moniker expressing his desire to keep his compositions shorter.
Hollenbeck's compositions all come from everyday life, vignettes as it were, that he sees as interesting enough to explore and extrapolate on in a musical sense. The music follows no dictates it simply uses Hollenbeck's skills at composition and orchestration, his musicians virtuosity and the seasoned simpatico of the group to paint an aural image.
Take "JFK Beagle" and "Newark Beagle" two songs developed from his encounters with the drug and contraband sniffing dogs at those two airports. On "JFK Beagle" Hollenbeck opens with Wierenga's discordant accordion in what seems like the constant droning buzz of tension at the airport security line. Speed's nervously inquisitive clarinet seems to be frantically searching for the illicit booty- like a beagle's nose on sensory overload.
On "Newark Beagle" Moran's vibraphone and Hollenbeck's drums set the stage with a repeating tonal vamp of ascending order. Wierenga's accordion slowly enters the scene, breathing, expanding, searching until he hones in on something that he affixes to with a repeated tone, almost like a Geiger counter centering on its radioactive prey. Once located, the rhythmic team of Gress and Hollenbeck set up a march to lead off the suspect, with Moran's effervescent vibes capturing the excitability of the obviously innocent victim of canine injustice.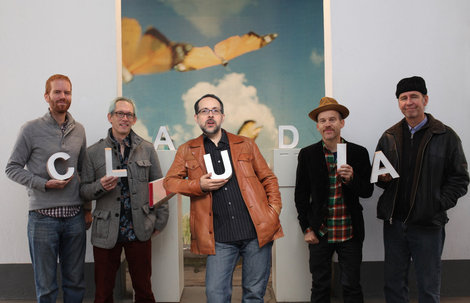 "A- List" opens with Gress' big plump bass lines, Moran's vibes enter in concert starting the repeating vamp, Wierenga's accordion builds on the ascending and descending vamp before Speed's clarinet adds his voice and then Hollenbeck's drums enter. The song celebrates a Hollenbeck fantasy- a "Entourage"- style march up the Hollywood red carpet, but this one a mixture of cocky swagger and geeky shyness. The band embellishes the repeated vamp with layers of sound that meld into a unified whole of weirdly dissonant explorations over Hollenbeck's drums. There is a Swiss movement precision to the way Hollenbeck arranges these seemingly disparate parts to come together to form his musical chronograph.
The opening number "Nightbreak" came about by Hollenbeck slowing down Charlie Parker's famous alto saxophone solo to "Night in Tunisa," although one would be hard pressed to find any relationship to that song. This re-imagination is startling, commencing with the bubbling sound of Moran's frothy vibraphone opening the piece, accentuated by Speed's Pan-like clarinet and Wierenga's calliope sounding accordion. The song is other worldly. Add Gress' plucky bass and Hollenbeck's subtle brush work and you have a minuet of hypnotic originality based on a be-bopper's improvisation from 1946.

The energetic "Philly" is a doff of Mr. Hollenbeck's hat to one of his drumming influences the great Philly Joe Jones. Opening with one of Jones' famous drum licks, Hollenbeck drives this pulsing exploration. Gress' jogging bass line holds the bottom as Chris Speed's tenor works around the edges of the tune. Wierenga and Moran add eerie sounds throughout, giving the song an unsettling feel of impending danger. As the tune winds down Hollenbeck orchestrates the various instruments to simulate Jones spidery and often tumultuous drum work in synchronous fashion.
Hollenbeck was awarded the opportunity to spend six weeks in Peterborough, New Hampshire at the McDowell colony where artists are given time to think, reflect and create in a bucolic setting. "Peterborough" is one composition that came as a result of that respite. The tubular sounds of clarinet and vibes are featured at the opening. Gress carries an ostinato bass line that eventually morphs into a synchronous vamp played by accordion, vibes and clarinet. It is almost as if Hollenbeck is using the disparate sounding instruments as representations of the different artists that he encountered while at McDowell. Different voices all trying to tap into the creative ether. The sound is both unrestricted and yet oddly cooperative.
The Sengalese drummer Doudou N' Diaye Rose was one of the most influential percussionists of the twentieth century, having worked with Dizzy Gillespie, Miles Davis, Peter Gabriel and the Rolling Stones to name just a few. On "Rose-Colored Rhythm" Hollenbeck uses Diaye's "Rose Rhythm" as a basis for his own exploration into the multi-instrumental rhythmic possibilities and as an honorific to the master. Hollenbeck's percussive chops in this West African based rhythmic romp are quite impressive as he and his group manages to create an engaging array of sharp breaks and starts that never lose the underlying pulse.
The remaining repertoire includes "If You Seek a Fox" a dual reference to a sly, sneaky creature and Hollenbeck's least favorite news channel. "Pure Poem" a droning piece based on Shigeru Matsui's "Pure Poem-1007-1103" and "Mangold" a song inspired by the drummer's favorite vegetarian restaurant in Austria.
As is obvious by now, Mr. Hollenbeck can find inspiration in almost anything from the most mundane to the most magical. While not tap your feet or sing along music, this music is fresh, adventurous and compelling. Super Petite is a testament to an evolution in Hollenbeck's compositional development and in the group's ability to translate that vision into a seamless suite of music.
Related
Popular in the Community