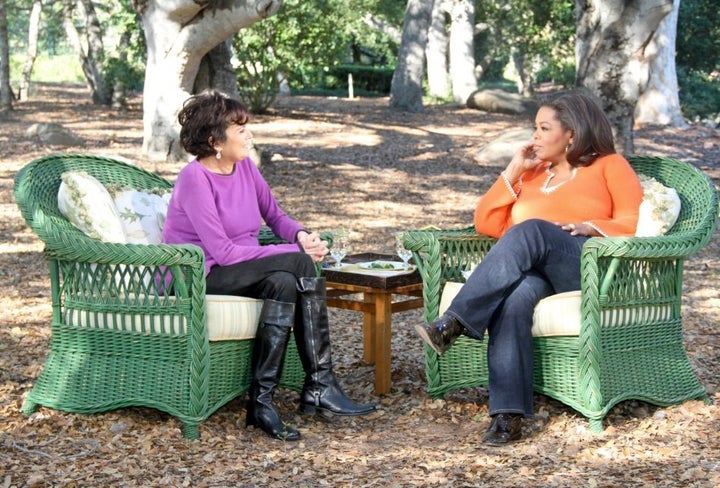 I'm so excited that the viewers of OWN will have the opportunity to see my intimate conversation with Oprah. The conversation changed my own life so profoundly and I am so gratified to know that it touched the hearts of so many others as well.
I saw a headline this week calling my conversation with Oprah a "tell-all," and it made me reflect on what Oprah and I didn't talk about in our very revealing conversation.
If I had to name my greatest value in life, it would be beauty. Whether it's a beautiful flower, a beautiful piece of art or furniture, beautiful fabric or a beautiful piece of clothing that flows and inspires -- I love beautiful things. I've always tried to look my best, knowing that a woman's beauty is a gift from God that she shares with the world. Being a public person had me develop this side of myself even more, sometimes if only to get people to listen to me.
My goal is always transformation. I love to watch people transform their lives, which includes their inner world and their outer world. It is still breathtaking to me to watch people bring love, preciousness and kindness to their inner world, allowing the light of God to shine through their eyes so that the beauty of their soul can come forth. In my advanced trainings, I help people go through their outer appearance as well, seeing if how they look draws people closer or pushes them away, if the clothing they wear enhances their presence or leaves them blending into mediocrity. Since most of the people I train want to be in front of people and want to make a difference on the planet, they learn to see that first impressions are very important. So I find myself always making over the inner and the outer, to find expression for the divine perfection that each of us holds. This is just who I am. I believe my love of beauty and my ability to see what works is a gift I was given by God.
Now on the shadow side to loving beauty, of course, is my distaste for all things that I judge as unattractive, ugly or grotesque. Since I grew up without the money to make things beautiful, I found myself at a very young age critical of my surroundings, the clothes they put me in, the shoes that squeezed my feet too tight, and my buck teeth. I tried very hard to make peace with these circumstances and learn to love myself even though I failed. So my biggest desire as a child was to help people live better lives, to feel loved and to be beautiful. I remember going to the courtroom with my father who was a judge, seeing the jail and wondering why they couldn't make it more beautiful. I always wondered why they wouldn't put better pictures on the walls of my school. As I grew up, I took on the persona of grace, elegance and beauty.
But then I was struck by this devastating disease called cancer. Suddenly I lost 20 pounds and my skin was sagging and wrinkled, hanging from my arms and my knees. I was coughing and hacking up phlegm, which would make me pee in my pants. And then I was put on drugs that blew up my face, what they call "moonface," and bloated my belly to look as if I was six months pregnant. I always had the skinniest legs but here they were dangling out of my clothes that no longer fit. I could barely recognize myself in the mirror. This disease took from me something I never imagined. Slowly, ever so slowly, my vanity was murdered, and I was left with a head of wiry hair, spots on my skin, and tumors protruding from my body. Even when I was called to see if I would come to talk with Oprah for "Super Soul Sunday," I asked if we could tape it weeks later because all I wanted to do was get off the drugs that were making me look this way. I was ashamed. All the feelings of helplessness from when I was a child came to me and my sense of self was gone. Who was this woman in the mirror? I didn't know her. I cried while I was brushing my teeth, wondering where I went. All I wanted was my face back and my body to return to wholeness. Feeling ashamed of my vanity left me hating myself when indeed there was never a time where I needed more of my love and acceptance. I realize now that I was so ashamed that I never mentioned it to Oprah or to the producers that so lovingly wanted to talk about a very difficult subject.
It took a lot of work, but I am so blessed because once I started doing the work that I've taught others for the last 15 years, little by little, I made peace. And of course, like magic, as soon as I owned and embraced that which I didn't want to be, the swelling went down and the self that I knew appeared in the mirror again. It's amazing what a little kindness can do.
The Emmy®-Award winning series "SUPER SOUL SUNDAY"Airs Sunday, Oct. 7 at 11 a.m. ET/PT on OWN.

On the Emmy® Award-winning series "Super Soul Sunday," spiritual leader and author Debbie Ford sits down to talk with Oprah Winfrey. Ford shares her most painful shadow -- her cancer diagnosis -- which she hid for 11 years and only started to talk about this year.
For more by Debbie Ford, click here.
For more Super Soul Sunday, click here.
Related