WASHINGTON -- New surveys in Ohio show Rick Santorum leading Mitt Romney in the state's Republican primary by a much narrower margin than in mid-February. When coupled with the ongoing erosion in Santorum's support measured by national polls in the wake of Romney's victories in Tuesday's primaries in Arizona and Michigan, the new data suggest that Mitt Romney's fortunes may be on the rise just in time for the 10 Super Tuesday contests next week.
Two new polls, conducted by Quinnipiac University and Rasmussen Reports, show Santorum leading by margins of 4 and 2 percentage points respectively with Newt Gingrich and Ron Paul running far behind.
In prior surveys conducted in mid-February, Quinnipiac showed Santorum leading Romney by 7 percentage points and Rasmussen had him ahead by 18.

The two new polls are among the first to be conducted entirely after Romney's victories in Tuesday's Michigan and Arizona primaries. The Quinnipiac University survey was conducted Feb. 29 to March 1 by live interviewers who called 517 likely Republican primary voters in Ohio who were using landline and mobile phones. The Rasmussen Reports survey was conducted on March 1 using an automated, recorded voice methodology that does not reach mobile phones.
The new Quinnipiac and Rasmussen numbers were also roughly consistent with results of a YouGov Internet survey also released on Friday but conducted before and after Tuesday's Arizona and Michigan primaries. The YouGov survey gives Santorum a 6 percentage point lead over Romney (33 to 27 percent) -- slightly bigger than the two new polls but smaller than other surveys conducted earlier in the month.
The HuffPost Pollster chart below, based on all the public polls in Ohio, shows an apparent rise and fall in Santorum's recent support. It estimates that Santorum is leading Romney narrowly (33.7 percent to 31.0 percent) followed by Newt Gingrich (at 15 percent) and Ron Paul (at 11 percent). The sharp rise and fall in Santorum's support on the trend line is mostly the result of the Feb. 15 Rasmussen poll that pegged his support at 42 percent. Without that survey, the line would likely show Santorum's support leveling off in the mid-30 percent range, rather than sharply rising and falling over the last two weeks (click through for a new and improved interactive version that lets you vary the sensitivity of the trend lines).
That said, the trend lines in the Ohio chart are consistent with the movement in national surveys related to the GOP nomination battle. Friday's update of Gallup's daily tracking survey shows Romney leading Santorum by a 12-point margin (35 percent to 23 percent), representing yet another dramatic reversal of fortune over the past two weeks. On Feb. 20, Santorum had led Romney by 10 points (36 percent to 26 percent).
The HuffPost Pollster chart of national polling on the Republican nomination race, again based on all public polls including Gallup, shows a slight increase support for Romney and a bigger decline for Santorum over the last two weeks.
Ohio is just one of 10 states that will hold primaries or party caucuses on Super Tuesday, March 6. It will provide one of the biggest delegate prizes of the day, but its 66 delegates represent just a small slice of the 437 up for grabs on Tuesday. With the possible exception of Georgia, polling in the other states has been sparse.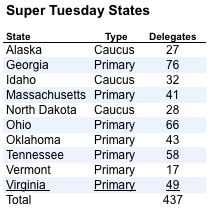 The table below shows results from public polls conducted over the last month in the other Super Tuesday states. Collectively, they provide a fuzzy snapshot, at best of where some of the Republican contests stand. The rapidly evolving national trends means that results that are two or more weeks old are likely out of date. But they show, generally, that Newt Gingrich began with an early advantage in his home state of Georgia, while Rick Santorum held big leads in Tennessee and Oklahoma in mid February.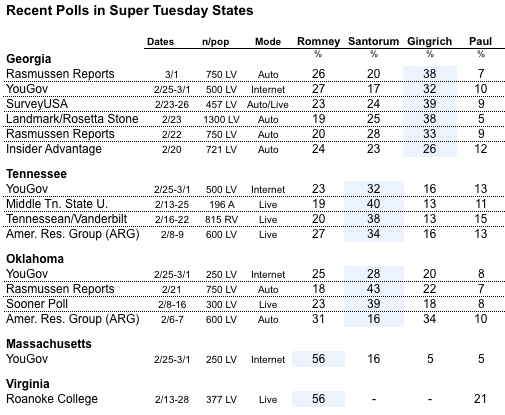 The roller coaster of polling trends in the Republican nomination campaign thus far, however, has helped undermine the predictive accuracy of much of the early polling. As noted by The New York Times' Nate Silver, polls conducted more than two weeks before the early primaries have been much more prone to error than those conducted just before voting.
Consistent with that pattern and the recent national trends, a new set of YouGov Internet polls released on Friday suggest that the early lead for Santorum in Tennessee and Oklahoma may be narrowing. They also show a narrower lead for Newt Gingrich in Georgia than in a new Rasmussen poll also released on Friday. The YouGov surveys also give Romney an enormous lead in his current home state of Massachusetts.
Finally, a Roanoke College poll shows Romney with a similarly large lead over Ron Paul (56 percent to 21 percent) in Virginia, a state where neither Rick Santorum's nor Newt Gingrich's names will appear on the ballot.
So the polling is sparse and dated in four of the states holding primaries next week, and apparently nonexistent in Vermont and the three much harder-to-poll caucus states, Alaska, Idaho and North Dakota. New polls arriving over the next few days may clarify the picture, but for now the polling snapshot of Super Tuesday is awfully blurry.

REAL LIFE. REAL NEWS. REAL VOICES.
Help us tell more of the stories that matter from voices that too often remain unheard.
BEFORE YOU GO