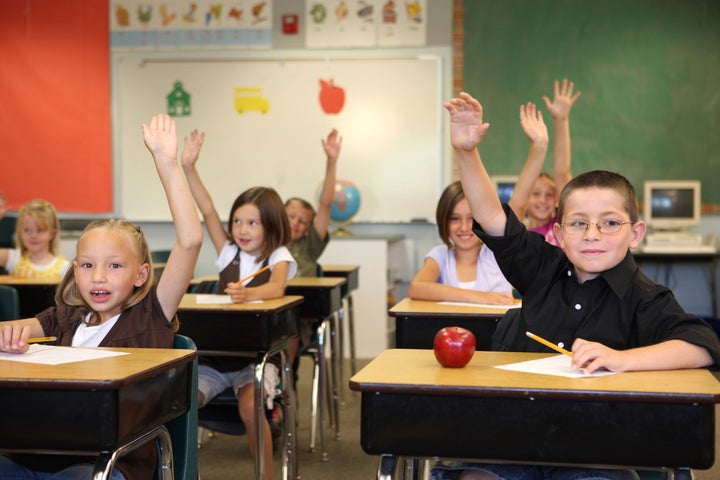 It's Super Tuesday, and Ohio kindergarten teacher Nicole Kessler is frustrated. Budget cuts turned her life upside down this year: To save money on bus routes, her district turned half-day kindergarten into two full days a week and every other Monday. Her school can't afford field trips or professional development, and her classroom supplies were cut in half.
But, as Kessler puts it, you wouldn't know it from watching the Republican presidential campaign. As teachers, parents and education officials in the 10 states that head to the polls today struggle to make it through a distinctly rough patch in education, they, like Kessler, have heard virtually nothing on the topic from the presidential candidates.
So far, the candidates have only discussed education to bolster their conservative credentials, rarely addressing the academic well-being of the country's students or education's impact on the future of the economy. According to an analysis by The Guardian, education has so far only comprised one percent of presidential debate questions.
"I've not heard anyone say anything in Ohio about education," Kessler said. "Mitt Romney and Rick Santorum have been here a lot this week -- and it's been a lot about social issues. And factories."
While her district was able to pass a tax levy to prevent widespread teacher layoffs, if similar levies don't pass in other districts, many Ohio teachers stand to be fired.
To add to that, Ohio Gov. John Kasich (R) has "significantly" cut school funding, Kessler says, and plans to implement a content test for every teacher in the bottom 10 percent of schools, but "he's not sure how he's going to fund it."
The lack of serious conversations about schools on the campaign trail has caught the eye of some well-known education figures. On Monday, Joel Klein, the former New York City schools chancellor who now heads News Corps' education arm, took to the pages of the Washington Post to bemoan the issue. Klein wrote that it's "crazy" that the first time education became visible on the campaign trail was when Santorum mocked Obama's college goals, calling him "a snob."
Klein wrote: "Unless voters insist that candidates give education the attention it deserves, this will be another political season in which both sides offer pablum without seeking a mandate for the ambitious reforms our schools require."
As he explained to The Huffington Post, the "pablum" comes from "this notion that education is a state issue, which is a traditional Republican notion. ... To simply say, 'Let the states take care of it' -- that's not going to get us anywhere."
And while the Republican candidates spar over the economy, joblessness feels more urgent than education, despite the policy area's profound, long-term impact on employment. "People care about gas prices, what's in the news du jour," Klein said. "Thoughtful questions about long-term policy are always much less grabby and much less sound bite-y." In the fall, Klein participated in a candidates' forum on education, organized by the College Board, but the candidates didn't talk to each other -- and only two (Gingrich and Santorum) showed up in the flesh, with Michele Bachmann and Herman Cain participating remotely.
Michelle Rhee, the former chancellor of Washington, D.C. Public Schools who now heads the advocacy group StudentsFirst, has also taken notice. The lack of focus on education is "ridiculous," she said.
"What people are failing to recognize is that we are not going to be able to ensure that our economy recovers in the long term and that this country regains its position in the global marketplace until we fix our education system," Rhee continued.
The 16 states where SF is now working -- including Super Tuesday states Ohio, Tennessee and Georgia -- are now dealing with issues around teacher quality, school choice and fiscal accountability, Rhee said, what she calls "the meat of the issue."
In Georgia, John Barge, the state's education chief, says his schools are grappling with budget cuts and revamped teacher evaluations. "Like the other states, we've done a lot of shoring up with federal dollars," he said in an interview. "For us, that's the greatest challenge: still trying to provide the greatest possible education to our students with significantly reduced resources." And though Gov. Nathan Deal (R) has proposed a slight increase in education funding, Barge said it won't compensate for the dried-up federal funds. Some Georgia districts have seen shorter school calendars and teacher furlough days.
But like Kessler, Barge hasn't heard a peep about it on the campaign trail. "There aren't candidates that appeal to me on education right now, since I just haven't heard them discuss it," he said. "That's it. But in my opinion, education is the number one economic development tool a state or a city can have."
Idaho's schools superintendent Tom Luna paints a rosier picture of the campaign trail so far, though that might be because he's advising Romney. Last year, Idaho passed education laws that require students to learn online, limit teachers' collective-bargaining rights and use merit pay to compensate teachers -- reforms that teachers and parents have tried to repeal.
Luna expects education to become a general election issue. "When people recognize -- and I know that Governor Romney recognizes this -- there is an inseparable link between a growing education system and a robust economy, it'll come up."
In Massachusetts, another Super Tuesday state, charter-school teacher Darren Burris says he's most worried about sharing best practices. While Massachusetts is known for high academic standards and high test performance, Burris said, "there are still places where kids are struggling." But even with his former governor on the campaign trail, he's heard nothing of interest. "Education is a secondary issue at best," he said. "It hasn't been dealt with."
Rhee's SF is considering ways to increase the profile of education in the election. The group counts over one million members in its ranks -- although its unclear how many are active -- and Rhee says quite a few have reached out to ask why the candidates haven't addressed education in any serious way. Rhee said, "There's a groundswell of people who are speaking out saying, 'We want to understand where the candidates stand.'"
Calling all HuffPost superfans!
Sign up for membership to become a founding member and help shape HuffPost's next chapter
BEFORE YOU GO