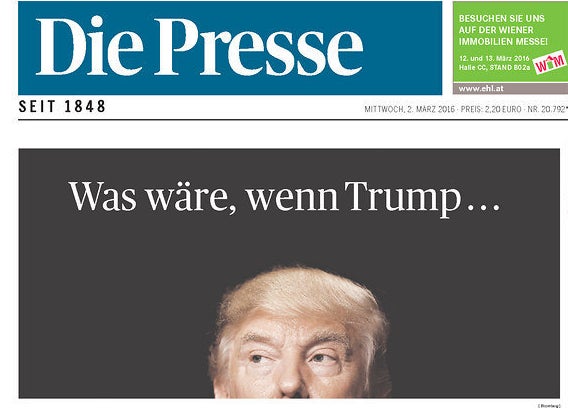 International media turned its eye to U.S. politics on Tuesday, as voters cast their ballots in a day of Democrat and Republican primaries key for candidates trying to secure their party's nomination. While global newspapers noted the big winners were Hillary Clinton (D) and Donald Trump (R), each winning seven states apiece, many outlets covered Super Tuesday as a crippling defeat for the GOP establishment.
The failure of Florida Sen. Marco Rubio (R) to win more than a single state and Clinton's victory received media mentions as well, but it was Trump's dominance that took the largest role in international coverage. Newspapers and media from Mexico to China reacted to the results of Super Tuesday with a large focus on attempting to explain what has made Trump's continued rise and defiance of Republican elites possible. 
"Trump's successful run of results has owed as much to the fractured nature of the Republican field as to his own brutish determination to tap into the mood of anger at large in the US," wrote Britain's The Guardian.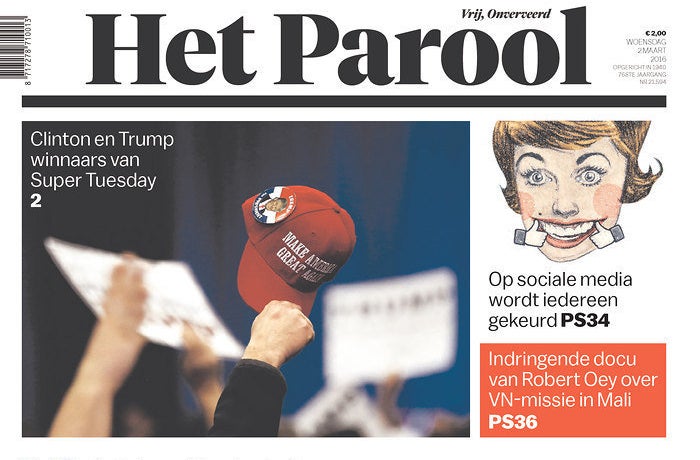 Other outlets focused on how international media itself has shifted the way it reports on Trump. On the Canadian Broadcasting Corporation's "World Report" radio program, journalist Margaret Evans summed up the evolution of the coverage.
"Reaction in the mainstream European media to the political rise of Donald Trump has evolved from treating it as a kind of joke candidacy to horrified fascination," Evans said. 
Here's a roundup of some of the best reports and analyses on Super Tuesday from around the globe.
Spain's El Pais newspaper wrote on the crisis in the GOP and Trump's rise:
"In the battle for the identity of the Republican Party -- between a conservative party and its values, favorable to a liberal market and an aggressive foreign policy, and a nationalist and populist party led by a businessman and a showman who projects an image of a strongman -- Trumpism advances."
"If the alarms had already been going off for days in the Republican Party, which sees Trump as an infiltrator that threatens to destroy it from the inside, now it's time to panic and to desperately seek [alternative] strategies."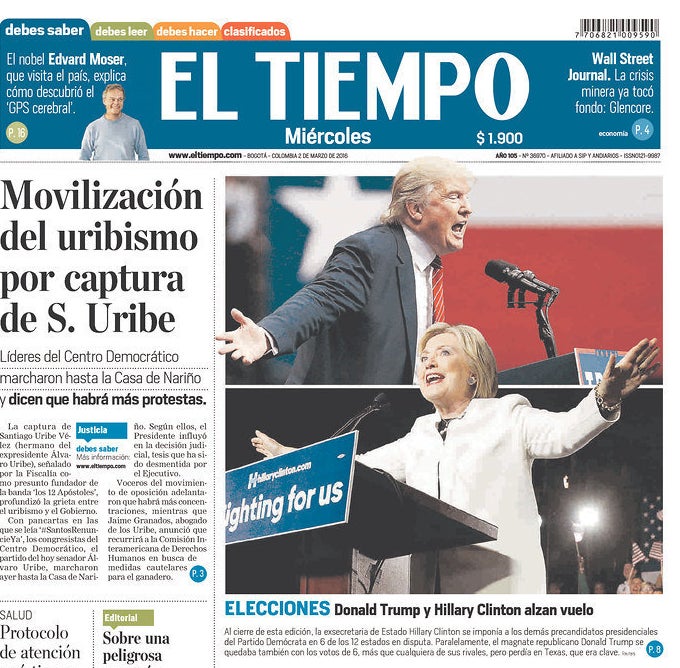 "After Super Tuesday, America is a country where a woman looks more likely than ever to shatter the highest glass ceiling and a bellicose billionaire has succeeded in turning the contest for the world's most important office into his personal reality television show."

"With every primary win -- he added seven more on Super Tuesday -- he moves closer to making the Republican Party his, branding it like a new addition to his string of TRUMP hotels and fancy TRUMP golf courses.
Only the brand isn't just about wealth, celebrity and extravagant self-indulgence anymore; his opponents have rebranded him as racist, misogynist, nativist, xenophobic and a liar."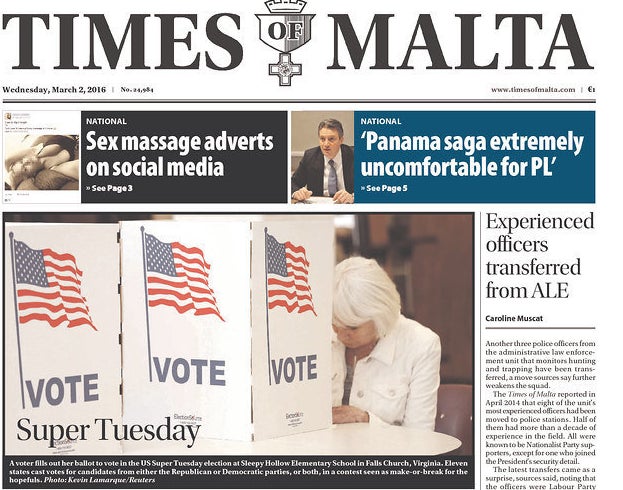 "Faced with a party in turmoil over his ideas to build a wall between the United States and Mexico, deport 11 million illegal immigrants and bar Muslims from entering the country, Trump declared he had expanded the party by drawing in disaffected blue-collar Democrats who like his tough-on-trade rhetoric"
Mexico's The News published a story called "Trump a Threat to the World," which focused on remarks from the country's National Action Party leader Ricardo Anaya Cortes:
"Donald Trump is a threat to Mexico, the United States and the world, said National Action Party leader Ricardo Anaya Cortés.
The political leader said that the candidate does not deserve to represent one of the biggest parties in the world or a country like the United States."
"'Donald Trump is not worthy of representing a country as diverse as the United States, which has been the backdrop for important fights against racial discrimination in favor of equality and human rights. It is thanks to this diversity that the United States were able to become the great power that it is today,' Anaya Cortés added." 
China's Xinhua state-run newspaper published at least two articles heavily critical of Trump, including one with the headline "Why 'Big Mouthed' Trump is 'Annoying But Not Down.'"
Xinhua called Trump "hostile to reality," and noted that while the other Republican candidates continue to fight each other they are "completely without unity to stand up to the 'mighty' Trump."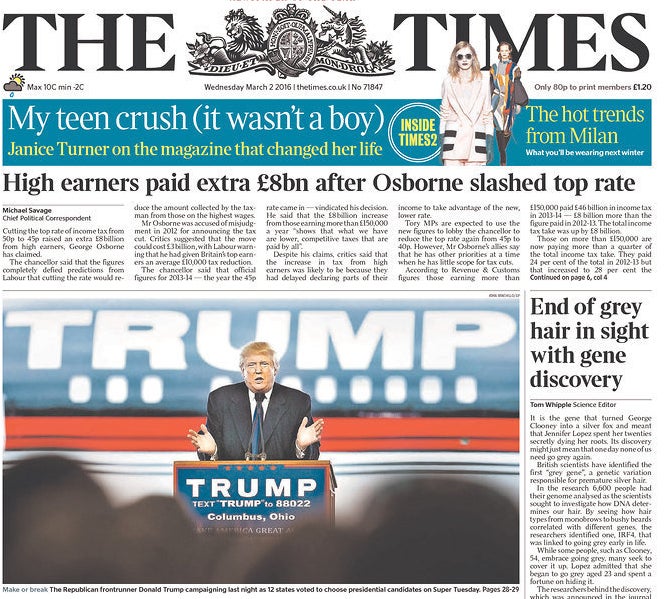 Belgium's De Standaard wrote that Trump's wins "defied electoral logic." The paper also took aim at Republican Sen. Ted Cruz, and the infighting within the GOP:
"Senator Ted Cruz from Texas had a bit of a better day [than Rubio], but his results weren't strong enough to present himself as an alternative to Trump. The Republican leadership, however, probably doesn't mind that, because they like the extremely conservative, ideologically rigid Cruz even less."
Australia's Sydney Morning Herald newspaper also wrote about the Republican rift caused by Trump's victories, as well as running a front-page headline "Super Tuesday: Trumpocalypse Now":
"To the ongoing horror of party elders who view him as dangerously un-conservative, un-presidential and unelectable, Trump is also proving to be the closest thing it has to a unifying figure -- even as he tears the party apart." 
"... many GOP bigwigs are increasingly uncomfortable with Trump's tightening chokehold on the party's nomination for the presidency."
PHOTO GALLERY
Trump On HuffPost Front Pages
Editor's note: Donald Trump is a serial liar, rampant xenophobe, racist, misogynist, birther and bully who has repeatedly pledged to ban all Muslims -- 1.6 billion members of an entire religion -- from entering the U.S. 

Correction: An earlier version of this article stated that Die Presse is a German newspaper. It is Austrian.
REAL LIFE. REAL NEWS. REAL VOICES.
Help us tell more of the stories that matter from voices that too often remain unheard.
BEFORE YOU GO
PHOTO GALLERY
9 Outrageous Things Donald Trump Has Said About Latinos