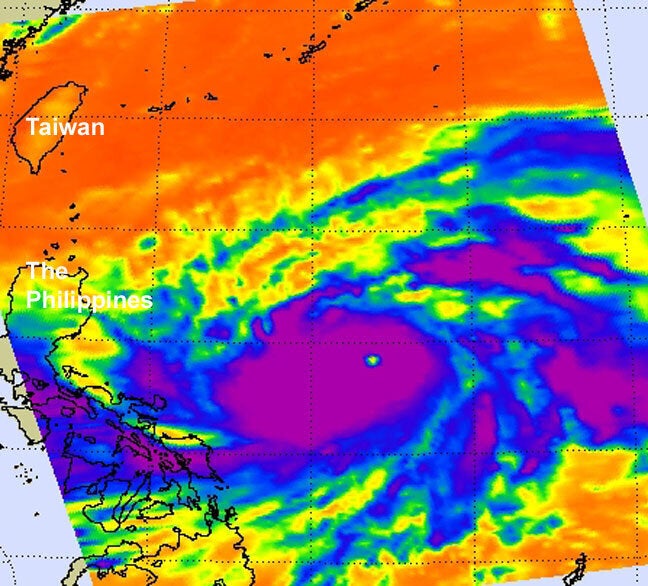 A typhoon is headed toward Japan and South Korea with sustained winds up to 125 mph.
"The bad news: I have never, in all my years of following tropical cyclones, seen a storm this intense here in the Pacific. Super Typhoon Sanba is peaking in intensity at 155 knots, or 178.25 mph, today along with gusts near 220 mph (!!!) – a Category 5-equivalent typhoon on the Saffir-Simpson Scale – and will remain close to that for next day or so."
Early Saturday, the storm had 145 mph winds, equivalent to a Category 4 hurricane, according to AccuWeather's Meghan Evans. The typhoon is expected to continue along the north/northwest path through at least Saturday.
"Even well ahead of Sanba, moisture from the typhoon will meet with a stalled front draped across South Korea. Several inches of rain may deluge southeastern areas before the typhoon approaches Jeju Island of Korea on Monday, local time, and the southern mainland of the Korean Peninsula by Monday night, local time."
Evans reported that the storm will come closest to Okinawa, Japan, by Saturday night. One to 2 feet of rain could pour down on the region, particularly the mountainous terrain of South Korea.
PHOTO: Typhoon Sanba's path. Story continues below.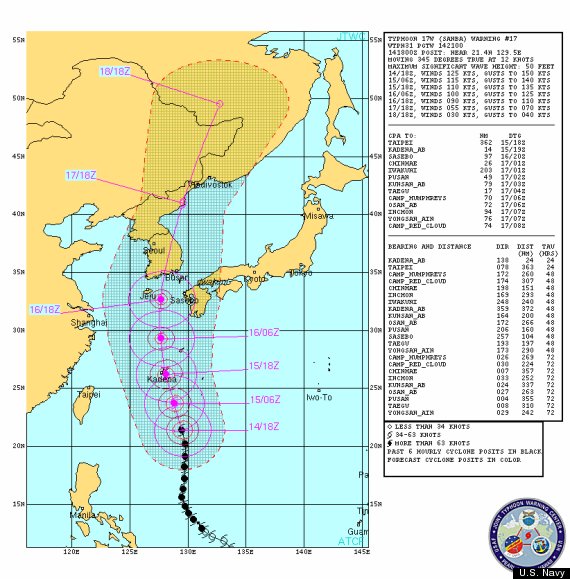 Sanba's path will reach South Korea Sunday night or Monday, according to Weather.com.
NASA examined Typhoon Sanba and the powerful hot towering thunderstorms around its center. Rain was falling at a rate of as much as three inches per hour. As of Friday, Sanba was still tightly wrapped with an eye about 13 nautical miles wide.
If Typhoon Sanba keeps up such violent sustained winds, "catastrophic danger" will occur, according to the National Hurricane Center's Saffir-Simpson Hurricane Wind Scale. Winds higher than 157 mph may result in "a high percentage of framed homes will be destroyed, with total roof failure and wall collapse. Fallen trees and power poles will isolate residential areas. Power outages will last for weeks to possibly months. Most of the area will be uninhabitable for weeks or months."
AccuWeather Senior Meteorologist Eric Wanenchak reported, "It will be a life-threatening situation for the Ryukyu Islands of Japan with winds in excess of 100 mph. The worst case scenario for Okinawa is winds of 120-140 mph."
In August, Typhoon Bolaven killed more than 60 people on the Korean Peninsula, according to CNN. It swept over Okinawa but did minimal damage.