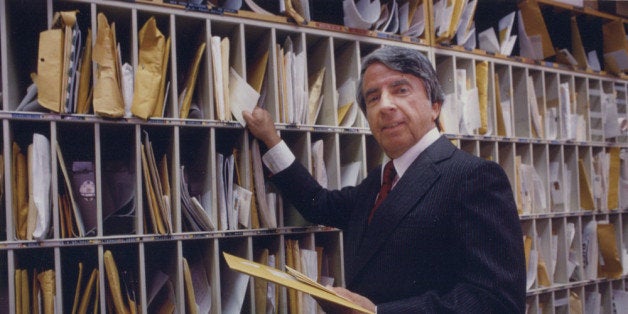 It has been more than a month since my father Norman Brokaw died at the age of 89. My father was beloved by so many in show business, because he truly cared about people and treated clients, colleagues and even his competitors as family. As Motown founder Berry Gordy told us at the memorial service yesterday, my father knew what his clients wanted before they themselves knew. His was an old world integrity that has just about vanished from our culture.
But what I have to share about him is more up close and personal, a measure of the man that may help explain not only why he had A-list clients but also why he had such a remarkable and rewarding life.
If memory serves me right, it was a summer afternoon in 1961. My older brother David Brokaw came up with the genius idea of moving our mother's Ford station-wagon a distance of about 30 feet into the carport. His twin brother Sandy also thought it was a great idea. And so did the 8-year-old me. After all, it was standing right in the middle of the driveway where we usually played baseball. For reasons long forgotten, our mother was not available to do it, so it was left up to a very inexperienced 12-year-old driver.
To get a good feel of the car, my brother backed it up and drove it forward a few times, giving my other brother and I a laughing fit that further emboldened him. Everything was going well until David made a miscalculation, regarding both acceleration and steering. The noise on impact of crushed metal and the cracking and shattering of wood was dramatic and the damage to both the car and the carport was equally impressive. It was loud enough that our neighbor from across the street came rushing over, a nice man named LaBabe Corey. My parents were good friends with LaBabe and his wife Gwen. LaBabe was a Lebanese American businessman and grocer, who spoke with a slight southern accent from his West Virginia roots -- and always brought us delicious pita bread right out of the oven from one of his markets. But that afternoon, we saw a much different side of our jovial neighbor.

My father was beloved by so many in show business, because he truly cared...

LaBabe suddenly incarnated into Foghorn Leghorn that crazy, angry cartoon rooster. "I say, I say, boys! What happened here? What have you done? This is disgraceful! Who did this?" He went on and on and on. And the veins in Mr. Corey's forehead looked like they were going to burst. My brothers and I had one of those WTF moments -- this isn't his place! -- why is he so worked up! --gimme a break! But at the same time, we thought , uh oh--If Mr. Corey is this ballistic, what's going to happen 4 hours from now when Norman Brokaw pulls up in his shiny black Cadillac convertible to discover this. We were doomed prisoners without reprieve.
We had good reason to fear. Our father was a loving and protective father, but he was also very stern, like the God of the Old Testament. We were never spanked when we misbehaved--no need for that--just a harsh glance in our direction was enough to reduce us to tears. And now, we feared his justifiable wrath and retribution.
As he got out of the car, he quickly discovered the big damage to the carport and the car. He then saw three pitiful, trembling figures. We braced ourselves. But our father completely shocked us. He shrugged his shoulders. He cracked a little smile and said and "We'll take care of this." Then he walked into the house like nothing out of the ordinary had happened.
His reaction to this would remain a mystery to me for years and decades to come. After all, our mother Florence had had hell to pay only weeks before before when she scratched that same car against a fence post at the Little League. Why then were we spared?
Cut to around 2004 when my father asked me to help him write his memoirs. It was then that a whole lot of missing puzzle pieces were discovered.
The man who smiled and shrugged his shoulders that day was also the same man who shared with me some tales of his own childhood misdeeds. He told me: "I convinced my teacher and the principal at PS 54 that it was a Jewish holiday, and therefore, I should be excused from school for observance. I was so convincing that I told the rest of the kids to take the day off, too, which they did." The principal gave a modest punishment tempered probably by a begrudging admiration for his budding talent-- Skills of persuasion that he would put to much better use in the years to come. He maybe also thought about the time he played with matches and lit a field of dry grass on fire in the backyard of his parents' Larchmont home when he was much younger. No doubt in that split second decision to show mercy and compassion, he realized how close the apple had fallen from the tree.
From the earliest age, I knew that my father's position of power and influence was based on prowess but the child's mind has no way of intellectually understanding that. There were always famous people (and almost famous people too) coming over to hang out at our swimming pool on weekends. There would be those evening phone calls to clients whose television shows had just aired. "You were terrific," my dad would always say. But again, I had no idea of the depth of his own talent until he started telling me his stories for the manuscript.
There were lots of wonderful memories he shared with me about his family, his uncle Johnny Hyde and Marilyn Monroe (including the time that he got screamed at when he was about to sit on their sofa and crush the plaster model of her new chin) and about many more of the big stars he had worked for... but it was clear that his memory was fading, and the process became more and more frustrating, so we had no choice other than to stop. True to the great agent he was, he read and reread the 80 or 90 pages we had completed. He wanted to make sure that nothing he said would betray the trust his clients placed in him--even though he was essentially less than active at that point. He didn't want a potential new client to think that they might become fodder for his book. It was the big reason why he turned down a big offer from a publisher years before.
Capturing the few pages that we did, I got a glimpse into how his mind worked--and I learned that none of what he accomplished was by accident, that all these famous people who entrusted him with their careers did so for good reasons. He cared. He put the relationship first. He was incredibly creative. He was protective. He was unabashedly enthusiastic. And he could smell the talent in people, whether they were artists and performers or underpaid William Morris mailroom trainees. And it happened literally thousands of times--if someone in the industry, even competitors, needed help of any kind, especially if they or a family member had fallen seriously ill, Norman Brokaw stepped up. He knew the best doctors! He was always there through thick and thin. As he was with us, too, his family...
My father Norman Brokaw left all who knew him with an owners manual of living a life of purpose, of serving others with the highest integrity and doing it all with passion and a great sense of humor. We all must have done something right to be so lucky to have Norman Brokaw in our corner as our father and our friend.
Calling all HuffPost superfans!
Sign up for membership to become a founding member and help shape HuffPost's next chapter