Who says all superheroes wear capes? Some are crafty in the kitchen (call it sandwich sense), while some are armed with nothing more than a pen and a good sense of humor. Still others find themselves with a hairbrush as a sidekick.
Father's Day is a time to remember that all dads are heroes, whether their Super Dad badge is shiny and new, or worse for wear after years of saving the day. That's why we've partnered with Unilever to spotlight the one kryptonite all Super Dads share: how they would do just about anything to care for their little ones.
1. Professor Chex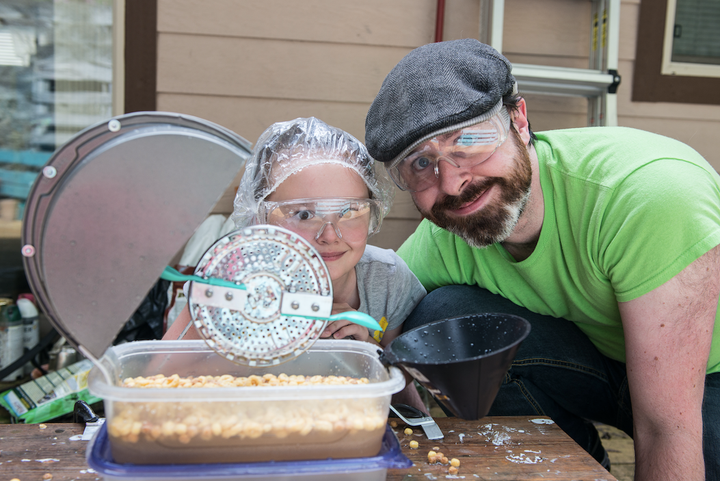 When Ivan Owen's daughter Torrae got tired of her mother telling her to hurry up and eat her cereal, her father swooped in with an utterly Dad solution: helping his daughter to build the world's ultimate "cereal-eating machine," which sprayed cereal into their mouths, but mostly all over the family's deck.
"The end result was horribly impractical, messy and very fun," Owen says.
Torrae is very interested in science, and she and Owen have worked together on projects like this before -- building a slingshot crossbow, casting metal jewelry, even doing a TEDx talk together. The cereal-eating machine was its own kind of crazy, but, as Torrae says, "It's for science!"
"Being a great dad is actually pretty simple," Owen says. "It's a combination of giving time, attention, love and trying to lead by example."
2. Alice's Wonder Dad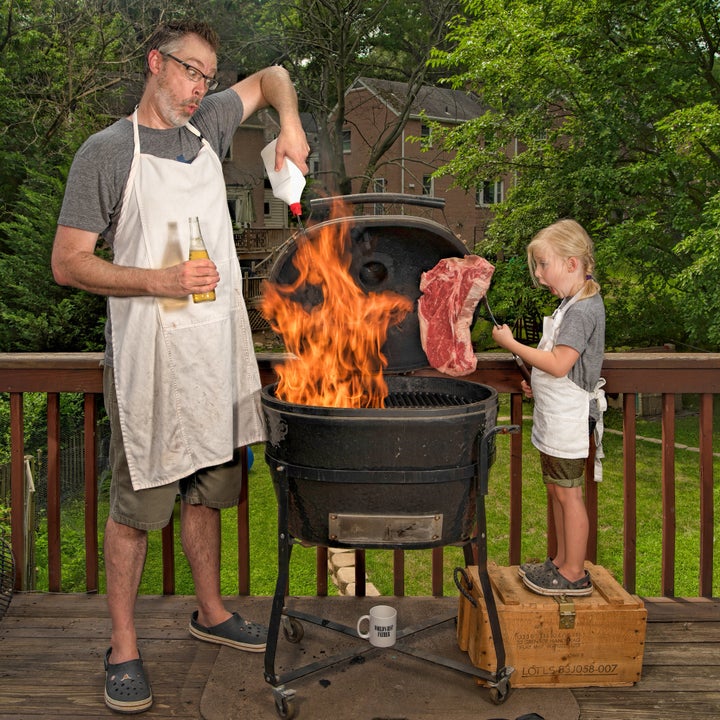 Photographer Dave Engledow is, literally, the World's Best Father. Just look at his mug! Since the birth of his daughter Alice Bee, the two of them have co-starred in series of elaborately staged photos in which Engledow looks spaced-out, overwhelmed and irresponsible while tightly clutching his World's Best Father mug. Lately, he and Alice Bee have been working on picture books that rely on their unique shared sense of humor.
"The area where she most consistently makes me proud is her ability to make jokes," Engledow says. "She is constantly looking for opportunities to be funny, and her timing and creativity in this area are advanced well beyond her years."
"Those little moments when we are smiling or laughing together are, for me, the best part of being a dad."
He's been nurturing that sense of humor her whole life, and says he makes a point of trying to make her laugh once each day. "Those little moments when we are smiling or laughing together are, for me, the best part of being a dad," he says.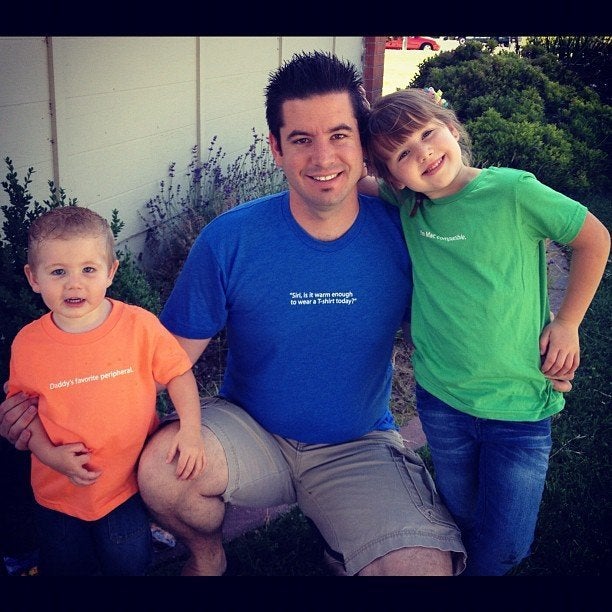 When his daughter started school, Beau Coffron wanted a special way to show he was thinking about her even while she was out of the house. He began making her and her brother special bento boxes every Monday, drawing on movies, TV shows or current events for inspiration. From a hardboiled egg stormtrooper to an iPhone made from sliced apples, the lunches are cute, fun and totally healthy. Bonus? His kids eat them right up.
"No good dad has ever said, 'I wish I had spent less time with my children,'" Coffron says. "Involve them in your life in simple ways and they will remember it forever."
The lunch boxes have been a big hit, online and in the cafeteria, although when he tried to make a box celebrating the Disney heroine Mulan, things kind of (literally) fell apart.
"My daughter came home with a puzzled look on her face," Coffron says. "I asked her how she liked the lunch and she said it was good but the head had fallen off the princess. Basically I gave her a decapitated princess lunch."
4. Pumping Iron Man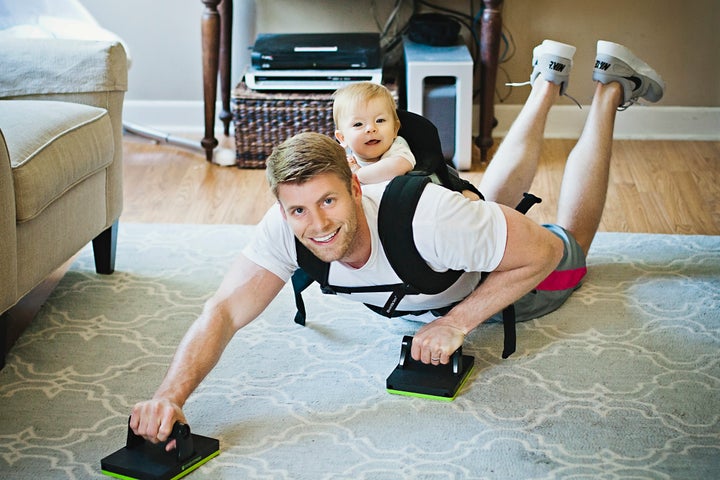 Brent Kruithof, founder of FLYUP Fitness, believes in spending every minute he can with his children. If that means mowing the lawn with a baby strapped to his chest, cleaning the garage with his 10-month-old on his back or taking his 2-year-old to every business meeting he has, Kruithof doesn't mind.
"Everything that I do is better with kids," he says. "It definitely isn't easier, but it is better."
Kruithof's sons are super-energetic, and he and his wife have harnessed that energy during family workout time, when the children join in the exercise by imitating mommy and daddy, or serving as a tiny personal trainer. His son watches the stopwatch, shouting things like "Take a water break!", "Try harder!" or "Why did you stop?!" while his parents try not to fall apart laughing.
"We enjoy encouraging their energy," Kruithof says, "and setting the tone for making healthy decisions at a young age."
5. The Heliumist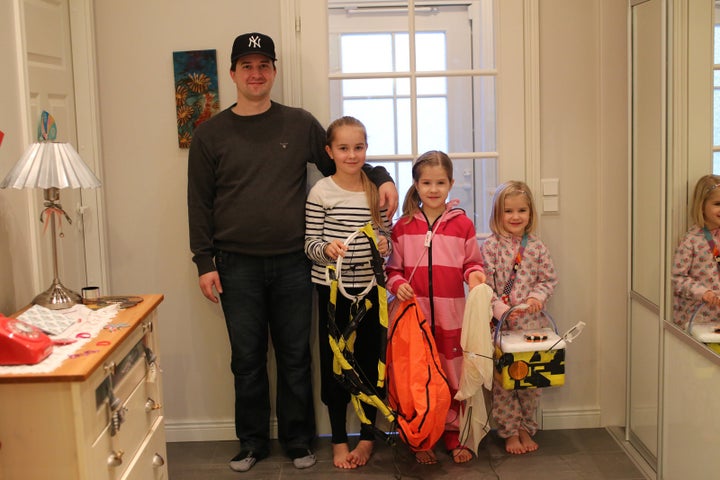 Finnish engineer Tero Tähtinen has three daughters and six godchildren, and as they've grown older it's gotten harder and harder to choose their holiday presents. Last year, he got an idea for a gift that was quite literally out of this world: to attach their pictures to a weather balloon and send it into near space. He ordered parts from all over the Internet, and put together the balloon without letting his family in on the secret.
"My wife was quite furious," Tähtinen says, "since I didn't tell her what I was going to do and she was the last one to know about it."
He launched the balloon with his daughter's help. After two hours, his family pictures were 17.9 miles above the surface of the Earth, looking down on the Baltic Sea and the frozen Finnish landscape. The joy on his girls' faces reminded Tähtinen of one of his most cherished lessons from fatherhood -- it doesn't matter if your kids are boys or girls as long as you love them.
"When my wife was pregnant for the first time," he says, "I wanted the baby to be a boy. I thought that it would be so great to play hockey with a son. Having three daughters has proven thrice over that the gender does not matter [to me] one bit."
6. The Detangler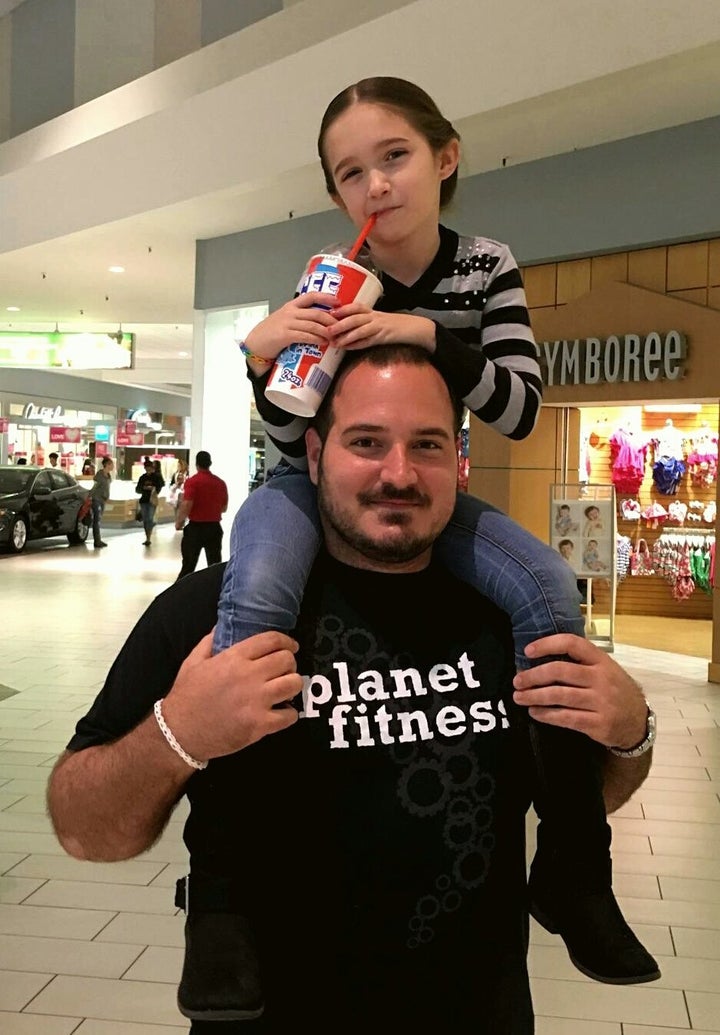 Before he was a father, the only experience Philippe Morgese had with long hair was a grunge rock phase he went through in middle school. When his daughter Emma was 4 years old, she let him know how important her hair was to her, and he decided that, as a single dad, he had to learn everything he could about it. He became such a pro at brushing, braiding and even cutting hair that he started the Daddy Daughter Hair Factory, a course to teach fathers how to handle their little girls' hair.
"She is still too young to understand how much change took place for me to adapt to becoming a father, especially a father to a girl," Morgese says. "So many changes take place, I probably wouldn't even recognize myself 10 years ago."
He keeps his parenting advice simple, saying to read books, listen to the professionals, pay attention to your kid and love their mother, even if you aren't together.
"She is still too young to understand how much change took place for me to adapt to becoming a father, especially a father to a girl."
"My daughter's mother and I have had a rough past," he says, "but deep down I really appreciate her for bringing Emma into my world, so regardless [of] how things work out, her mother will always know how much I love and appreciate her for my life as a father."
7. Captain Comics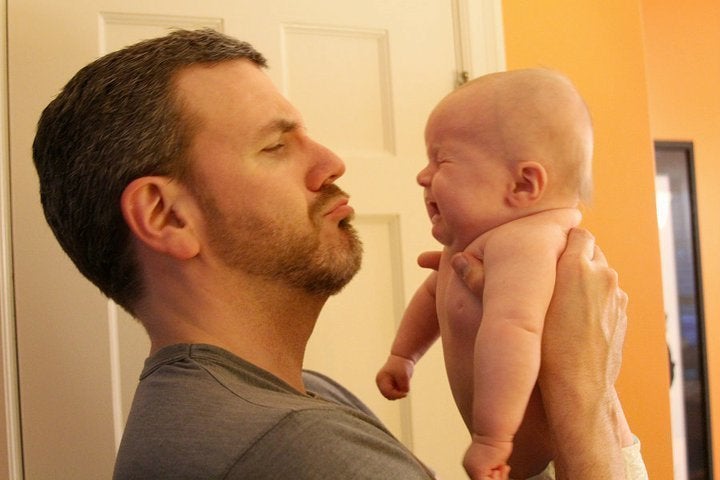 Comic artist Brian Gordon got his start writing a strip called "Chuck & Beans," about two tech-obsessed 20-somethings' messy personal lives. He retired the strip when, as a married father of two, he realized he simply couldn't relate to that time in his life anymore. Inspired by the everyday antics of his children, he started "Fowl Language," a popular comic about one duck's efforts to survive fatherhood.
His fatherhood secret? Admit you know nothing.
"Every parent, especially first-time ones, are making it up as they go along," Gordon says. "While it's easy to get down on yourself because everyone seems to be having a better time and be doing a better job than you, it's not true. It sucks for everyone and those who say otherwise are liars."
8. The Human Flapjack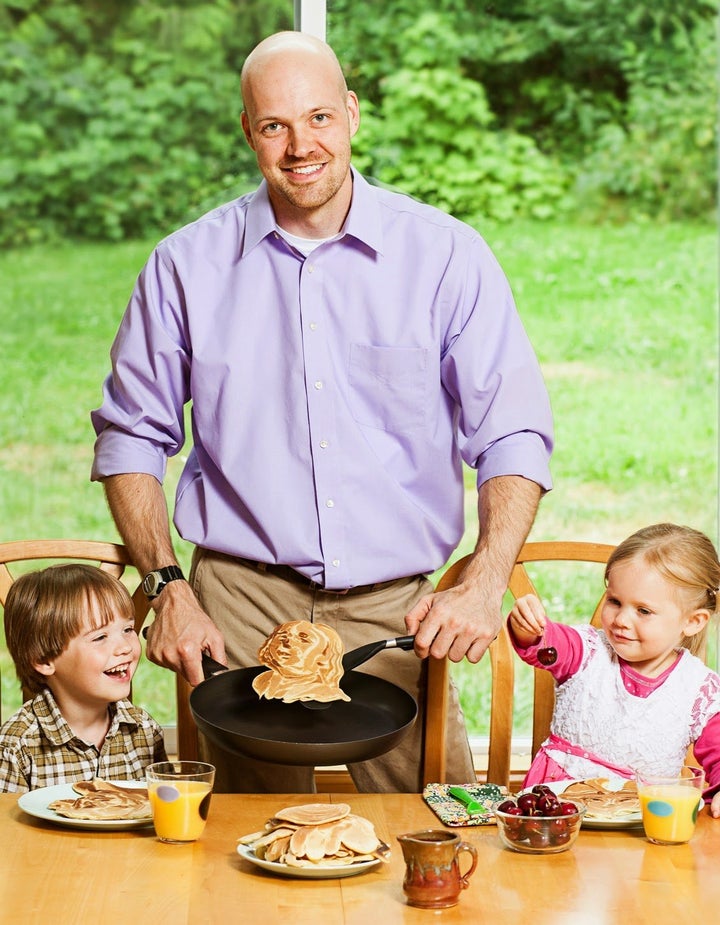 Nathan Shields' journey into the world of couture pancakes started innocently enough one morning, when he drizzled some batter into a hot pan and tried to shape the pancakes into little cars.
"Tada! Applause!" Shields says of the result. "The audience was easy to please."
At that time, his children were 3 and 1. Five years later, they're making their own crazy pancakes -- everything from light sabers and angry birds to ponies and princesses -- and he documents the results online. Shields has learned a lot, he says, from his children's enthusiasm for the project.
"Show your kids that trying is more important than succeeding, that grown-ups are still learning."
"I think everyone could benefit from more childlike curiosity and abandon," he says. "Climb the trees, eat the mud pies, draw pictures, invent songs, tell stories. Show your kids that trying is more important than succeeding, that grown-ups are still learning. Enjoy growing up again."
The great pancake experiment has been a blast, but Shields sees trouble on the horizon.
"Lately they've been asking for waffles," he says. "This is a real slap in the face."
This Father's Day, Unilever celebrates real dads -- whose strength comes from their extraordinary care -- and elevates them to hero status in the eyes of those around them. To see more from other real dads, check out "My Dad, My Hero" an original short film from Dove Men+Care and learn more about the bright future Unilever is creating for the next generation of heroes.
Related