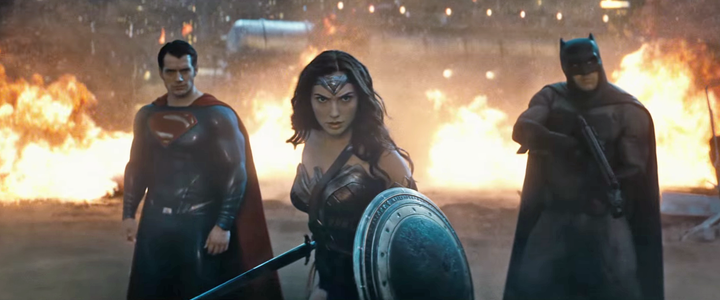 "Batman v Superman" seems to have more people in superhero costumes than all the Comic-Cons and middle school birthday parties combined. But while you're geeking out over the Caped Crusader, the Man of Steel, Wonder Woman or even The Flash, the movie might sneak another superhero right by you.
You'll probably recognize Christina Wren reprising her "Man of Steel" role as Carrie Farris in "Batman v Superman," aka the captain who thinks Superman is "kinda hot." 
What a lot of people don't know is that her character was likely inspired by Carol Ferris from the DC Comics. In the comics, Ferris is the love interest of the Green Lantern, Hal Jordan. She eventually becomes the popular super villain/-hero Star Sapphire.
In an interview with Pittsburgh Magazine, Wren recalls how "Man of Steel"/"Batman v Superman" director Zack Snyder specifically had his casting director track her down for the role of Farris. A future "Green Lantern" movie has already been announced, so could Wren's character eventually turn into Star Sapphire?
"I would be so pumped if those rumors were true. I would definitely geek out," Wren told The Huffington Post.
"For me, growing up, I always wanted to be one of the superheroes, and I just thought those were more for boys, and I would often become sad about that. For me, both getting to experience my childhood dreams come true, as well as to in some way represent that possibility for young girls -- that they can be heroes and they can be fierce and they can be strong and they can save the day -- would be really an honor and really amazing," she said.
Wren also raved about another powerful woman in the movie, saying any debate between whether someone prefers Batman or Superman should also include Gal Gadot's character, Wonder Woman. 
"She is such a badass in this film, and I think she just kills it," said Wren.
The actress continued, "The largest applause of the night [at the premiere] was when she first shows up in costume ready to fight, and I just love it. I think the audience is gonna die for her."
Will Star Sapphire join Wonder Woman as a fellow superhero? 
"It's all hush-hush, so I'm anxiously awaiting, like everyone else," said Wren.
More female superheroes setting examples for young girls? Yeah, that idea is kinda hot.
"Batman v Superman" hits theaters Friday, March 25.
Correction: A previous version identified Carrie Farris as a major in "Man of Steel." That's her reported rank in "Batman v Superman."
REAL LIFE. REAL NEWS. REAL VOICES.
Help us tell more of the stories that matter from voices that too often remain unheard.
BEFORE YOU GO
PHOTO GALLERY
'Batman v Superman' premiere