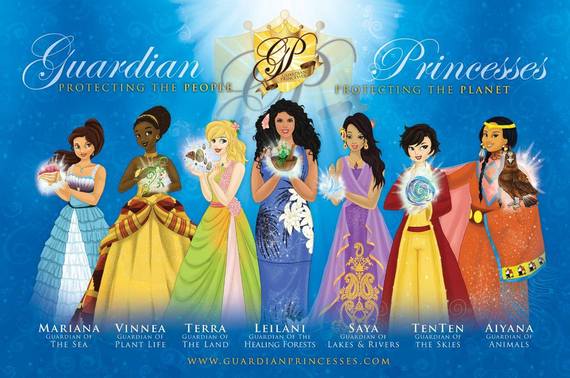 Fashion designer and feminist, Coco Chanel, said, "A girl should be two things. Who and what she wants." I don't believe that all princesses have to wear glittery pink dresses and dazzling tiaras. And I definitely don't think that every fairy tale needs a prince.
This is why I was thrilled to discover The Guardian Princess Alliance. A collective of educators, artists, activists, parents, and students, the Alliance aims to provide children with better role models by transforming princesses into superheroines who protect the people and the planet. The Guardian Princesses are not damsels-in-distress waiting to be saved by a prince. Instead, they are culturally-diverse activists who promote leadership, environmental awareness, and healthy living. Each Guardian Princess is the protector of a different aspect of the environment and demonstrates the power of compassion and collective action to make a difference in her community.
Take Princess Terra, for example. As the Guardian of the Land, Princess Terra must use her powers to stop a greedy king from taking over the land that allows her people to lead healthy and balanced lives. Princess Vinnea is the Guardian of Plant Life. When a mysterious stranger destroys her community's beautiful crops and gardens and tries to sell the people his unnatural, unhealthy food, it is up to her to intervene. Princess Mariana, the Guardian of the Seas, must prevent water pollution from damaging the seas so that marine life can flourish. My favorite is Princess Ten Ten, the Guardian of the Skies. The first-ever gender-independent princess, Princess Ten Ten overcomes bullying and learns the importance of self-love and teamwork in inspiring social change. She and her friends use martial arts to fight against the forces polluting their city's clear, blue skies.
I believe that the best works of art are the ones that leave a lasting impact on the audience. The Guardian Princess stories have certainly done that for me. The series' theme of interdependence between living beings and the environment has given me a deeper appreciation for nature and being outdoors. Princesses Terra and Vinnea in particular helped me discover the invigorating properties of flowers, and their beautifully-illustrated stories inspired me to start my own flower photography project. The stories have also motivated me to play a more active role in environmental activism. I have thus become more involved in the animal rights activist community. Relatedly, the Guardian Princess stories demonstrate to the readers that they have the ability to make a difference in the world. The stories have mobilized me to multiply my community impact by volunteering my time with as many community organizations as I can.
The Guardian Princess stories are educational, entertaining, and empowering. They encourage people of all ages to appreciate their uniqueness and love themselves for who they are. They also impel readers to be conscious of the impact they will leave on the world. Whether you like pearls or Power Rangers, diamonds or dirt bikes, castles or cars, you can always be a prince[ss] if your heart is true. The princesses demonstrate to all girls and boys that no dream is too big. With your heart in the right place, you truly do have the power to make the world a better place for future generations. To me, no fairy tale could be more magical.
Calling all HuffPost superfans!
Sign up for membership to become a founding member and help shape HuffPost's next chapter