Over the years, audiences have seen Superman embodied by George Reeves, Christopher Reeve, Dean Cain, and Brandon Routh (as well as Tom Welling's portrayal of Superboy in the television series, Smallville). Bob Holiday appeared as Superman in the 1966 Broadway musical entitled It's A Bird... It's A Plane... It's Superman. The following video clip is from a 1975 television version of the musical that can be viewed in its entirety on YouTube:
While pundits and film critics are busy deconstructing the controversial new documentary by Davis Guggenheim entitled Waiting For "Superman", perhaps this is a good time to ask just who exactly Superman really is.
A truly sweet and nostalgic documentary that tells the real story about how the character of Superman was created was recently made by Brad Ricca. Rather than the tale of the boy whose father put him into a space ship as the planet Krypton was exploding, Last Son describes the personal events that inspired two young Jewish kids living in Cleveland in 1932: a young writer named Jerry Siegel who wrote for the Glenville High School weekly newspaper and his friend, artist Joe Shuster.
A Cleveland native who lives five minutes from where Superman was created, Ricca describes himself as "a teacher by day and an awkward filmmaker by night." As he states in his press kit:
Though we all know the origin of Superman (planet explodes, mild-mannered disguise, cape and all that), we take it at face value instead of really asking ourselves: who is this strange visitor who landed face first into American pop culture and never left? In other words, it's time to grow up and look at the big guy in the cape not as kids (okay, maybe a little) but as adults. This is the goal of Last Son, the first unauthorized film documentary about Jerry and Joe and the creation of Superman. Using never before seen artifacts, evidence, and footage, Last Son will let us finally see past the flimsy glasses and ill-fitting suit -- so we can know who Superman really is."
As it turns out, Superman is very much a child of the Great Depression. It took years for him to find a publisher and, in many ways, his biggest publicity rollout began at the 1939 New York World's Fair. Last Son is filled with all kinds of wonderful trivia that explains everything from how Superman got his trademark spit curl to his cape and chest emblem. With the devotion of a true comic book fanatic, Ricca explains numerous artistic influences that, in today's world, we might take for granted.
The archival footage from the 1939 World's Fair is a delight to watch as Ricca explains how Superman became the most popular role model in the land. Opera fans will especially enjoy listening to a soundtrack that includes jazz and player piano interpretations of the score from Giuseppe Verdi's La Traviata!
Last Son's 65 minutes are packed with nostalgia for the musclebound superhero, the two high school kids who created him, and the way he inspired millions of Americans. Here's the trailer:
I doubt you could get a Hollywood entertainment lawyer to fart for $1,200. Yet that's the anticipated budget that Nazir Shaikh gave himself for a good-natured spoof of Superman. A wedding videographer in the Indian city of Malegaon, Shaikh likes to "Indianize" movies that have done well with Bombay audiences and recreate them with his Mollywood touch.
Mollywood is the Muslim answer to Hollywood and Bollywood. Under Shaikh's guidance, much of his crew's filming takes place in the impoverished ghettos and slums of Malegaon. Faiza Ahmad Khan's endearingly cheeky documentary, Supermen of Malegaon, should be required viewing for aspiring film students. It will, no doubt, help them to prepare for the dreaded day when their parents stop writing checks.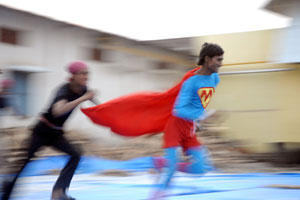 Consider the many low-budget laughs and candid calamities captured by Khan in his documentary:
At one point, Shaikh drops his camera into the muddy waters of a local lake.
The screenwriters have decided that, because he is forced to fly through so much pollution, Mollywood's version of Superman should suffer from asthma. Therefore, the role has been cast with a scrawny, nerd-like bag of bones named Shafique who has no muscles, a 24-inch waist, and needs to take four days off in the middle of the film's shooting schedule in order to attend his own wedding.
As the bald-headed, Lex Luthor-style villain, Akram Khan has been given lines like "I want every Indian spitting on the streets, in restaurants, on walls, in toilets -- everywhere --because I love filth!"
Even though Muslim law forbids married women from working outside the home, somebody has to be available to perform a Bollywood-style dance number in an open field with Superman.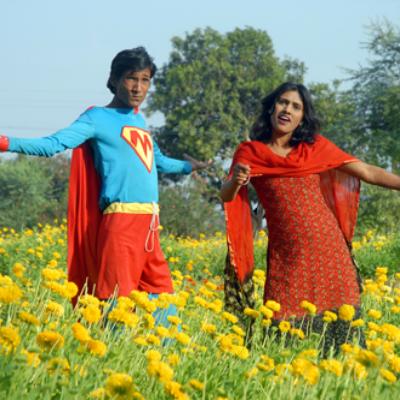 Shot in an atmosphere of abject poverty (as goats and ghetto kids look on), Supermen of Malegaon captures plenty of candid moments when the Mollywood Superman is idly paddling around the lake in an inflated inner tube while waiting for shooting to resume -- as well as when spectators cheer the actor playing the villain as he shaves his head in preparation for his big moment of fame.
Whether it's easier for viewers to follow this film in English, Urdu, or Hindi, I doubt anyone will be able to resist this film's rag-tag goofiness or the enthusiasm with which the local populace follows Superman's latest exploits. The following news segment from Al Jazeera features a good 20 minutes of footage from Supermen of Malegaon.
Every now and then I encounter a short film that defies description. I doubt that even Stephen Sondheim could have imagined the maid who stars in Rex Navarette's comic gem, Maritess versus The Super Friends. As Navarette explains on his website:
Did you ever wonder why, whenever you'd watch The Super Friends on a Saturday morning way back in the day, that the Hall of Justice was kept so nice ancd clean? Well, it was because of their Filipina maid who you never saw. We've all heard about the plight of all the Overseas Foreign Workers leaving the Philippines in the thousands just to find jobs good enough to send money back to their families in the islands. Many of them still suffer disgraceful working and living conditions beyond our comprehension, oftentimes silently. Even our own Super Friends can treat these domestic laborers very much in the same manner. This is one of their stories.
Calling all HuffPost superfans!
Sign up for membership to become a founding member and help shape HuffPost's next chapter