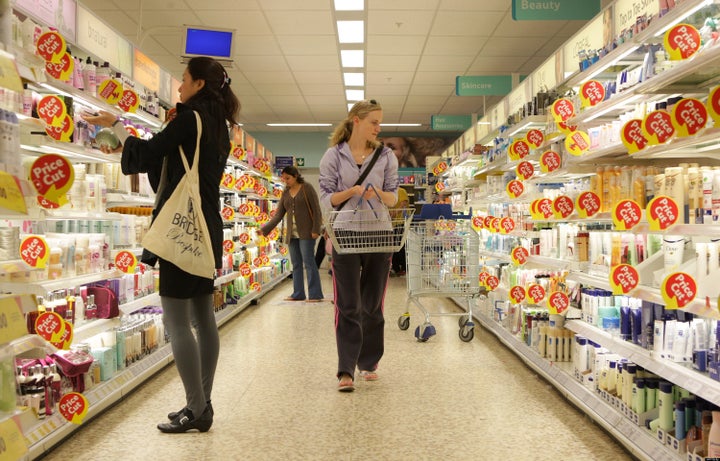 It had been a given that food, alcohol, and funerals were recession proof. That is, until recently. Now we feel the pain, each in our own way. Supermarket workers feel the pain: low wages, escalating health care costs, and a reduction in pension benefits. Unionized workers have their locals watching their backs and negotiating fair wages and benefits.
With a unanimous vote to ratify a three year contract, there was a sigh of relief for 15,000 union workers at 86 CT Stop & Shop grocery stores with a fair an equitable contract negotiated over the course of weeks becoming more urgent under a strike notice looming. In a final contract, parent company Ahold (also owns Giant & Peapod) of the Netherlands and Stop & Shop's USA held tightly to concessions but in the end all sides could feel comfortable with the agreement.
Union Members leaving the caucus included 20 year employee Joanne Albinger, "I felt the contract was fair given the economic climate, we still got a raise and a $750 flat bonus for full time workers, and a $400 bonus for part time workers after 24 months."
"Better than the doom and gloom that had been forecast," said Assistant Deli Manager Paul Head, on the proceedings, 25 years on the job, now happy this was behind them.
Brian Petronella, International Vice President and President Local 371 and the United Food and Commercial Workers (UFCW) http://www.ufcw371.org
in Connecticut held an impromptu press conference after the vote. "Could they (Ahold/ Stop & Shop) have done better? Yes. At the end of the day, if you go out to the retail market, this is better than most."
Did he wish this was back in the day of 2007? You bet. Negotiations have been more difficult, companies, even those doing well are putting on the brakes as hard as they can. Are the hourly wage increase as much as he wanted? No, he tried to get an hourly increase of 10 cents but settled for 5 cents, keeping and increasing other benefits in return including protecting health insurance contributions at no charge for part time workers.
The five New England Local Unions involved in the negotiations represent 15,000 Stop & Shop workers in CT; Stop & Shop employs 36,000 workers in New England. If a job action aka strike had occurred, Stop & Shop had prepared to hire replacement workers. Mr. Petronella pointed out they actually would have had 36,000 supermarket workers in agreement with other unions to honor the work stoppage, forcing them to shut down.
While anti-union lobbyists and groups i.e. US Chamber of Congress use fear tactics to go viral to shut down unionizing and blocking the Card Check legislation, non-union retail workers could only wish for some of the negotiated protection including wage increases, bonus, and pension benefits. When a company's focus is on helping workers achieve better wages, better benefits, and safer working conditions there wouldn't be a need for Unions. Workers, who help make their company profitable, need what is rightfully theirs. One of many ways to help is by boycotting the self-serve check out that eliminates positions; another is by shopping at unionized stores whenever possible.
Calling all HuffPost superfans!
Sign up for membership to become a founding member and help shape HuffPost's next chapter