Twenty-seven-year-old Erin Wasson has a long list of accomplishments under her belt, which range from being the face of Maybelline to launching her own collection. Here the supermodel cum fashion designer discusses her development, tomboy status and screen debut. What's clear is that nothing is going to stop Erin from creating her own brand of cool. Move over Kate Moss.

Sabine Heller: What's your vision for Erin Wasson X RVCA? Are you designing with yourself in mind?
Erin Wasson: I don't have a background in design so I think it's always about what I see in the world and what inspires me. So yes, I am designing for myself. I'm going through this whole evolution, which is a process of growing up and going from modeling to styling to designing. This collection encompasses that journey for me: a girl who crossed over some sort of boundary whether it be a real or a mental boundary. And she's in a desert wandering around. The color palette came from desert inspired themes: a lot of crèmes, mauves, browns.
SH: There's been a lot of noise about the fact that you showed in the tents. Some people say that you're bringing cool back to Bryant Park. Others say you've lost the plot.
EW: Have I lost the plot? I love that. Totally -- I've lost my fucking mind! I was given a wonderful opportunity to be here. I did have doubts, though. Was it too much too soon? Who am I to think that I belong here? It was very humbling. It was a very hard decision to make, but when life hands me an opportunity I'm always up for the challenge. Go big, or go home!
SH: You've been referred to as tough 'n' chic, a rock 'n' roll hippie, muse, hipster, it girl, bad girl, rock bitch, grunge goddess.
EW: There's a little bit of me in all of those descriptions but labels are labels. The people who really know me understand that I have a tough exterior but I'm actually just a hippie at heart.
EW: I love being a gypsy. Home is between New York and California. I'm also in the process of moving back to Austin, coming full circle and being closer to where I grew up.
SH: I know you're a big skateboarder. Do you really have a half pipe in your back yard?
EW: I really do, and I actually ride it.
SH: Are you more of a guy's girl than a girl's girl?
EW: I'm definitely more of a guy's girl. I love me a strong woman but, as a strong woman, I'm a little apprehensive about girl on girl relationships. Girls can be crazy.
SH: You made out with Justin Timberlake for the ad campaign for William Rast. How is he as a kisser?
EW: He was fine. When you're on set, you've got a crew of 60 people around you. It was nothing passionate.
SH: So what are you passionate about?
EW: Everything! I'm passionate about being true to myself, sending good energy to the people around me, traveling, staying inspired, being a good friend, being a good daughter, being a good sister.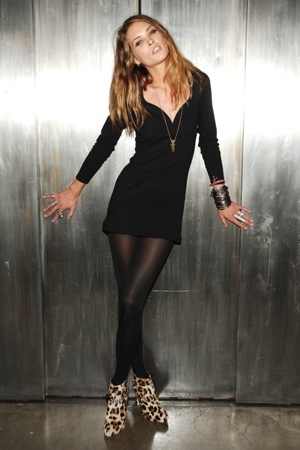 SH: Did you have an ugly ducking-turns-into-a-swan transition or were you always beautiful?

EW: I was a tomboy growing up. I literally went to the barbershop with my dad. Everyone thought I was my big sister's little brother. I was a scruffy little girl with a short boy haircut who wore basketball shoes and t-shirts.
SH: It's your funeral. What would you like to be remembered for?
EW: That I always carried some form of light where I went.

SH: The age of the model is back. Except this time models are no longer just pretty faces. They're so many of you doing really cool things.

EW: Yeah, we went from this very quiet girl to these real personalities.

SH: Are you friends with a lot of models? What are your friends like?
EW: My friends are all over the place. I've got artist friends, old friends, young friends--but I definitely don't hang out with models.
SH: What's the quality that draws you to people?
EW: As long as people keep it positive, I'm cool. This world has so many beautiful gifts to offer. When people complain my skin starts crawling.
SH: Talking about skin, you're covered in tattoos. What does tattooing mean to you?
EW: It's a way of expression. It's an emotional attachment to something whether it's a word or an image that I feel needs to be part of my body.

SH: I hear you're in Sofia Coppola's next film, "Somewhere?"
EW: Yes, for half a second. If you blink you're going to miss me. I have no speaking lines.
SH: What's Sofia like on set?
EW: She's beautiful and sweet and kind and incredible.
SH: You're always dancing. What's your favorite dance track?
EW: I do love to dance. You give me some dirty south hip-hop, and something comes out in me from my Texas days. I love tribal music. I love African funk music. I like a little dose of reggae but it's gotta be good reggae. But then again, when I'm home, I'm listening to old rock n roll. It all depends. I love going to Texas and doing the two-step in a honky-tonk bar. I'll dance to anything.
SH: What's on your iPod right now?
EW: I've been listening to a lot of Spacemen 3 lately. I'll even bust out Patty Griffin and she'll bring me to my knees.
SH: Other than your close friend Alexander Wang, who is your favorite New York designer?
EW: I really respect what Michael Angel has done. He's a good friend of mine. He creates his own prints. When you meet him you think he's this funky Aussie, but he's profoundly intelligent.

SH: Anything else?
EW: I just want people to know that I'm working my ass off. If they like what they see, cool, if not, maybe they will catch up.