After eight seasons on the air, most shows would be running out of creative steam, but "Supernatural" (Wednesdays, 9 p.m. ET on The CW) is still firing on all cylinders thanks, in large part, to the vision of new showrunner Jeremy Carver and the dedication of its two stars, Jensen Ackles and Jared Padalecki, who play brothers Dean and Sam Winchester.
When HuffPost TV visited the Vancouver-based set in early November, it was heartening to see the level of enthusiasm that was still evident among the show's cast and crew. There was a palpable sense that the best is yet to come, with star Padalecki even admitting that, with some of the plots being introduced in the latter half of the season, the series "could go for another eight years."
We touched upon several unaired episodes during our conversation, so our exclusive interview has been divided into three parts, the first of which you can watch in the video above. Episode 807, "A Little Slice of Kevin," had aired the night before our visit, and no new episodes have aired since, so this portion of the interview concerns Castiel, Purgatory, Sam's storyline and tonight's episode, titled "Hunteri Heroici" (Wed., Nov. 28, 9 p.m. ET).
It's clear that Castiel's storyline -- and the role of Amanda Tapping's ominous angel Naomi -- is intended to be kept under wraps for a little while longer, but Padalecki did offer a few teases: "There is something going on that we don't find out about just yet, but [Castiel] certainly is back and with the boys. But it's not the good old trio that it used to be. So there's something that Sam and Dean have to kind of figure out, like 'What's going on with Cas?'"
Though fans have been enjoying the flashbacks to Dean, Castiel and Benny's (Ty Olsson) time in Purgatory, Ackles confirmed that we won't be heading back there for a while. "We're dealing with so much topside, between Benny and Dean and Sam and now between, 'What's going on with Cas? What's really going on with Cas?' Whether or not he lets Sam and Dean in on what's going on with him, and all that kind of stuff," he previewed. "So there's a lot to deal with but ... it all kind of comes together and it all intertwines and that's what makes good TV."
Jeremy Carver has frequently mentioned that the "theme" of Season 8 is reality vs. perception -- which was touched upon in Dean and Castiel's differing memories of Purgatory in the last episode -- but we were curious whether that theme would extend to Sam's storyline, too. "We see Castiel and his reality of sorts in ["A Little Slice of Kevin"], we've seen Dean in Purgatory and now we're going to see a little bit of Sam in what he was doing for that year off," Padalecki teased. "And we delve into it and that also helps ... really ratchet up the tension between Sam and Dean."
Though the pair expanded on the friction between the brothers in greater depth elsewhere in the interview, for those worrying about the brotherly bond, here's an extra tidbit from Padalecki: "[The blowout in Episode 806 was to show] the fans that listen, the brothers are going to work on it. Like, they're going to gradually start getting their stuff out, but true to 'Supernatural' form, we're not going to have just one, 'OK, everything's good, let's go to the arcade and play some rollerball.' So we certainly do approach it again, and very soon."
Check out the video above for more from our chat with Padalecki and Ackles, including a preview of tonight's episode, and make sure to come back next week for Part 2.
"Supernatural" airs Wednesdays at 9 p.m. ET on The CW.
Are you looking forward to a more comedic episode with "Hunteri Heroici"? Do you mind seeing Sam and Dean at odds? Share your thoughts and predictions below!
Related
Before You Go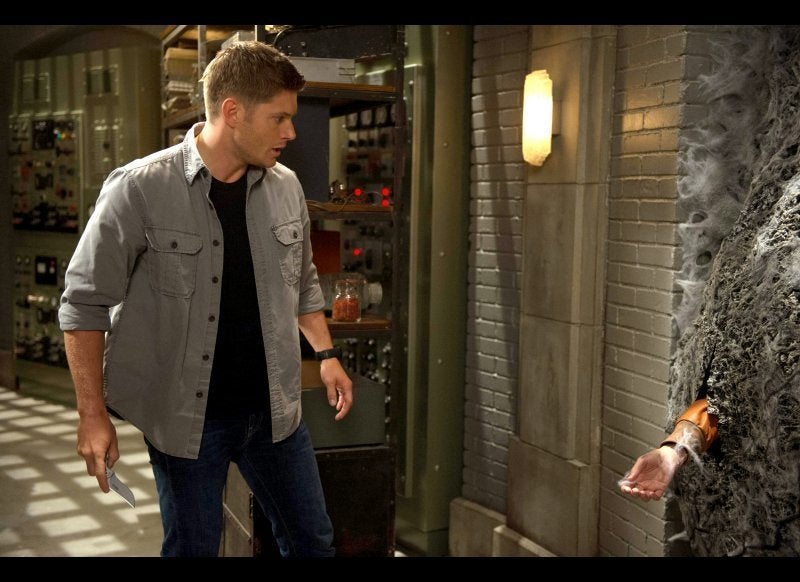 Supernatural
Popular in the Community