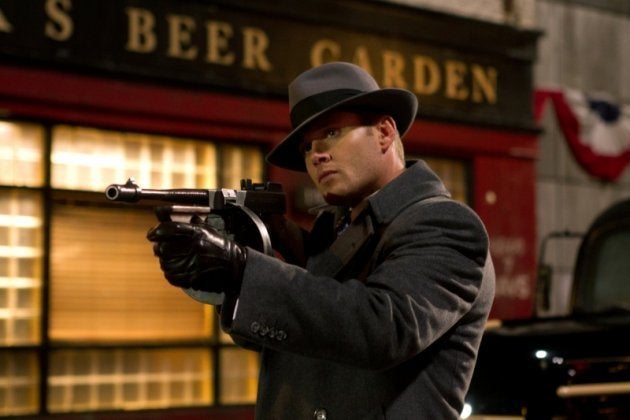 No show does time-travel quite like "Supernatural." Some of The CW drama's most memorable episodes have taken place in the Old West, the post-apocalyptic future and the paisley-print '70s. So it's no surprise that the cult hit is heading back to the past for a romp with the mobsters of the '40s in this week's episode (Fri., Jan. 13, 9 p.m. EST on The CW).
Following a showdown with the God of Time (played by "Veronica Mars" alum Jason Dohring), Dean finds himself zapped back to 1944, where he has an unexpected run-in with legendary federal agent Eliot Ness (Nicholas Lea), who is the founder of The Untouchables and a guy who knows how to pull off a fedora.
Meanwhile, Sam is stuck in the present day, frantically searching for a way to retrieve his brother -- who looks like he's having far too much fun wielding a Tommy gun and sweeping through smoky alleys in a trenchcoat -- when he has an unexpected encounter with "an old friend."
Needless to say, we're all aflutter at the concept, which is why we have an exclusive first look promo for the episode -- 60 glorious seconds of the atmospheric, gun-toting, film-noir goodness that should satisfy all your Sam and Dean cravings, at least until the episode airs. Remember to wipe the drool from your keyboard before you type us your comments!
"Supernatural" airs Fridays at 9 p.m. EST on The CW.
REAL LIFE. REAL NEWS. REAL VOICES.
Help us tell more of the stories that matter from voices that too often remain unheard.
BEFORE YOU GO