Previous research held that supernovas--explosions of stars in their death throes--spewed out massive amounts of dust into the early universe. However, astronomers didn't know if that dust was able to withstand shockwaves from the explosion to serve as fodder for planets and stars to form.
(Story continues below image.)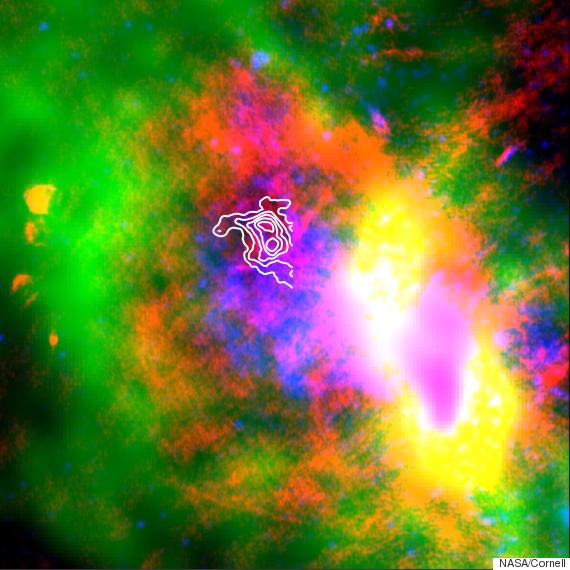 Peering into the center of the Milky Way galaxy, in this false color image, contour lines reveal the dusty area of Sagittarius A East - an ancient supernova remnant.
"We were on a flying observatory traveling at 600 mph (965 km/h) at an altitude of 45,000 feet (13,715 meters) to take images of a ... supernova remnant located 27,000 light-years away from us at the center of our galaxy," Lau told Space.com. "One of the most surprising things is that we were not expecting to see this at all."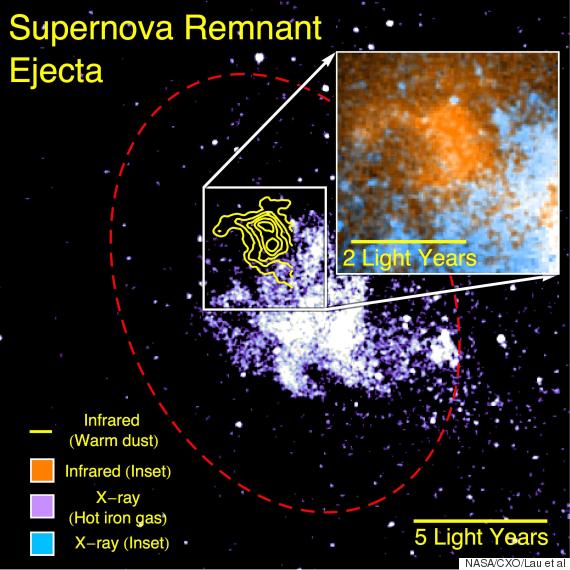 Supernova remnant dust detected by SOFIA (yellow) survives away from the hottest X-ray gas (purple). The red ellipse outlines the supernova shock wave.
According to Lau, his team was actually looking at "two brighter features" around Sagittarius A East, a supernova remnant at the heart of the Milky Way, when they detected the dust.
By taking detailed infrared images of the dust cloud, the researchers were able to estimate that about 7 to 20 percent of the dust survived the explosion's shockwaves. The researchers say this may have occurred due to dense gas surrounding that helped the dust cool, Space.com reported.
Calling all HuffPost superfans!
Sign up for membership to become a founding member and help shape HuffPost's next chapter
BEFORE YOU GO
PHOTO GALLERY
25 Gorgeous Images Captured By Hubble