It's official: Simone Biles is the first U.S. gymnast ever to win four Olympic gold medals.
After winning the team final and individual all-around title last week, Biles won her third gold medal in the vault final on Sunday, making her one of three members of an exclusive three-gold club. For 48 hours, she shared the record with her Rio teammates Aly Raisman and Gabby Douglas. Today, with her win in the floor exercise final, she set a new one.
Biles is one of only a handful of gymnasts ever to take gold this many times, much less win them all at one Olympic games. No woman has done it since Romanian Ecaterina Szabo won four golds in 1984, meaning Biles is the first in a generation to pull it off.
She took gold today with a score of 15.966. Raisman took silver, with a score of 15.5, and Amy Tinkler of Great Britain took the bronze with a 14.933.
Biles had been favored to win five golds at these games, but a slip-up in the balance beam final yesterday made that impossible; after a wobble so big it incurred almost the same deduction as a fall, she finished in third place (a fall incurs a 1.0 deduction, and putting your hands down on the beam to prevent a fall, as Biles did, incurs up to a 0.8 deduction). That's right: She basically fell off the beam, and still walked away with a bronze medal. That's how good Simone Biles is.
On floor, she qualified for the final in first position, and posted the highest floor score in the team final by a wide margin. She is the reigning world floor champion. She was widely considered a lock for a gold medal on floor, just as Raisman, who qualified in second place and then took silver in the all-around, was considered a very safe bet for second.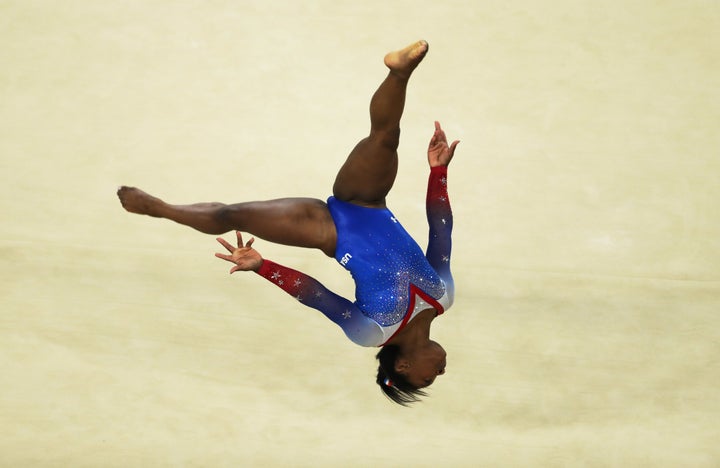 Today, she performed with predictable brilliance. She had two small landing errors ― a hop at the end of one tumbling pass, and a small step and a wobble on another. But her third tumbling pass, a full twisting double back, is so hard that many gymnasts do it at their start of their routine. Her difficulty value gives her a numerical head start before her music even begins.
Raisman, the defending Olympic floor champion who finished her all-around competition on floor and burst into tears shortly after the music stopped, overcome with emotion at realizing that she would score high enough to earn a place on the podium, performed spectacularly today. Her tumbling passes were stunning in amplitude, her landings unassailable.
The Americans' nearest competitors were Italy's Vanessa Ferrari and Switzerland's Giuilia Steingruber, who qualified for the final in third and fifth, respectively (American Laurie Hernandez posted the fourth-highest score in qualifications, but because of the "two per country" rule, was not eligible for the final).
Ferrari is a three-time Olympian who finished fourth on the floor in London in 2012 and won the event at the European championships in 2014. Steingruber won the event at the 2016 European Games, and posted the fourth-highest floor score in the all-around competition last week. Today, Ferrari scored a 14.766, landing her in fourth place, and Steingruber, who had several major landing errors, scored an 11.8, finishing in last place.
For Biles, it's the end of the Rio ride, but most likely not the end of her gymnastics career. At 19, she's the greatest gymnast in the world, and probably the greatest of all time, and gymnasts are competing for longer and longer; the average age in Rio was 20. Her dominance in the sport in the last four years has changed what's considered possible in women's gymnastics. It's unclear what Biles' post-Olympics plans are, apart from eating pizza and performing in the traditional "Tour of Champions." Her influence has been so pronounced, and her rise so spectacular, that it's almost become difficult to imagine gymnastics without her. but with any luck, we won't have to.
CORRECTION: An earlier version of this story mistakenly said Nadia Comaneci was the last woman gymnast to win four gold medals with her gold in 1980.
For more Olympics coverage:
Related