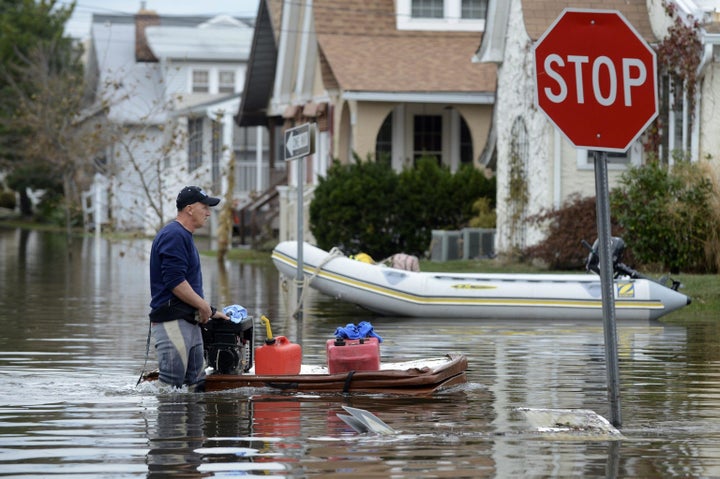 With the presidential election just days away, dozens of people dead, millions without power, and billions of dollars of damage done, residents of America's East Coast are still staggering to respond to the ravages of Sandy, the "superstorm" that battered the region with unprecedented fury this week. Here in Manhattan, the nation's financial and media capital and all-around nerve center, the bridges and tunnels connecting the island to the rest of the region have finally reopened, and the transit system is just beginning to restore service. Soon, we are told, everything will be "back to normal."
But with both President Obama and Republican challenger Mitt Romney diving back into full-time campaign mode, and soggy citizens preparing to slosh over to their waterlogged, garbage-and-sewage-strewn polling places on Tuesday, we should all take a moment before casting our ballots to consider "the new normal," and how each major party candidate for president has been steadfast in his resolve to ignore what is happening all around us, in plain sight, for as long as possible -- and certainly until after the election at the very least.
Despite this ostrich-like behavior, however, the fact remains that no matter which man is chosen to be next president of the United States, he will immediately face a deadly set of urgent crises, both domestic and foreign, that have somehow remained unaddressed throughout the years-long, multibillion-dollar political campaign that is finally and thankfully about to come to an end.
At home, the urgent issues encompass (but are certainly not limited to) what to do about the nation's aging and crumbling infrastructure, such as New York's more-than-a-century-old transit system, which was brought to a standstill -- for the second year in a row -- by a natural disaster beyond its capacity to withstand. They also include, of course, the indisputable fact of climate change and the increasing impact of ever-worsening extreme weather events -- caused in part by global warming and the much higher sea-surface temperatures it has created along the coast.
Coming just a week before Election Day, Sandy's storm surge and rising tide brought the self-styled "city that never sleeps" to its knees -- and also brought into sharp relief the effects that global warming is now having on its already decrepit and ill-maintained infrastructure. As Elizabeth Kolbert noted in The New Yorker, Sandy also "makes the fact that climate change has been entirely ignored during this campaign seem all the more grotesque. In a year of record-breaking temperatures across the U.S., record drought conditions in the country's corn belt, and now a record storm affecting the nation's most populous cities, neither candidate found the issue to be worthy of discussion."
Crummy, crumbling infrastructure and the reality of climate change aside, there remain many other pressing but ignored issues, ranging from an outmoded, last-century energy system and grid, and deepening social inequities, to burning questions of debt, deficit, high unemployment, a stagnant economy -- and those are just in the domestic side. Overseas, the potential dust-ups start in the ever-unraveling Middle East, with its unaddressed civil war in Syria, dangerous lack of progress in the festering Israel-Palestine conflict, looming attack on Iran and shaky progress in Iraq -- not to mention (and no one has) America's decade-long and obviously failed attempt to bring stability to Afghanistan.
Nor have I even mentioned the risky rise of China, or the fractured "reset" in relations with Putin's Russia, or a host of other, equally important but largely unattended international areas of concern... but then, neither have either of the men campaigning to be elected president of what still remains, despite its many mistakes and setbacks thus far during the 21st century, the most powerful nation on the planet. But after the election on Tuesday, the victor will no longer have that luxury -- and neither will we...
Rory O'Connor's latest book is Friends, Followers and the Future: How Social Media are Changing Politics, Threatening Big Brands, and Killing Traditional Media.
REAL LIFE. REAL NEWS. REAL VOICES.
Help us tell more of the stories that matter from voices that too often remain unheard.