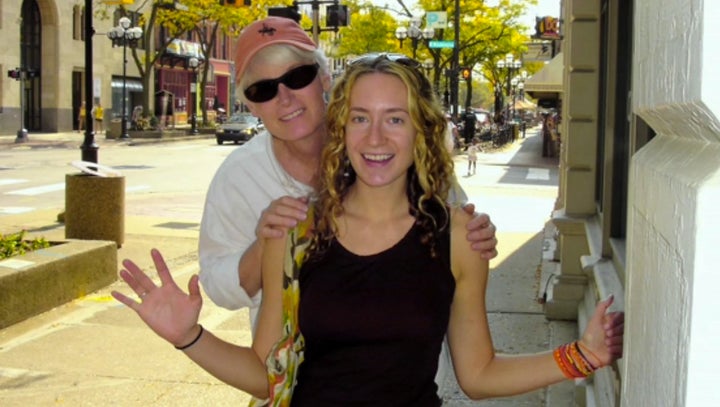 When I was a kid, maybe 5 or 6, I made my dad a crown. I stapled together a circle of manila paper, cut some spires along the top, drew a shaky heart, and wrote the words "SUPOR DAD" on the brim. It might've been a Father's Day gift, but it was just as likely a product of one of our standard arts-and-crafts sessions, sessions that Dad encouraged at every opportunity.
My dad was super (or, "supor," as it were): He cared for me and my sister every day while my mom was at work, keeping us happily occupied while he juggled his own landscaping business. He encouraged us to be assertive and fearless tree climbers and communicators. And he taught us to be open-minded and accepting of others, because Dad was also transgender.
Back then, I didn't understand what the term "transgender" meant, really; all I knew was that my dad grew his hair out and wore more feminine clothes than other dads. It embarrassed me, but I couldn't quite articulate why. Like most kids, I felt pressure to fit in with my peers and felt real envy for their "normal" families, their mothers and fathers in traditional gender roles. I also felt very alone, especially after my family relocated to a small Midwestern town where everyone seemed to know of my dad, regardless of whether they'd officially met.
But over the years, and through some real uncertainty, my family remained intact, loving, and supportive. A real test of that support came in high school, when Dad legally changed names to Trisha. (I detailed this transition in a recent New York Times op-doc, "Name Change.") As I dealt with the emotions that came with that switch, I began to see that the social pressures I felt weren't coming from within my family but from those around us who didn't understand Trish's situation, and who viewed us with suspicion and fear. I started using Trish as a litmus test: If a friend liked me despite my "odd" family, then they were worth keeping around.
Now I'm making Project Dad, a documentary film about growing up with Trish, who is still proud to be our dad despite her switch to feminine pronouns. The film features my family, but I'm also deeply motivated to meet and interview other kids from lesbian, gay, bisexual, and transgender (LGBT) families, and to talk to new LGBT parents about their hopes and fears for the future. While there are more openly LGBT families now than there were when I was growing up, we still see our loved ones stigmatized every day, socially, legally, and politically. I hope that this changes in my lifetime, and that someday soon we'll all be regarded as families worth protecting.
Like many parents, Trish saved all my childhood artwork in folders and boxes, and still pulls out the "SUPOR DAD" crown every now and then. I'm amazed at how faded and tattered it looks (it's over 25 years old now), but that big, shaky heart is still clearly visible, and the sentiment is the same. I love you, Supor Dad. Happy Father's Day.
Popular in the Community