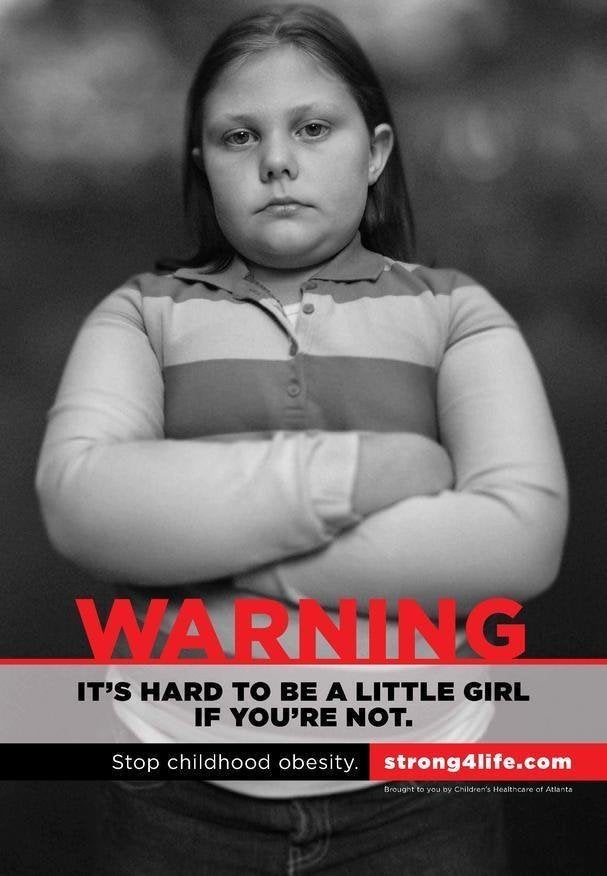 The ads that caught her attention, produced by Children's Healthcare of Atlanta and the Strong4Life campaign, carry stark copy such as "It's hard to be a little girl if you're not" and "Fat kids become fat adults" and tell Georgians to "stop sugarcoating" childhood obesity. They have also sparked a heated national debate about how to best protect the health of Georgia's youth. This month, Chastain launched "Support All Kids," a campaign to counter the messages in the original ads, which she says do more harm than good. (Scroll down to view the original campaign.)
Chastain says that the "stop sugarcoating" billboards, which feature overweight children, shame fat kids -- and do not encourage them to make healthier choices. "You can't hate kids healthy," she told The Huffington Post. Chastain took to her blog, Dances With Fat, and asked for donations so she could create new posters and billboards to place around Atlanta offering a message of health and positivity for kids of all sizes.
Her initial goal was to raise $5,000, and the organization More of Me to Love agreed to match that. Within seven hours of Chastain's posting the call for donations, which she did through a Kickstarter-like site called Go Fund Me, $7,000 was raised. After eight days, the "Support All Kids" initiative had pulled in $21,700 -- enough to pay for a large billboard, several smaller ones and an assortment of posters, which Chastain aims to have up by the third week of March. (Scroll down to see the potential designs for these billboards.) "I was sitting at my computer and was completely blown away by the amount of support we were getting," she said.
And it's not just grassroots activists who have protested the tactics of Children's Healthcare of Atlanta. Organizations such as the National Association of Anorexia Nervosa, the Binge Eating Disorder Association and the National Eating Disorder Association came out against the Strong4Life campaign, as did Kaiser Permanente. Several prominent health experts, such as the National Institutes of Health's Alan Guttmacher and the director for the Carolina Global Breastfeeding Institute, Dr. Miriam Labbok, also voiced concerns about the ads. A letter from Guttmacher, obtained by the BBC, says the Strong4Life campaign "carries a great risk of increasing stigma," which "can reinforce unhealthy behaviors" and "poses risks to the psychological health" of overweight children.
But Children's Healthcare of Atlanta maintains that the campaign has done exactly what the organization intended in starting a necessary conversation about childhood obesity.
Children's Healthcare of Atlanta released the following statement about Chastain's campaign to The Huffington Post:
We designed the awareness phase of our ad campaign to ignite a much-needed conversation around childhood obesity, and we've done just that. As evidenced by the fat activists, it is difficult for some to accept the health risks associated with obesity in children. In a recent study we conducted in Atlanta only 28 percent of parents of an obese child considered their child overweight or obese. And so they fail to see the associated health risks their own families face. That is why we had to do something that gets people talking about childhood obesity -- we cannot help anyone if people do not recognize the problem ... We believe all voices are an important part of this conversation, however we are committed to helping kids by stopping the cycle of ignoring the health risks associated with obesity.
About a month ago, one of the children appearing in the campaign, Chloe McSwain, 11, expressed in an interview feeling only positive about her participation. "I feel really good about myself," she said. "I have lots of self-confidence. [The campaign] is really supposed to help [kids] ... so they can get healthier."
Activists like Chastain support having a public health dialogue focused on behaviors rather than pounds. "I think that if we want to have a health conversation, we need to take weight out of it completely," she said. "Let's provide [kids] access to healthy foods and safe movement options that they enjoy ... We can be role models for health, but only when we stop trying to be role models for thinness."
See the Strong4Life campaign's anti-obesity ads.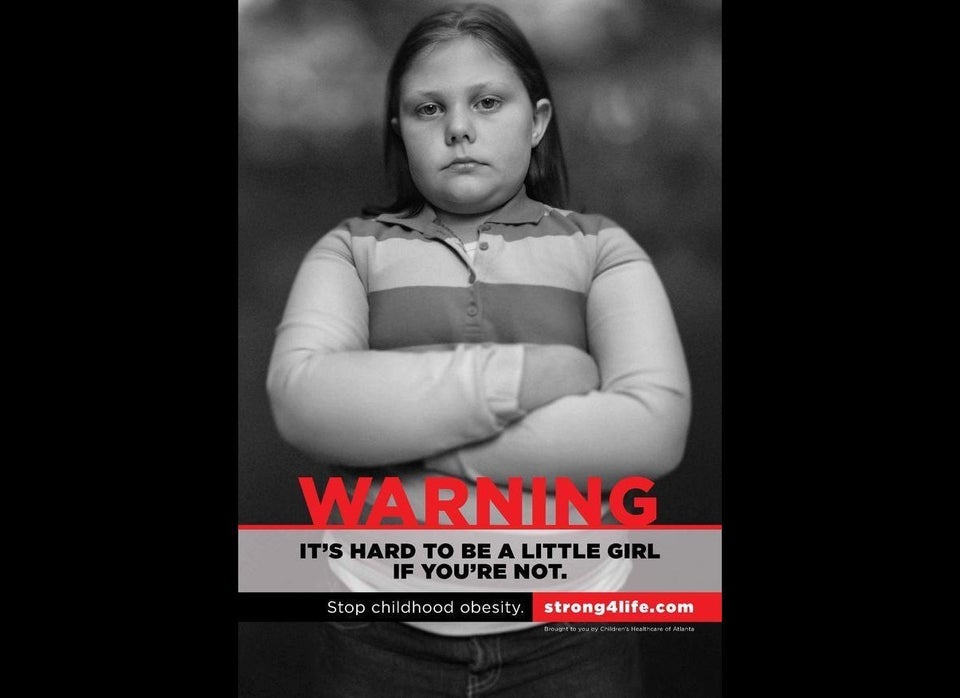 See the "Support All Kids" campaign's billboard designs.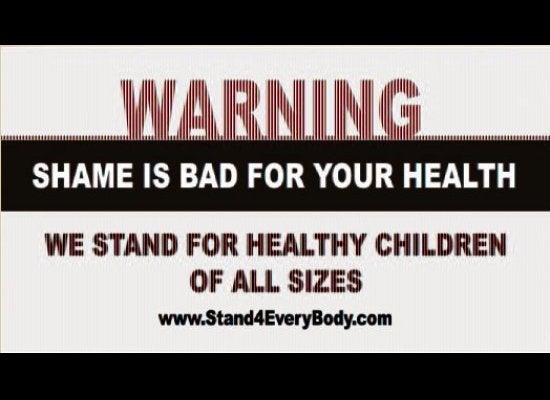 Related