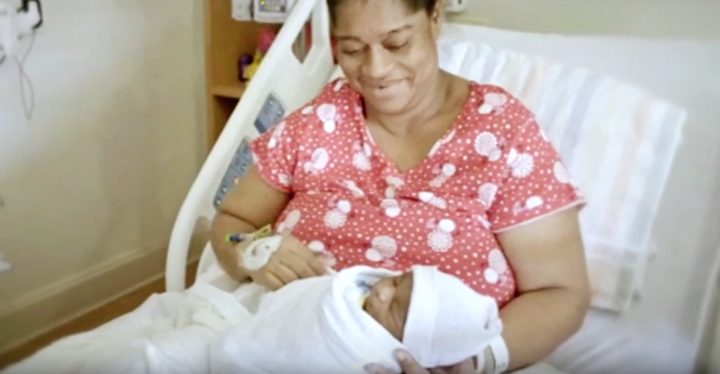 Black History Month may be over, but we're still not done talking about racism. As we move into Women's History Month and celebrate International Women's Day on March 8th, we have an opportunity to talk about a group of people who are impacted by the themes of both February and March – Black women. In particular, it's important to closely examine an issue that disproportionately impacts Black women across United States: maternal mortality. This International Women's Day, let's take a closer look at the highly gendered and racialized issue of maternal health in the Black community, and explore solutions to this life or death problem.
Black women in the US are three times more likely to die from pregnancy-related causes than their white counterparts. Racial disparities exist even when socioeconomic status is accounted for. While maternal death and disability is often thought of as a developing country or "global" concern, it's clear that the US has its own problems. Overall, the US is the only developed country where mortality from pregnancy-related causes is rising.
What can account for this? As a maternal health advocate and steering committee member of Black Mamas Matter, a new effort to drive action to improve Black maternal health, I had the opportunity to speak with filmmakers from FUSION's new documentary "The Naked Truth: Death by Delivery" about the role of systemic racism and structural inequalities in maternal health outcomes. In the documentary, I share that the experience of being Black is connected to poor health outcomes. A growing body of evidence demonstrates that race and racial discrimination influences the maternal health outcomes we see in the US, including maternal death, pregnancy-related disease, pre-term birth, stillbirth, and infant mortality. And while the disproportionate burden of poverty in the Black community impacts access to care, we know that Black women who have financial and physical access to quality health care are still more likely than White women to have adverse pregnancy outcomes.
In short: "Racism can kill," says Dr. Fleda Mask Jackson, PhD, an Atlanta-based researcher exploring the links between racism, stress, and maternal health who is featured in "The Naked Truth" documentary. Maternal mortality in the Black community is at its core tied to the experience of living while Black in the US, which can be a very stressful and traumatizing experience. The stress prompted by racism, discrimination, poverty, sexism, injustice, and violence, among other things, can cause a physiological response known as "fight or flight." While this stress response is beneficial in short-term situations, chronic exposure becomes harmful.
When it comes to maternal health, the "double jeopardy" of being Black and female takes its toll on the Black community and Black families. Robbin Davis, a New Yorker featured in the documentary, lost her daughter Victoria to maternal mortality. Victoria went into labor prematurely and died from a hemorrhage while giving birth to twins who didn't survive. When told about the racial disparities in maternal death, Robbin says, "It makes me angry…It makes me scared. I have daughters that can still have children. What is that going to mean for them?"
Fortunately, individuals and organizations across the country are generating workable solutions. Where there is the will to improve health for Black families, there is a way.
Black Mamas Matter is a Black-woman led cross-sectoral alliance formed by concerned advocates, care providers, researchers, public health professionals, human rights lawyers, and reproductive justice activists to drive action to improve Black maternal health, protect the human rights of Black mamas, and achieve reproductive and maternal justice. In 2016, Black Mamas Matter published a toolkit that includes recommendations on policy to advance maternal health using a human rights framework. The toolkit recommends improving access to and availability of high-quality maternal health care and addressing the social determinants of health, among other things. Currently, Black Mamas Matter is working to craft community-informed policy and research agendas to help guide local and national action on maternal health. Despite an American political environment that's hostile to reproductive health and human rights, we will continue to innovate for better outcomes and advocate for sustainable change.
In order to meet the needs of mothers accessing the health care system, service providers are also exploring models to provide more holistic care. Marsha Ford is a Georgia midwife featured in "The Naked Truth" documentary, whose clientele is 90 percent Black. In 24 years, she has not had one maternal death. When asked what her practice does differently, she explains, "We care. And we show that. We care holistically for the whole woman." Holistic care acknowledges the variety of factors that might influence a person's health, from diet to psychological stressors. Holistic care may be especially important to mitigate the racialized and gendered experiences of Black women. Providing holistic and respectful care is just one solution in a myriad of options.
One example of a practical intervention that worked to meet the needs of families is a program by the New Haven Mental Health Outreach for Mothers, or MOMS Partnership, that helps moms access diapers. The program was implemented after Yale University researchers found that diapers are a significant source of stress for mothers, some of whom might be currently pregnant with other children or planning future pregnancies. Their efforts inspired the Obama White House to pilot the Community Diaper Program to provide diapers to families who may not have the transportation, money, or other resources to get diapers in bulk. Through the program, millions of diapers have reached families across 48 states. These efforts, seemingly unrelated to maternal health, help reduce stress that could have psychological and health effects. I hope that we see more programs like this one that help parents access resources they need, reduce stress, and care for their families.
Some might argue that racial disparities in maternal health are too complex and too broad to address, but those kind of excuses don't save lives. Each step in the right direction is a step that can mean the difference between life and death, and between sickness and health. Changing Black maternal health outcomes is challenging and will take time, but there is enough information to start taking action today, however small. This International Women's Day, it's important to remember that some "global" women's struggles are actually happening in one of the world's most developed nations. Even though the data are dire, a solid dose of political will and support for those working to make a difference can help us realize progress.
Popular in the Community