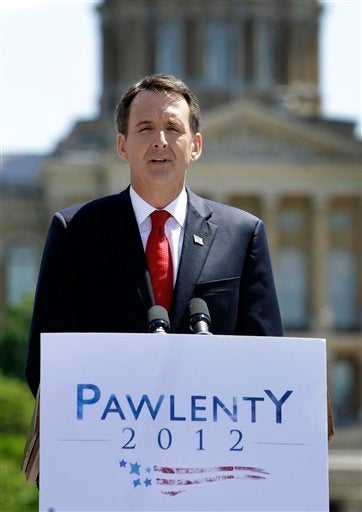 WASHINGTON -- There was a time that support for ethanol subsidies was an absolute must for any aspiring presidential candidate campaigning in Iowa, but new survey data suggest that may no longer be the case.
A majority of self-described Iowa Republicans ranked cutting spending as more important than supporting ethanol subsidies in a poll conducted June 26-30 for The Iowa Republican.
When asked whether they would back a candidate who "supports ethanol subsidies because they are important to the Iowa economy" or "opposes them because they want to get spending under control," 56 percent of respondents chose the latter. Just 31 percent said they would be more likely to go for the ethanol candidate.
Forty-six percent of these Iowa Republicans also listed the economy and jobs as their top issues, with an additional 31 percent naming cutting spending. Ethanol subsidies garnered only 2 percent support.
These numbers could be welcome news to former Minnesota governor Tim Pawlenty's campaign. Recently, Pawlenty came out against ethanol subsidies, a move that was considered risky in the state.
Even in the 2008 election, presidential candidates were hesitant about opposing the subsidies. Then-candidate Barack Obama unabashedly supported the subsidies and even Sen. John McCain (R-Ariz), a longtime critic of ethanol subsidies, came around to support them during the election.
The issue of ethanol subsidies has also garnered congressional attention recently. Last month the Senate voted to repeal a tax credit for ethanol. The measure received overwhelming bipartisan support, even though leading GOP power broker Grover Norquist, president of Americans for Tax Reform, argued that many Republicans would be violating their pledge against raising taxes if they voted in favor.
Sens. John Thune (R-S.D.), Amy Klobuchar (D-Minn.) and Dianne Feinstein (D-Calif.) -- a mix of friends and foes of ethanol -- are now in talks on a deal to end a tax credit for blending ethanol in gasoline while providing other support for the industry.
REAL LIFE. REAL NEWS. REAL VOICES.
Help us tell more of the stories that matter from voices that too often remain unheard.