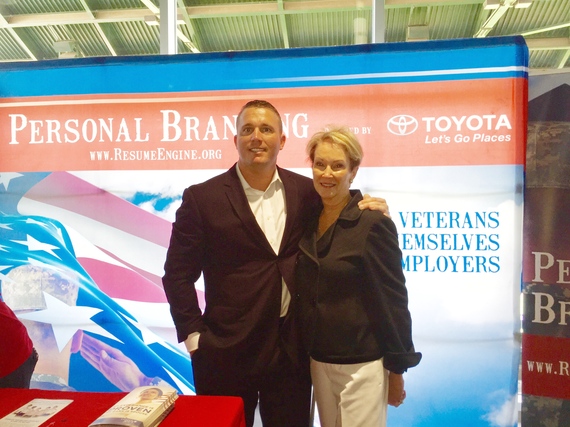 "No man is an island." I don't remember the first time I heard that John Donne quotation, but I suspect, like much of what I heard back in high school English class, it didn't inspire deep reflection at the time. Looking back through the lens of my time in the Marine Corps, though, it definitely rings true for me -- and probably most other veterans -- now. Those words have meant a lot of different things to different people over the years, but for me, it speaks to the importance of community.
I was lucky enough to grow up in a small Kentucky town with a strong sense of community. My dad, my grandparents, teachers, coaches, friends -- they all had a hand in shaping me to be the person I am today. After I joined the Marines, the men and women I served with became vital pieces of that community. Your community inspires you. It encourages you. Community gives you something to fight for and something to come home to. And for most Marines, soldiers, airmen, and sailors, that community eventually grows to include a family of your own.
These days, I spend a lot of time talking about veterans' transition to civilian employment. I have worked with the U.S. Chamber of Commerce's Hiring Our Heroes program and Toyota to develop an education curriculum and a resume building tool for veterans. Together, we work to help veterans develop a personal brand, to showcase their background, experiences and skill set in a way that civilian employers can understand and value. And it's working. Veterans are marketing themselves to employers that increasingly recognize their value. The veteran employment landscape has improved dramatically in recent years, and I'm really proud to have been a small part of that effort.
Despite these favorable changes for veterans, though, the spouses of our nation's service members and veterans still face considerable challenges to finding meaningful employment opportunities and building their careers. These spouses, long a symbol of patriotism and sacrifice, represent an incredibly rich talent field for employers. But while these military and veteran spouses possess the education, work and volunteer experience, and soft skills (like tenacity and flexibility) that make them valuable employees, military spouses still face unemployment rates of roughly three times that of their civilian counterparts, and, by some estimates, more than 90% of military spouses are underemployed.
Earlier this year, Hiring Our Heroes (HOH) announced that in 2016, the program would renew their efforts to push the issue of military spouse employment to the forefront of the conversation. This week HOH took another an important step toward that goal, announcing that my friend Bonnie Amos, the former first lady of the U.S. Marine Corps, has joined the program as a senior advisor and consultant.
I know firsthand the deep level of commitment Bonnie has to our nation's service members and their families. Her enthusiasm for being a positive force for change was obvious from my earliest conversations with her. After more than 40 years as a military spouse, she keenly understands the unique employment challenges faced by her fellow military spouses. But more than that, she knows the strength and character of the men and women who stand beside their service members, and recognizes the traits, like adaptability and tenacity, that make these same men and women valued employees and hard-working entrepreneurs.
Every day, I am inspired by the way our veterans meet the challenge of transitioning to civilian employment head on. I am encouraged by the communities that rally together to support these veterans and the employers who recognize the unique value that veteran employees bring to their companies. Looking to the future, I am optimistic that those same communities and employers will find new and innovative ways to incorporate the talent pool that is the backbone of our military community -- military spouses. And I am optimistic that Bonnie is up to the task of leading that charge.
REAL LIFE. REAL NEWS. REAL VOICES.
Help us tell more of the stories that matter from voices that too often remain unheard.