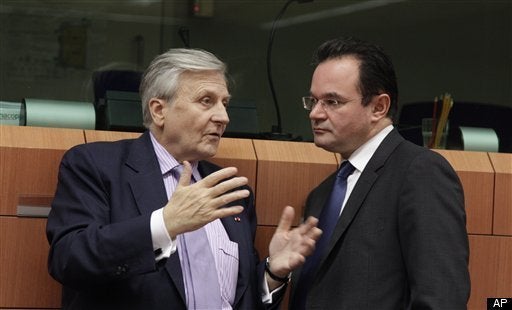 PARIS/ATHENS (By Paul Taylor and George Georgiopoulos) - Support is gaining ground in the euro zone for giving Greece more time to pay back its EU bailout to avoid default and ease the worst-indebted EU state's debt burden, although details still have to be pinned down.
German Finance Minister Wolfgang Schaeuble, whose country is pivotal to any solution as Europe's strongest economy, did not rule out a radical reprofiling of Greek debt in a television interview broadcast on Sunday evening.
"Most market participants expect this problem to be tackled in a responsible way," Schauble said when asked whether Athens would be forced to restructure its debt.
Reuters reported on Friday that German central bank chief Axel Weber, frontrunner to be the next president of the European Central Bank, has suggested transforming international rescue lending to Greece and Ireland into 30-year loans in a bid to draw a line under the euro area's debt crisis.
Weber floated his idea in closed-door talks with finance ministers, central bankers and private bankers at the World Economic Forum in Davos, two euro zone sources said.
One participant in that session, speaking on condition of anonymity because of the sensitivity of the talks, said it was not clear whether Weber had German government backing.
But Schaeuble's comment suggested Berlin was open to a pragmatic solution, provided it achieves its own demands for stricter budget discipline and greater convergence of euro zone retirement and unemployment systems toward Germany's model.
Greek newspaper To Vima published more details of what it said was Weber's plan, resembling the so-called Brady bonds which rescued Latin America from bankruptcy in the 1980s.
Under the three-stage plan, Greece would borrow from the euro zone's new rescue fund to buy back its own bonds from the ECB and private bondholders at about 75 percent of face value, the paper quoted a senior banker with knowledge of the talks as saying.
The EU and the International Monetary Fund would extend the maturity of bailout loans to 30 from three years and private lenders who own more than 100 billion euros of Greek bonds would be invited to extend their maturity to between 15 and 20 years.
All these measures would result in the reprofiling of about two-thirds of Greece's total debt by the end of this year, To Vima said.
Athens' debt is projected to peak at 158 percent of gross domestic product in 2013 according to the 110 billion euro EU/IMF adjustment program, a level many in financial markets regard as unsustainable.
Private bondholders' acceptance of any voluntary buy-back or swap of Greek bonds is uncertain since an EU source says banks are currently holding 80 percent of Greek debt to maturity to avoid declaring losses, and only 20 percent on trading books at a discounted "fair value."
Greek Finance Minister George Papaconstantinou said in a newspaper interview on Monday that, while there was no official proposal on the table, "It is clear, however, that there are thoughts on how to improve the debt sustainability of countries like Greece with a longer repayment period.
Both his comments and Schaeuble's contrasted with past flat denials that any debt rescheduling was being considered.
European finance ministers agreed in principle in December to align Greece's bailout loans with the seven-year maturity agreed in Ireland's 80 billion euro rescue package.
"Right now, Greece is holding talks on extending repayment of the EU/IMF bailout loan modeled after Ireland. This is the proposal we have and this is what we are discussing," a Greek finance ministry official told Reuters on Monday.
However, it is now clear that a significantly more ambitious rescheduling is under at least unofficial discussion among key ministers, central bankers and private bankers.
Hopes of a solution extending bailout loans to Greece and Ireland supported peripheral euro zone bonds amid nervous trading on Monday dominated by concern about turmoil in Egypt.
The risk premium investors charge to hold Spanish rather than benchmark German 10-year bonds narrowed slightly to 218 basis points, while the equivalent Italian spread was steady at 162 basis points.
The EU is looking for a way to stop the crisis engulfing further euro zone states, with Portugal seen as next in the firing line, followed possibly by Spain, the currency zone's fourth biggest economy.
Madrid has announced a raft of measures including a deal to raise the retirement age, labor market reform, budget cuts and privatizations, and a plan to recapitalize its ailing savings banks in a drive to convince markets it is not in danger.
On Monday, the Spanish government said it would offer state funds to restructured savings banks as early as March rather than waiting until September to see if they find sufficient private financing.
Calling all HuffPost superfans!
Sign up for membership to become a founding member and help shape HuffPost's next chapter