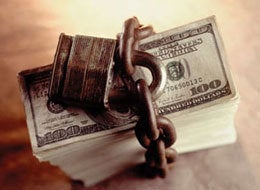 In the wake of the Supreme Court ruling that corporations can spend an unlimited amount of money on political campaigns, the landscape has grown ripe for the passage of strict campaign finance legislation.
Support is incredibly high for reforms currently being considered by Congress to stem the tide of corporate involvement in elections, according to a poll released on Monday by a bipartisan group of firms.
From the study released by Greenberg Quinlan Rosner Research in conjunction with McKinnon Media for Common Cause, Change Congress and the Public Campaign Action Fund:
"A majority of voters strongly favor both requiring corporations to get shareholder approval for political spending (56 percent strongly favor, 80 percent total favor) and a ban on political spending by foreign corporations (51 percent strongly favor, 60 percent total favor)."
Both of those provisions are staples of the more than half-dozen pieces of legislation currently under consideration by lawmakers in the House and Senate. But poll respondents expressed even more support for tougher campaign finance restrictions, in a sign of just how eager the public is for limits on money in politics.
The Fair Elections Now Act, which would set up a publicly-financed campaign system, is favored by a two-to-one margin (62 to 31 percent), according to the survey. Fifty percent of Republicans support the proposal compared to 40 percent who oppose it.
There is one major caveat -- voters almost instinctively say that they are in favor of strong campaign finance reform legislation. It's the office holders who are the obstacle. To that end, respondents were asked whether they would be more inclined to support their member of Congress "if he or she votes in favor of a reform package that includes the Fair Elections Now Act as well as limits on spending by foreign corporations." By a net of 15 percentage points, the answer was yes (and this was even after hearing the opposing viewpoint to such legislation).
Perhaps the most interesting numbers, however, involve voter perception of how the Obama White House is handling political ethics and the influence of special interests. Respondents largely don't think the president has done enough -- even after he refused lobbyist donations to his campaign and drastically restricted their access to his administration.
Indeed, 56 percent of respondents say Obama has not done enough to reduce the influence of special interests while just 35 percent say he "has made [an] effort to reduce [the] influence of special interests." Fifty-one percent said the influence of special interests has increased since Obama took office while just 32 percent said it has decreased.
Popular in the Community