George Clooney produced, co-wrote, directed, and stars in Sony's "The Monuments Men," but there's one part of the film's journey to theaters that he can't do alone: find all the missing artwork stolen or taken during World War II. That's where the audience comes in: As part of the release of "The Monuments Men," Sony is partnering with author Robert Edsel for the SupportTheMonumentsMen.com campaign.
"This is hugely important to our efforts to complete the mission of the Monuments Men. Between 1945 and 1951 the Monuments Men and Women found and returned almost five million works of art and cultural items, so many of which had been stolen by the Nazis," Edsel, the author of the book on which "The Monuments Men" is based, wrote in an email to HuffPost Entertainment. "But hundreds of thousands of objects remain missing to this day including works of art and objects taken by soldiers as souvenirs. Our campaign, which George, Grant Heslov [co-writer] and Sony have so enthusiastically supported, marks the first time in history that anyone has sought the public's help in locating these items."
Clooney first announced plans to turn Edsel's book, "The Monuments Men: Allied Heroes, Nazi Thieves and the Greatest Treasure Hunt in History," into a film in early 2012. "I'm not opposed to doing a commercial film, I'm just opposed to doing a commercial film that doesn't feel organic to me," Clooney said to TheWrap on Jan. 8, 2012. "So if we're going to do a commercial film we thought, 'Let's do something that seems fun and actually have something to say.'" In addition to Clooney, "The Monuments Men" stars Matt Damon, Cate Blanchett, John Goodman, Bill Murray, Jean Dujardin and Bob Balaban.
"Working with George and Grant was a wonderfully collaborative process," Edsel wrote in an email to HuffPost Entertainment. "They were eager to hear to my comments and recommendations throughout the creative process and during filming. We didn't always agree, but they always heard me out. They welcomed me on set numerous times and afforded me the chance to bring my team of researchers, who have worked tirelessly gathering the history of these men and women. For that I remain extremely grateful. Both George and Grant have worked passionately and diligently to understand this untold part of history, and then find a way to tell this epic story in their own voice on screen. Making this film was an enormous undertaking and, now that it is finished, a great achievement."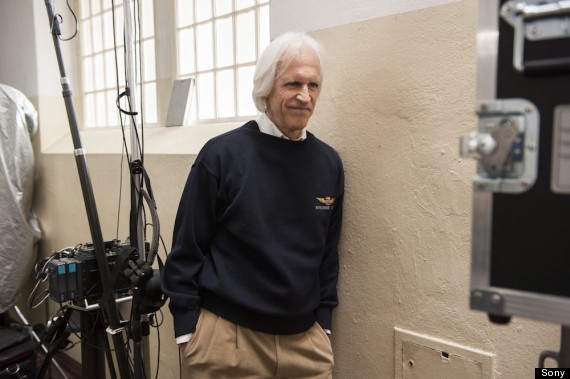 Robert Edsel on the set of "The Monuments Men."
In addition to audiences enjoying the film, Edsel wrote that he hopes "The Monuments Men" allows viewers to understand the lengths these men and women went to preserve history and protect "civilization's most important and beautiful treasures from the destruction of war and theft by the Nazis."
"I imagine audiences everywhere will wonder, as I did some 17 years ago, how these heroes and their epic story were largely lost in the fog of history. Their assignment presented the Monuments Men with a dilemma: 'Is art worth a life?' Seventy years later, audiences will have their own opportunity to consider this provocative question," Edsel wrote. "The looting of the National Museum of Iraq following the U.S.-led invasion in 2003 proved a painful example of what can happen when such a great legacy is forgotten. I hope that moviegoers will be vocal in expressing their belief that Monuments officers should always be an important part of our modern day military forces and that our nation shows the respect for the cultural property of others that the Monuments Men and women did during World War II."
As Sony noted in its press release, SupportTheMonumentsMen.com will also allow interested parties to sign a "virtual petition supporting the Monuments Men's efforts to preserve and protect great cultural works of art by encouraging members of Congress to honor the Monuments Men with the Congressional Gold Medal."
"The Monuments Men have earned the right to be awarded the Congressional Gold Medal, but for that to happen we need the public to encourage their members of Congress to quickly indicate their support for these recently introduced bills," Edsel wrote. "There will always be conflicts; I hope that our president will state, as did President Roosevelt and General Eisenhower, that the United States will always respect the cultural property of other nations, even in times of conflict. That was good foreign policy then; it will serve us well today and in the future."
More information on the initiative can be found in the press release provided by Sony below. "The Monuments Men" is out in theaters on Feb. 7, 2014.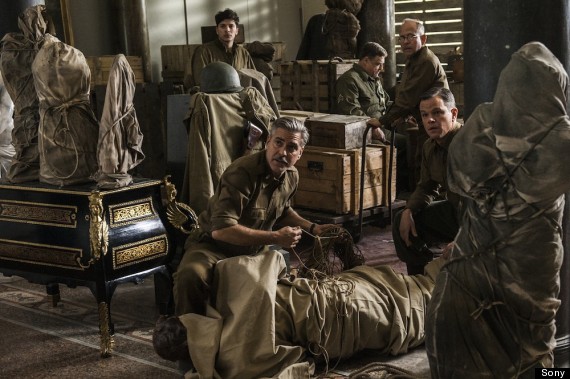 George Clooney and Matt Damon in "The Monuments Men."
SUPPORT THE MONUMENTS MEN IN THE SEARCH FOR LOST ART

CULVER CITY, Calif., Dec. 20, 2013 – In anticipation of the nationwide release of The Monuments Men, the new film from director George Clooney based on the true story of the race to save 1000 years of culture, moviegoers can visit SupportTheMonumentsMen.com, where they will find resources and information about the ways we all can continue the search for landmark works that were stolen or taken as souvenirs during World War II and are still missing today. The film, which is written by George Clooney & Grant Heslov, will be released on February 7, 2014.

Robert M. Edsel, who founded and heads the Monuments Men Foundation, added, "The Monuments Men and women saved almost five million cultural objects, but so much is still missing. They could be anywhere, in your grandfather's attic, or hiding in plain sight. I'm thrilled that with the release of the movie, there will be a way for the public to help complete these heroes' mission. Call 1-866-WWII-ART and find out how you can help."

At SupportTheMonumentsMen.com, moviegoers can sign a virtual petition supporting the Monuments Men's efforts to preserve and protect great cultural works of art by encouraging members of Congress to honor the Monuments Men with the Congressional Gold Medal.

In addition, visitors will find a phone number – 1-866-WWII-ART – which will connect callers directly to the Monuments Men Foundation, where they can speak with a Monuments Men Foundation representative regarding the search for lost art.

Also as a part of the Support the Monuments Men site, visitors will find an interactive map. On the map, moviegoers can find out local museums that will be featuring their institutions' connection to the Monuments Men – such as personnel who participated in the campaign or rescued works of art that hang on the museums' walls.

On the "Journey of the Monuments Men" feature, visitors can read about the history – from information about the real Monuments Men to the efforts they and others took to save landmark works during the war.

Finally, the studio has developed an educational program to engage high school and college students, families and art buffs about the story of the Monuments Men. The educational site, at www.MonumentsMenEducation.com, features downloadable lesson plans that meet common core state standards, an interactive map, and videos to spark discussion and aid educators in building a curriculum. Students are also invited to get involved by uploading photos of local works of art that best represent their communities. The photos can be uploaded by visiting the Tumblr page at www.LocalTreasure.tumblr.com.

Based on the true story of the greatest treasure hunt in history, The Monuments Men is an action drama focusing on seven over-the-hill, out-of-shape museum directors, artists, architects, curators, and art historians who went to the front lines of WWII to rescue the world's artistic masterpieces from Nazi thieves and return them to their rightful owners. With the art hidden behind enemy lines, how could these guys hope to succeed? But as the Monuments Men found themselves in a race against time to avoid the destruction of 1000 years of culture, they would risk their lives to protect and defend mankind's greatest achievements. From director George Clooney, the film stars George Clooney, Matt Damon, Bill Murray, John Goodman, Jean Dujardin, Bob Balaban, Hugh Bonneville, and Cate Blanchett. The screenplay is by George Clooney & Grant Heslov, based on the book by Robert M. Edsel with Bret Witter. Produced by Grant Heslov and George Clooney.
Calling all HuffPost superfans!
Sign up for membership to become a founding member and help shape HuffPost's next chapter
BEFORE YOU GO
PHOTO GALLERY
Celebrity News & Photos