Louisiana has the highest childhood hunger rate in the country, 24 percent compared to 6 percent in Massachusetts according to a report by Feeding America, constituting a domestic human rights crisis since even one hungry child is too many. And repairing our infrastructure including schools, hospitals, levees, flood protection and transportation has just begun as residents struggle for access to affordable housing and jobs.
The logical solution has long been to hire displaced residents to rebuild, and the Gulf Coast Civic Works Act could be the Marshall Plan we've been needing for almost four years. The RFK Memorial Center for Justice, Oxfam and the Gulf Coast Civic Works Project are backing the bill that would bring 100,000 local households green jobs doing the rebuilding work still unfinished since Hurricanes Katrina and Rita. House Resolution 2269 provides for living wage jobs and training opportunities for residents (both home and still and displaced) in infrastructure, restoring natural flood protection and increasing energy efficiency. The Act would allow the feds to partner directly with local leaders and non-profits, and, with climate change a factor, would help prepare for future storms while addressing poverty making it a win, win, won proposition.
This is the Bill's second go-round, introduced in the House yesterday afternoon by Representative Charlie Melancon, a tireless advocate for coastal restoration, and Reps. Zoe Lofgren, Joseph Cao, Gene Taylor, John Conyers, Barbara Lee, John Lewis, Peter Stark and Charlie Rangel.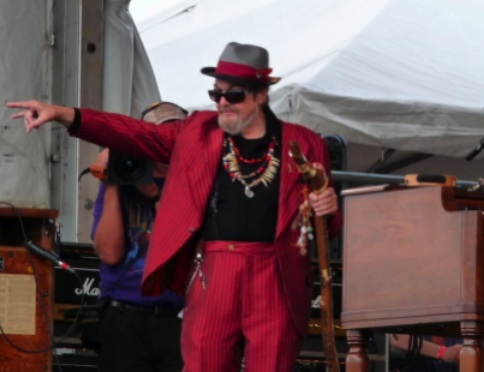 Rep. Melancon stays in touch with New Orleans environmental activist Mac Rebennack, a/k/a Dr. John, who points out that some residents used to cook with what could be gathered in their own neighborhoods - the ultimate example of eating local. "They knew using Saint Augustine grass and certain grasses made really good seasonings in dishes. People used to go get food seasonings right off the neutral grounds. They would go pick the grass and knew which grass was good to cook. And there's wild game to use if they don't start shooting everything out there. They almost killed off all the buffalos - they just shot them. Among Choctaw peoples if you shoot something, you leave some of it for other critters to eat. That's respect: 'We took your spirit, now we're leaving it for other critters to eat.' Shooting wolves from an airplane and stacking them up and not eating any of it was just like, what the fuck kind of asshole is this?" Suffice it to say, Dr. John is not a fan of Sarah Palin.
Long an advocate of green living, Dr. John eats healthier than anyone I know but the old school New Orleans diet came from tough times and he describes how, "People always used to tell me the story of how back in the game when Benny Martin invented the po boy sandwich so people have something to could eat, you took long potatos and dressed it with a little tomatoes and mayonnaise and put a little bit of gristle on it - that was a poor people's roast beef sandwich. I can imagine during the Depression when it was invented how little roast beef you got. You didn't get much when I was a kid, but it was 15 cents for a potato sandwich and it was something to eat for all of the workers who had no money . . . no gigs." Martin was a former streetcar conductor whose restaurant fed streetcar workers on strike for a living wage.
Mac's stories of New Orleaneans cooking everything from squirrels to acorns make me wonder if childhood poverty was at 24 percent back in 1928 or if things were different when you ate what you could find. These days, the potato sandwich has morphed into the french fry po boy, a pile of french fries on a giant loaf of french bread covered with gravy sold for a few dollars. That goes well with the pots of red beans and rice made to share with the whole neighborhood, today our neighbor brought us a plate of beans and rice with pork ribs from across the street in the grand tradition.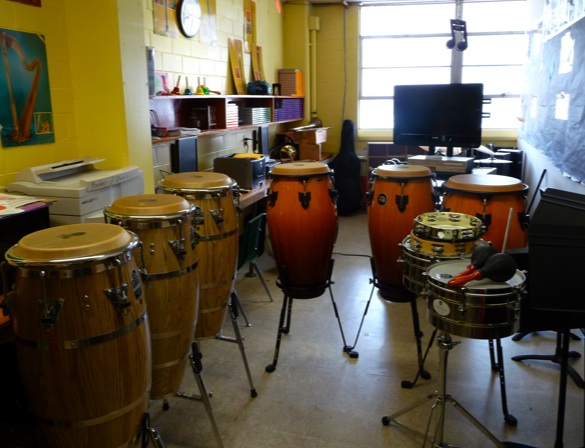 Mac's conga player Ken Afro Williams just donated his congas through NOMRF to a New Orleans school that had none so they could start a percussion program. Sharing is a longstanding tradition in the Big Easy, but our infrastructure of empathy has been bleeding since the levees failed and there's a small window left to heal it before the next hurricane season. Survival is precarious in this economy, particularly where many schools and fire stations are falling apart and Charity Hospital still has not reopened. Warriors for justice across the board are supporting HR 2269, and based on the fact that our President was an early community organizer this is one bill not in danger of a veto if it can get through Congress. If you'd like to help, call your Representative and ask him or her to pass the Gulf Coast Civic Works Act.
Robert F. Kennedy Center for Human Rights Director Monika Kalra Varma sums up the issue with, "The right to participate in recovery, to return home with dignity and safety, and to decent work opportunities - these are the basic human rights that we have denied survivors of hurricanes Katrina and Rita for too long."

Popular in the Community