"One way to determine what is missing in day-to-day American life may be to examine what behaviors spontaneously arise when that life is disrupted." - Sebastian Junger
Detroit. Outside of Jack White's storefront and studio, Third Man Records. There are twenty or so, all wearing red, mostly men. The group collects in the shade, arranging any which way to avoid the sun. Though there are rumors flying about, Jack White will not make a cameo today. With all that red out front, to the onlooker, the Detroiter, it may appear otherwise - a reprise to when White was candy striping, honoring the blues up and down Cass Corridor.
They are supporters of FC United of Manchester. Once labeled traitors, dismissed as a gimmick and called, "self publicists" by legendary Manchester United coach, Sir Alex Ferguson. In 2005, the small faction did the unthinkable; they walked away from Premier League powerhouse, Manchester United. It had been the only club they'd supported. The tipping point for many was the day Malcolm Glazer purchased majority shares in Manchester United. Others pointed to the removal of "Football Club" from Manchester United's crest. The feeling for many was that the time had come to re-create a club representative of the Mancunian spirit. Owned by them.
It is May 2016, and Detroit City FC of the National Premier Soccer League (NPSL) is hosting FC United of Manchester, members of the National League North - sixth tier of the English Football pyramid - in an international friendly celebrating the supporter movement. Supporters from both sides calling it, "The Derby of the People!"
"To understand humanity through football." I say, sequestering Roy Williamson, one of the traveling supporter's of FC United.
"Oh really?" He chuckles when I tell him such.
Roy takes a sip from his beer. We've stepped into a bar blocks from Third Man Records. I'm waiting for him to explain how it feels to be a supporter-owner of a football club now in it's 11th year of existence.
"After being at Manchester United," Roy gives thought. "And to not be asked my opinion about anything basically. And then going to a club straight away, where I'm seen as important, and we're seen as important. Where we can make decisions that will affect the future of the club, that was, politically for me, that was a massive move. I believe that people should be involved in their own futures, should be making decisions, and it's allowed me to do that."
I wondered if a time ever existed when Manchester United asked for real opinions from its supporters? And if so, were they valued?
Reports of infighting over the direction of FC United have become part of the club's story over the past year. Focal to their evolution, disagreements over whether the non-profit club has strayed from its guiding principles; avoiding outright commercialism, attempting to make admission prices as affordable as possible, discriminating against none. In spite of any desultory rhetoric that's cropped up, Roy still believes in the collective efforts of FC United members. He points to the community share scheme that FC United supporters collaborated on together. Enabling the club to build their very own ground in 2015, Broadhurst Park.
"The model that we've got," says Roy, "compared to the normal Premier League, professional football setup. It's one that, I'm never going to abandon this. I'm not going back. I might go back to see the odd game [Manchester United]. But I'm not going back as a supporter. Because what we've got is more important. Politically it's more important."
Roy was right. The supporter-owned movement is important. And it is political. And not just in England, or the United States. The movement has attracted a diverse group of individuals from various backgrounds, from multiple countries. Those seeking something more bespoke, something representative of one's zip code. Where contribution to one's club is experienced neighborly, and the direct impact of that effort, whether monetary or sweat equity - typically both - are crucial to the existence of the club.
"It's also about making sure that football remains affordable." Roy adds. "Too many are becoming disenfranchised from watching the sport live. And we don't want that."
Another reason I went to Detroit was to pay homage to the first community investment campaign in American sports history. Approximately 500 Detroit City FC supporters raised upwards of $725,000 through a crowd funding investment scheme - Michigan Invests Locally Exemption (MILE). The campaign covered the renovation costs allowing the semi-professional team the opportunity to relocate to the Hamtramck community, to Keyworth Stadium. An early Work Projects Administration (WPA) project, Keyworth opened in 1936, during a period in Detroit history when sit down strikes at General Motors were on going.
Completely surrounded by Detroit, the city of Hamtramck has become accustom to periods of change. So too immigrant influx. Polish immigrants initially moved into the area after the Dodge Brothers opened an automotive plant in 1914. Yemeni and Bangladeshi immigrants have since moved into the area, making Hamtramck the first Muslim-majority American city.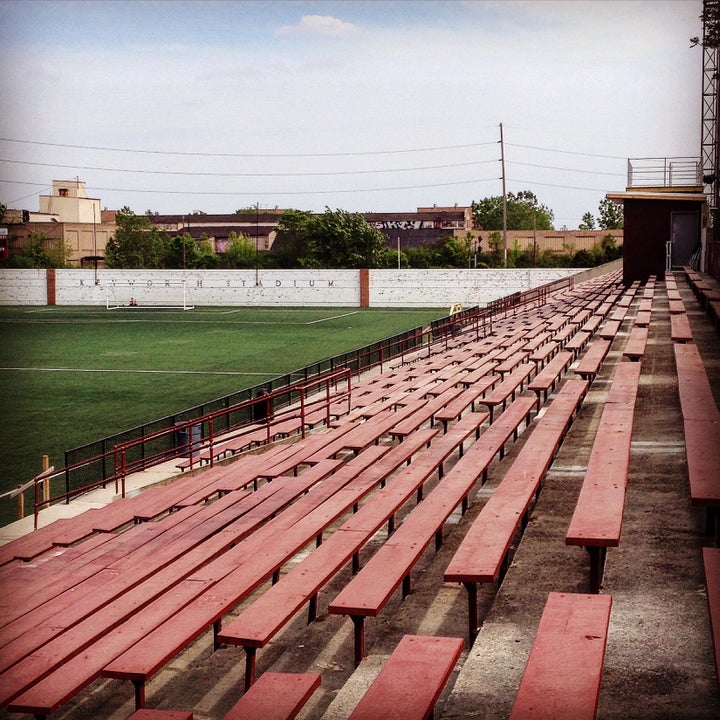 On the flight to Detroit, I started thumbing through Sebastian Junger's latest book, Tribe. As I read, I considered what constituted tribal behavior. There were some at a local football pub I frequented who feigned a tribal feeling when describing a connection to their football club. Often, the football club they spoke of was accustomed to playing midweek UEFA Champions League games. In his book, Tribe, Junger writes, "Communities that have been devastated by natural or man-made disasters almost never lapse into chaos and disorder; if anything they become more just, more egalitarian, and more deliberately fair to individuals." Moreover, "Acting in a tribal way simply means being willing to make a substantiative sacrifice for your community - be that your neighborhood, your workplace, or your entire country."
As modern society has evolved, I wondered whether the meaning of the word tribe had been watered down? Become nebulous. Especially to football culture. Truthfully, of those at the pub who claimed or felt a tribal connection to their football club, how many had actually made some type of substantive sacrifice? Then I wondered, if it was possible, if one could make a genuine contribution to their club, would said club's hierarchy or model even desire such a sacrifice?
In their first year of existence, FC United of Manchester supporters raised funds in support of the Bhopal Medical Appeal. Since 1996 the non-governmental medical initiative has provided free medical care to survivors of the Union Carbide pesticide plant gas leak, which exposed over 500,000 people to a symphony of chemicals. The industrial disaster, which has been considered the Worlds worst, occurred in 1984. Government officials of Madhya Pradesh, India confirmed nearly 3,800 deaths related to the gas exposure.
Would a Premier League club laud an ethical effort like this?
Roy and likeminded supporters felt like they had to sell off their shares in Manchester United after Malcolm Glazer's takeover. "Here's a rich man who's bought my football team," Roy's financial investment had been relatively small. 50 quid. "But he wants me to continue to put the money into it, to make him even richer. It was akin to me, to someone pinchin' your car. And you continuing to put the petrol in it. I wasn't gonna do that."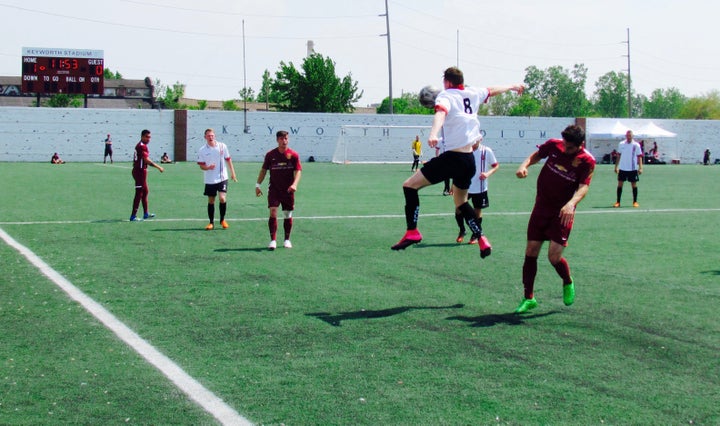 The night before in Corktown. Outside one of Detroit's older establishments, Nancy Whiskey. I momentarily forget I'm in Detroit. It's quiet. The air is surprisingly sweet. Leading away from the pub there are empty houses, or in some cases, those that wear the facade of abandonment. As I walk the neighborhood, the occasional vacant plot appears. It's an odd scene.
Prior to Detroit becoming the largest municipality in U.S. history to enter Chapter 9 bankruptcy, U.S. Bankruptcy Judge Steven Rhodes summarized in his 2013 ruling, "We have here a judicial finding that this once proud city cannot pay its debts. At the same time, it has an opportunity for a fresh start. I hope that everybody associated with the city will recognize that opportunity."
Soon both teams will join their supporters for a social hour at Nancy's. The atmosphere will build. Hugs will be exchanged. It was unlikely that any of the socialites would have Judge Rhodes's words at the forefront of their minds. About a fresh start. And recognizing opportunity. Yet those who espoused the supporter-built movement in Detroit were living proof.
After orienting myself with the room, I bump into Detroit City FC supporter Joe Novak. Standing there, he appeared to be absorbing the moment. Or the profundity of it. After sharing that I flew out from Denver for the match he was immediately delightful.
I ask Joe about grassroots football, "Why is the supporter-built model so important to Detroit?"
"Well Detroit, we were kinda left on our own. The big three can go bankrupt, or whatever." Joe shakes his head. "Right next to us," He points past a wall. "There's literally across the street, there's a burned out house."
With Junger's definition of tribal behavior in mind, I wondered if Detroit City FC's endemic support was a type of behavioral response to the socio-economic disasters of bankruptcy and bailout? Community members regaining equilibrium through a local football club.
"We've had to build this shit by ourselves, from the ground up." Joe says with an almost stunned look. Like he's tapped into a place where language tapers off. "So the ethos of this club is the same way."
Joe manages the game day operations for the supporters group, the Northern Guard. He and other Northern Guard supporters had been at the airport earlier in the day, shuttling FC United supporters to their hotel. "You don't need to wait for these millionaires to swoop in and create something for you." His tone has changed to certainty. "You can create something yourself and be successful. That's what I think Detroit City is all about. And that's what I think FC United is all about."
Being that Hamtramck wasn't a well-off community, Joe shared how he and his father built a bin for soccer balls and placed it at Keyworth Stadium. Meanwhile, the Northern Guard solicited local businesses, garnishing the bin with soccer balls.
"Any kid in the community can come and take a soccer ball, play with it, put it back, and then the next kid can play with it." Joe says, "It's something small, but we do a lot of stuff like that. And that builds the sense that, you're more than just a fan of a soccer club. You're a member of a team, a family, a community."
This aspect of things might seem Pollyanna, but the creation of something with the intention of sharing serves as an important reminder to the supporter-owned and supporter-built movement. Not only does it highlight the creation of a community asset, it features just how important individual efforts are to the inspiration of others.
Detroit City FC co-owner, Sean Mann shared with Stefan Szymanski, author of Soccernomics, one week before the international friendly, "We founded the club because we were dissatisfied with the version of capitalism that operates in modern sports in general, not just soccer. High ticket prices and stale atmospheres inside the stadium seem typical nowadays. Detroit City has found a niche by offering affordable prices and encouraging the fans to express themselves. The owners do not see the fans as customers but as the lifeblood of the club."
Later at Nancy's I meet up with Sean Grogan and Dean Simmer, both are Detroit City FC supporters. Both are equally enthusiastic about the football culture developing in and around Keyworth Stadium.
"You show up there during a night. It's like 80 to 100 kids playing pick up out there," Says Sean, who's wholly unaware of the discussion Joe Novak and I had earlier in the night about Keyworth. "It's incredible, on the same field that DCFC is playing on right now. That's something I've never experienced out in the suburbs. That's a real soccer culture to me."
Neither Sean nor Dean will make use of the words tribe or tribal during our discussion, though I wouldn't have been surprised if they had. Instead they make several references to culture. That the supporter-owned and supporter-built sporting cultures, had more to do about the people within the group and what they valued.
Dean, who's one of the Capo's for the Northern Guard, asks if I'm going to the game.
"Do the march with us," he says, reminiscing about their recent supporters march. It had been the first one to Keyworth Stadium. "We march right through this neighborhood. There were probably 75 or more kids, families, all standing on their porches chanting, waiving and stuff as we went by. People who had never experienced it before were dumbfounded. Kids were slowly riding down the march on their bikes."
As I found, the march started at Fowling Warehouse, mere blocks from the stadium. Supporters stake their claim of the residential streets, Conant and Jacobs, until they reach Keyworth. It's a sight of passion. Smoke bombs and chants. Hand crafted flags. All of it reminding me of the march I had experienced in Seattle, a truly magnificent scene. Yet the march in Detroit felt different somehow. Almost pastoral, maybe. Everyone that was there, participating in the march, they could relate to each other in an industrious way. And then, for those standing on their front porch - dumbfounded - what else might they be feeling? Pride? A sense of connection?
Needless to say, I certainly hadn't expected the march to resonate like that. "What an experience!" I remember saying to friends nearby as we marched in step.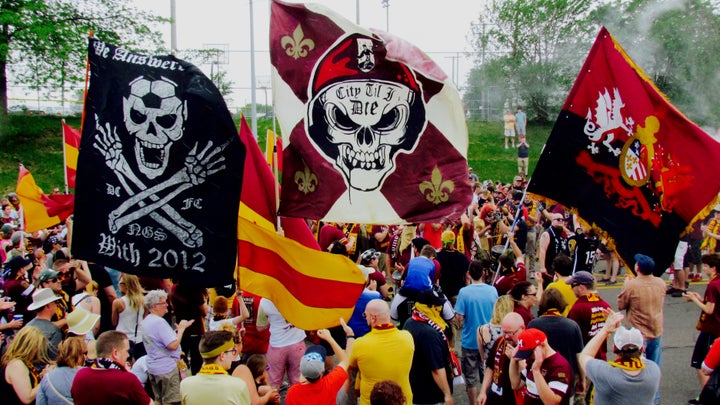 Days later after returning home I felt this aha moment, something I experienced while looking out at Keyworth Stadium for the first time. I was reminded of the late Holocaust survivor, Viktor Frankl, who theorized that there were three core values to human life. After rereading some of Frankl's work on values and meaning, I started to conceive the Detroit City FC and FC United supporter movement in a different way. The first core value Frankl identified was the creative, or that in which we create. Such as a work or a deed. The second core value was the experiential, or the way in which we experience something or encounter someone, whether it's a chance encounter or the hundredth. And lastly, the most important value according to Frankl, the attitudinal. Regardless of any potential disaster or unwelcome situation we may experience in our lives, ultimately the attitude we choose in the face of adversity is paramount.
Unknowingly Dean embodied this sentiment, when he said, "For people who go to a Detroit City match for their first time, they don't walk away saying, that was the best soccer game I have ever witnessed in person. They say stuff about the experience. And I think that's the measure. People go there because they believe in the club. They believe in the experience. They believe in its investment in their community. And I think that's the thing that makes Detroit City so radically different from, insert generic sports brand here."
In stoppage time, FC United hold a narrow lead over Detroit City, 3 - 2. The match had gone back and forth, with Detroit City holding the lead for a good portion of the match. Then in the 93rd minute, Detroit City FC's Alec Lasinski accomplished what most were hoping for, beating an outstretched FC United keeper, sending most of the 6,245 who attended into a frenzy. The game ending 3-3.
Joe Novak had said that the score of the game wasn't important. And for the most part I believed him. Until that moment happened. Eight year veteran of Manchester United (1975 - 1983, accumulating 322 appearances for the club) Steve Coppell, joined the Detroit City FC commentating team for the match. Near the end of the live stream broadcast, as the players were shaking hands with the Northern Guard, Steve shared a few thoughts; "A draw was probably the right result. It could have gone either way. But in the spirit of the game, and the way it was destined to be, a draw keeps everybody happy. The FC United team can be so pleased with their contribution to this occasion." Coppell then pauses briefly during the broadcast, "It wasn't just a match, it was an occasion."
I think everyone could agree with Steve. It had been an experience.
After the match, while gathering player interviews on the pitch, I see Roy shuffling towards the exit. We wave, exchanging pleasantries. A thumbs up. The day prior I had asked Roy if there was anything that the supporter movement had taught him. I could almost hear him again as he found his way to the exit.
"I think what this last year has taught me, is that you evolve because of the new members. And you're gonna hit times when it becomes more difficult. And we will get through these issues at the moment. But they might come back in another ten years. So what it's taught me is that it isn't something you set up and it goes on forever. You continually have to make sure that you're doing things right. And that includes educating people who are coming along to watch FC United."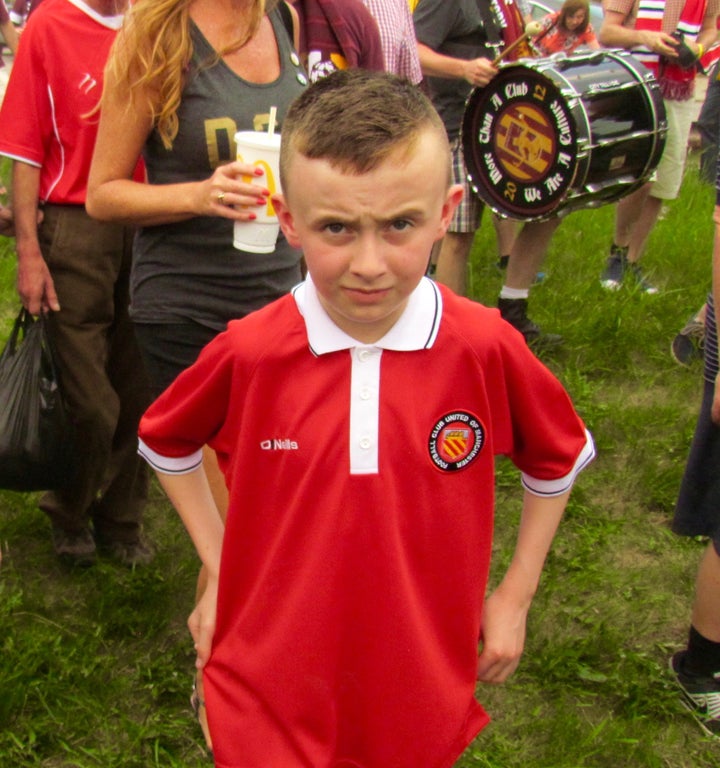 Popular in the Community