Supporters of Joe Miller--the U.S. Senate candidate supported by Sarah Palin in Alaska--carried assault rifles and wore open side arms during a festive community parade this week, while young children marched alongside them.
Miller is running in the GOP primary against incumbent Republican US Senator Lisa Murkowski, a far more popular figure in Alaska these days than Palin, who quit her position as governor a year ago amidst a series of ethics scandals and an impending override of her federal stimulus veto.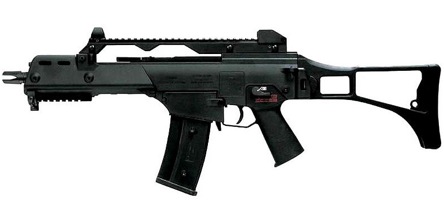 Footage of the event, located on Youtube and at the website of noted Alaska blogger Andrew Halcro, shows a handful of potbellied Miller supporters behind a black Humvee openly brandishing weapons at the Bear Paw Festival, a popular community celebration held annually in Eagle River and Chugiak (located north of Anchorage along the Old Glenn Highway on the way to the Palins' home town of Wasilla). The five-day festival includes a "Teddy Bear Picnic," barbecues, music and a historical fair.
Miller, who received the Alaska Tea Party endorsement and whose politics are well to the right of Atilla the Hun, served as an assistant attorney for the Fairbanks North Star Borough from 2002-2009. He left amidst controversy last year and failed to include this position anywhere in his official campaign bio or web site.
Palin's political action committee SarahPAC recently dished out a $5,000 contribution to Miller's campaign.
Update: I've been discovered by the gun nuts and the NRA lobby. I feel so absolutely Amerkun! They've been issued their talking points and have taken their orders accordingly. 1) The image of the assault rifle above is a symbol. An image so that readers have a general sense of what we are talking about. I would have used a still image from the parade, but the Miller campaign didn't have any on its web site. Hmmmm...2) I am being branded a "liar" because I used the verb "brandish." Well here's a secondary definition of brandish: tr.v. 2. To display ostentatiously. I rest my case. 3) No one said this is illegal. 4) No one was saying to abolish the Second Amendment. 5) My father was a proud member of the NRA and a far better pistol shot and rifle shot than any of those yahoos in the video. And a respectful hunter. And he would have never done that in a family parade. Ever. 6) Some other yahoo wrote me a threatening note about keeping my hands off his guns. I don't think so. This "march" is like yelling "fire" in a crowded theater. The purpose is clear: intimidation. 7) But here's an admonition that's real: Keep your guns away from my kids.

Award-winning writer and filmmaker Geoffrey Dunn's book The Lies of Sarah Palin: The Untold Story Behind Her Relentless Quest for Power will be published by St. Martin's Press.
Calling all HuffPost superfans!
Sign up for membership to become a founding member and help shape HuffPost's next chapter