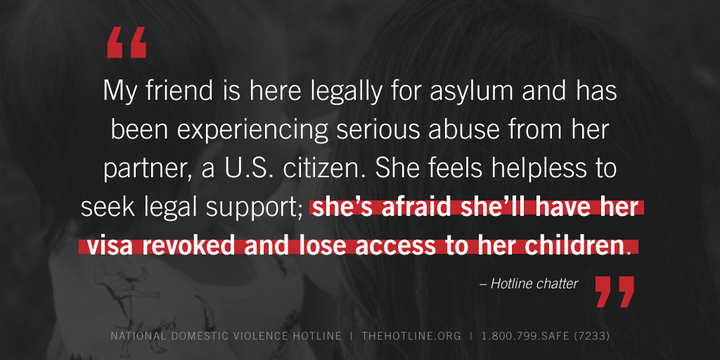 As we celebrate International Women's Day, it's important to remember that ALL women deserve support and safety, regardless of race, religion, country of origin or immigration status.
In 2000, Congress created the U and T visa programs as part of the Violence Against Women Act (VAWA) reauthorization to "strengthen the ability of law enforcement agencies to detect, investigate, and prosecute cases of domestic violence, sexual assault, trafficking...and other crimes...committed against aliens, while offering protection to victims of such offenses in keeping with the humanitarian interests of the United States."*
Congress also created the VAWA self-petition in 1994 recognizing that abusive spouses often use a victim's immigration status as a tool of power and control. Furthermore, Congress created important VAWA confidentiality provisions to prevent abusers from using the immigration system as a way to maintain power over survivors.**
In spite of these legal protections, immigrants to the U.S. who are domestic violence survivors face immense barriers to safety and support. Recent executive actions seriously undermine the protections created by VAWA to increase victim safety and encourage immigrant victims and witnesses of crime to cooperate with law enforcement and ensure public safety. These actions send a dangerous message to immigrant communities, namely that reaching out for help will likely result in deportation. Human traffickers, perpetrators of sexual assault and domestic abusers prey on vulnerable immigrants, often using the threat that seeking assistance from the police or courts will result in survivors' deportation.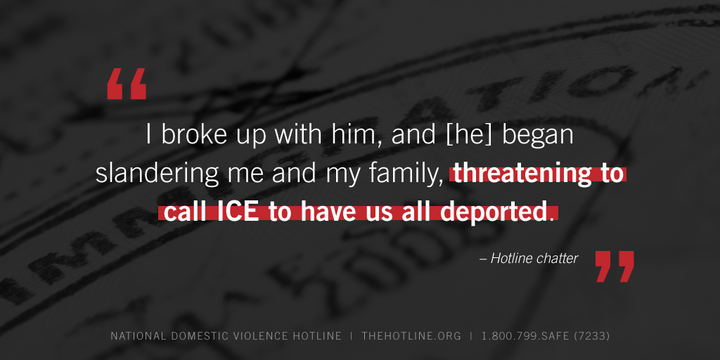 When these threats are realized, they have a significant and widespread chilling effect, driving immigrant victims further into the shadows. Congressional findings in VAWA 2000 indicate that all women and children who are victims of crimes [including domestic violence, sexual assault, human trafficking] "in the United States must be able to report these crimes to law enforcement and fully participate in the investigation of the crimes committed against them and the prosecution of the perpetrators of such crimes."*** The current orders undermine decades of community policing efforts to build relationships and trust with immigrant communities and revives programs that have been discredited, largely due to these concerns. The results of these actions create uncertainty and the real danger of harm, jeopardize the ability of victims to access safety and intensify the trauma they have experienced.
At The Hotline, we stand with all survivors, regardless of their immigration status. If you or someone you know is in need of support or resources, please call 1-800-799-7233 (24/7). We are able to provide support via phone in 200+ languages. Online chat is available at www.thehotline.org from 7 a.m. to 2 a.m. Central time. Chat en Español esta disponible todos los días de 10 a.m. a 10 p.m. Hora Central.
*See section 1513(a)(2)(A), Public Law No: 106-386, 114 Stat. 1464.
**See 8 USC 1367, INA 239(e).
***See section 1513(a)(1)(B), Public Law No: 106-386, 114 Stat. 1464, emphasis added.
Related
Popular in the Community