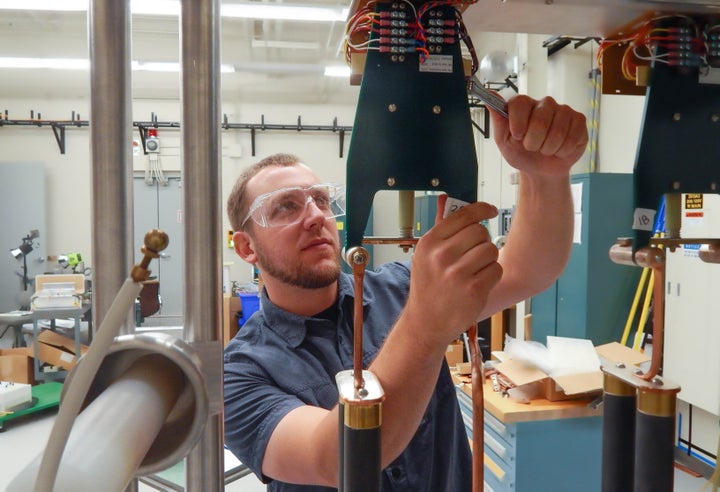 In recognition of National Manufacturing Day, more than 170 events will take place today across California. Hosted by manufacturers of all sizes, these events will showcase to the next generation of workers the exciting possibility of careers in manufacturing.
Manufacturing is the bedrock of the American middle class. In California, the industry employs 1.3 million people and pays on average $96,000 a year, almost double the state's average salary.
California-made products can be found all across America and in every corner of the globe. In fact, last year the manufacturing industry was responsible for $142 billion of California's exports, a nearly 15 percent increase over the previous six years.
Manufacturing is on pace to create 3.5 million new American jobs over the next decade. But even as the industry grows, there is expected to be a shortage of almost 2 million people to fill those open positions.
Advances in technology and production have changed the face of traditional manufacturing. This has led to an increased demand for higher-skilled workers, particularly those with science, math and technical backgrounds.
Many of those jobs could come to California, supporting both our workforce and the needs of the manufacturing industry. Thanks to our state's vibrant technology sector, California is in a unique position to prepare our workforce to attract those 21st-century jobs but we have to make the necessary investments now.
"In California, the industry employs 1.3 million people and pays on average $96,000 a year, almost double the state's average salary."
California is already home to two of the nation's 14 Manufacturing Institutes, which foster partnerships between the public, private and education sectors to advance manufacturing and promote long-term sustainable research and development.
And thanks to the efforts of Governor Jerry Brown and California Community Colleges Chancellor Eloy Oakley, the Strong Workforce initiative is helping companies work more closely with community colleges to develop a curriculum that provides students with the skills their company needs to grow.
One great example of this is the partnership between Las Positas Community College and the Lawrence Livermore National Laboratory. Recognizing an impending shortage of machinists, Lawrence Livermore partnered with Las Positas and the Alameda County Workforce Development Board to create the Vets to Tech program to train veterans in advanced manufacturing and machining.
Now in the program's third year, many of these veterans have either begun careers at Lawrence Livermore manufacturing parts for the lab's engineering department or are pursuing their bachelor's degree.
We've seen similar success to this approach in San Diego, where San Diego City College and Taylor Guitars partnered to address a shortage of Computer Numeric Control (CNC) machine operators in the region. Taylor worked with the college to develop a curriculum to train students in CNC operation and guitar manufacturing.
As a result, Taylor Guitars is not only able to hire the workers they need to grow their business, but nearly every student graduating from the San Diego City College program finds a good paying job within the San Diego manufacturing industry.
California, however, can't do it alone. Support for federal programs, like the Hollings Manufacturing Extension Partnership (MEP), will be key to our nation's success.
This program facilitates partnerships between federal, state, and local stakeholders to help manufacturers reach untapped markets, embrace groundbreaking technology and increase the value of their products. In 2016 alone, MEP contributed to more than $9 billion in sales and facilitated $3.5 billion in new investment for manufacturers across the country.
It's important we continue to support manufacturers and manufacturing workers by promoting collaborative partnerships across multiple sectors and supporting robust federal investments in programs like the Hollings Manufacturing Extension Partnership.
I would encourage communities across the state to get to know their local manufacturers to understand the role they play in the economy and how support for technical education can lead to high-paying, secure and meaningful careers.
Manufacturing Day is an important opportunity to recognize the value of manufacturing and its workers to our nation. I'll continue to defend, support and grow manufacturing in California because a strong manufacturing industry can continue to be the cornerstone of middle-class economic success.
Popular in the Community