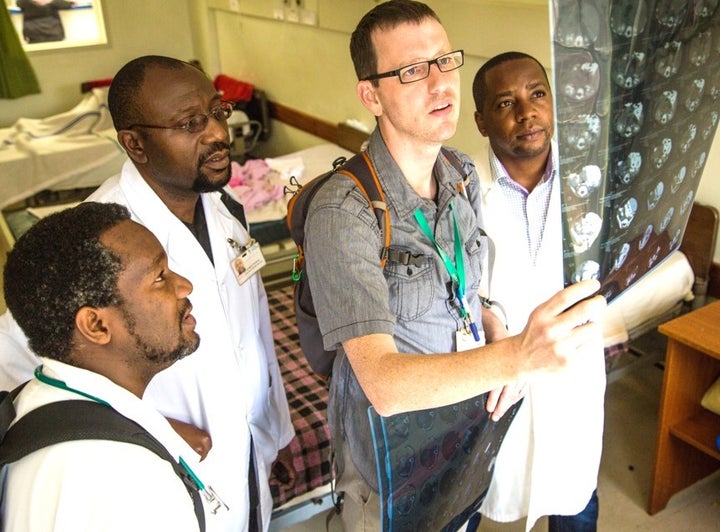 Each year, I receive a mailbox full of e-mails on Giving Tuesday from Jewish organizations that are worthy of support. Sometimes, I am even one of the people clogging your inbox – and I do hope that you'll give.
I am a big believer in Jewish philanthropy and supporting Jewish organizations at any level you are able to give. They do a lot of good in the world, which I know firsthand as a rabbi. But it concerns me when Jewish leaders look askance at a Jewish (or Jew-ish, Jew-interested, or Jewishly connected) person giving to a cause beyond our community. More than a few of us see gifts to non-Jewish organizations as a cause for communal decline. This zero-sum thinking oversimplifies the issue and undermines philanthropy of all kinds.
If people are choosing how to spend any residual money at the end of the year, they might not be choosing between charities at all. For many, it could be the choice between paying off a loan, giving to a secular charity, and buying another iPad. Jewish non-profits might be competing for limited resources with Apple or Citi, not just secular charities.
Would I rather that a Jewish person give to the ACLU instead of purchasing yet another Apple product? Absolutely. Might I also hope that they donate to my congregation? Without a doubt. Are those two hopes in tension? Not as often as some Jewish leaders might fear.
The Jewish obligation is to give charitably for the sake of justice in our world – and there is sacred potential in giving to many worthy causes outside of the Jewish community. Jews seem to understand this intuitively. It is those of us in leadership roles who sometimes do not.
Based on a 2013 study, it is clear that Jews have internalized the value of charitable giving and give in disproportionate numbers – often give to secular causes. Think hospitals, opera houses, and research institutions. Would we really tell Jews who give to them with gusto that their gifts are unworthy, or question their motives when they are doing something that our tradition praises?
Two friends, Rabbi Erica Gerson and Mark Gerson, recently brought to my attention – and for that matter, into existence – an unusual example that demonstrates the religious significance of giving beyond the Jewish community.
But when it comes to saving lives and engaging in front-line treatments for terrifying diseases from Ebola to tuberculosis, few other people have the courage to serve the world's most indigent people. Called by their tradition, medical missionaries serve in hazardous conditions far from the creature comforts to which we are accustomed, and earn pennies at exhausting jobs that would pay sky-high salaries in the United States. They convert few, but save many.
As Jews, we should differ about issues of belief with medical missionaries. But could there be anything more Jewish than saving lives?
In an even more unusual act of religious pluralism, the Gerson family has teamed up this year with the Christian Broadcasting Network to provide a $1 million dollar matching grant for up to $1 million that CBN raises for Christian medical missionaries.
This Giving Tuesday, I will be putting my money where my mouth is and donating through CBN to support this sacred partnership to save lives – in addition to the Jewish causes that I already support. It is a testament to religious pluralism and Jewish values at their best.
Even the Torah suggests the holy nature of this Christian cause. Commenting on this past week's Torah portion, the Babylonian Talmud asks why Abraham and Isaac are connected to the Holy Land, while Jacob does not have boundaries placed on the area he and his descendants will bless. It delves into a particular quote, Genesis 28:14:
And your offspring will be like the dust of the earth, and you will spread out to the west and to the east and to the north and to the south, and all of the families of the land will be blessed through you and your offspring.
Even taken at the most literal level, this passage of Torah suggests that Jacob's descendants – us – can have a remarkable impact well beyond the Holy Land if we are willing to authentically and compassionately engage with other groups of people to further worthy ideals. Jews can change the wider world when we support other communities in an ethic of religious or social pluralism.
Even, and perhaps especially, on Giving Tuesday, we should keep this teaching in mind. We are called by a Jewish ethical mandate to give charitably in order to further justice in the world. Motivate by our tradition, we can also give well beyond the bounds of our community alone.