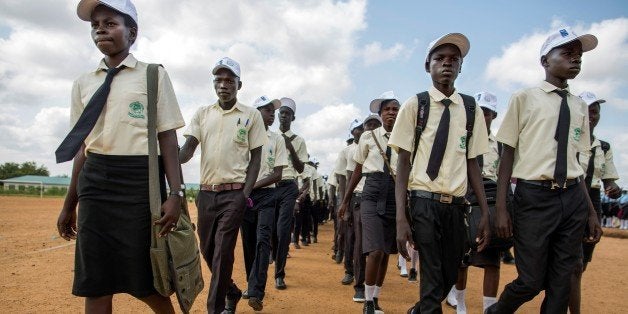 Five years ago, after more than 20 years of civil war, South Sudan became the latest Member State of the United Nations. The tasks at hand for the new State were enormous: peace-building, institution-building, security, socio-economic development. Looking more closely at the security sector, challenges were and are about the security of the nation, about the security of the people and their property, and about the security of the state and its institutions.
South Sudan has faced numerous challenges, which include professionalising the security sector, establishing ministries and parliamentary structures with the appropriate capacity for policy making and oversight, as well as improving community safety and access to justice. All of it should fit together, in a coherent whole, with good governance and rule of law as the core focus of the reform efforts. Bilateral partners, as well as regional and other international organisations, have supported reforms in the security sector in South Sudan. Unfinished work in the area of building and strengthening the security-sector institutions, together with political divisions, weakness of state institutions and extreme poverty and underdevelopment, have all been contributing factors to the recent resurgence of violence.
In the upcoming period we need to once again mobilise the international community's support for the youngest member of the international community, including to the comprehensive and coherent security-sector reform (SSR).
My own country, Slovakia, has been there for South Sudan and its people. We made South Sudan a priority country of our official development assistance and humanitarian aid. Slovakian development and humanitarian organisations have been assisting the poorest and most vulnerable in South Sudan already for about 10 years: building and running health clinics in remote areas such as Terekeka, Mapuordit, Rumbek and Maria Lou, vaccinating mothers and children in refugee camps in Juba, training small farmers in Wau how to increase their agricultural production, improving chances for children to go to school, offering government scholarships for young people from South Sudan to study at Slovak universities, etc.
Another important area has been experience sharing. The challenges remain enormous, including as far as humanitarian aid is concerned, and Slovakia remains committed to continue assisting South Sudan as much as possible. We have just added additional 600,000 euro to the 2016 Slovak Aid financial envelope for South Sudan, especially for humanitarian aid.
Against this backdrop, the key narrative remains that there is no development without durable peace and security. I am highlighting the theme of SSR as an important component of development, peace and security for the simple reason that a secure environment is needed to instill the confidence that promotes investment in the economy and creates the ideal conditions for development to flourish. Security-sector institutions need to see themselves as part of the bigger picture of reforming and realigning institutions for national development. After all, while security is critical in providing the enabling environment, peace and security are only temporary if no other development programme takes root. The landmark decision to integrate security and justice in the Agenda 2030 and amongst the Sustainable Development Goals (SDGs), most notably through the inclusion of Goal 16, provides new opportunities for SSR as a key instrument of peace-building, including in South Sudan.
The commitment to a comprehensive SSR approach in South Sudan is essential, as both the police and the military could serve to bring together their nation if they are truly inclusive and professional. The security sector should play a central role in healing the wounds of conflict-afflicted communities, as well as effective state building and institution building. Based on recent lessons learned in other countries, I am advocating for an inclusive and well-coordinated SSR approach in South Sudan aimed at creating a functional police service capable of supporting justice for all of the population, and a military focused on serving to protect the nation, and all of its communities, from external threats.
To achieve this we need to acknowledge that SSR is very much a political process. It was so in Slovakia and the same applies to South Sudan, too. Real political will for change is achieved when the risks associated with the necessary political and structural changes are articulated at the planning stages, the key stakeholders acknowledge and accept those changes, and all stakeholders participate in the relevant processes. The process needs to be nationally owned and nationally led, including as far the necessary buy-in in the local communities is concerned. Broad consultations are always beneficial in this regard.
Good governance and rule of law should be at the heart of any SSR process. It is only through a security sector that is well managed and accountable that we can ensure that we are able to provide an effective and efficient security sector that is capable of protecting the most vulnerable members of the society. Therefore, SSR should be properly weaved into long-term development plans and implemented in a graduated and incremental way. This human security perspective to SSR is essential.
Effective international support to such nationally owned and nationally led reform processes is essential. The international community should play its supportive role in a coherent and well-coordinated manner. The United Nations (UN), the African Union (AU), the Intergovernmental Authority on Development (IGAD) and the European Union (EU) have been instrumental in the initial stages of SSR in South Sudan. For instance, the AU together with the UN and other international organizations is currently assisting the Government in their efforts to develop a National Security Policy.
We now have established international and regional frameworks, such as SDG 16, UN Security Council Resolution 2151 (adopted in April 2014), and the AU Policy Framework on SSR (adopted in January 2013). Furthermore, IGAD is currently in the process of updating its security strategy. We should therefore spare no effort and focus on their implementation to achieve tangible results in SSR programmes, including in South Sudan. For SSR in South Sudan to succeed, political will and commitment is needed, as well as a long-term vision to build a security sector capable of binding the nation together, not dividing it.
Calling all HuffPost superfans!
Sign up for membership to become a founding member and help shape HuffPost's next chapter