We begin 2015 having won many victories for the LGBT community in 2014, among them some victories in the HIV arena. The fight against HIV includes some important milestones. Breakthrough research studies show new data on the transmission of HIV between partners with varying viral loads. New approved uses for medications can prevent the spread of HIV. Social science tells us our ideas of what an effective education campaign looks like need to be brought into the 21st century. These breakthroughs mean public-health institutions and our community need to evolve our HIV advocacy. This is some welcome news for those of us who want modern romance, sex, and perhaps peace of mind.
When we at Hornet, a gay social network with 4.4 million users, launched our "Know Your Status" ("KYS") campaign in 2011, it was received with such fanfare that we decided to make it a permanent feature in our app. Every user has a role to play in the health of our community. KYS allows users to disclose their status but asks HIV-negative users to include the date of their last HIV test. Hornet then sends users friendly reminders when it is time to get tested. An integration with aids.gov uses sophisticated geolocation technology to send users their closest testing locations to help them in this effort.
The HIV-positive, or "poz," community has remained the biggest supporter of KYS, because allowing users to disclose their HIV status to other users also empowers poz members to help fight stigma. HIV is real, but the fear of HIV often deters people from getting tested. Strong science is showing that stigma is one of the leading causes of people remaining untested -- a strange twist in the HIV-prevention conversion. Up until recently, HIV-education campaigns played on fear, but now the world is learning that fear is preventing folks from getting tested and thus detecting their HIV early. What the community really needs is empowerment, education, and sexual partners having frank discussions.
Science again, and HIV policy makers like the FDA, CDC, and WHO, have also changed the realities of HIV, which is why Hornet is evolving with significant enhancements to its "Know Your Status" feature. These include giving HIV-positive users the option to disclose whether they have an undetectable viral load, and giving HIV-negative users the option to disclose whether they are on pre-exposure prophylaxis (PrEP) -- that is, taking the drug Truvada daily to prevent HIV infection. If you take PrEP and are exposed to HIV, this medicine can work to keep the virus from taking hold in your body. Along with other prevention methods like condoms, PrEP can offer good protection against HIV if taken every day. (Currently PrEP is not yet available in every country. Learn about global access here.)
In addition, to help users who are HIV-positive, Hornet launched a community for poz men to meet each other. The goal is to meaningfully raise awareness around HIV among those who need it most: gay men around the world who are meeting through the app.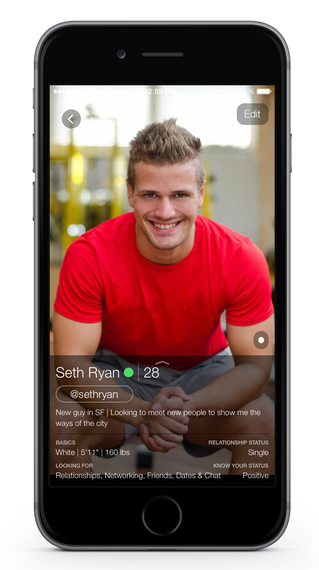 HIV infections are rising among gay men, especially younger ones. In the U.S., 20 percent of gay and bisexual men are estimated to be living with HIV, yet a recent study found that 44 percent of the men under the age of 35 said they had never been tested for HIV.
Overseas, the situation is even worse, with many countries ignoring HIV education completely and openly discriminating against gays. Hornet is the most popular gay app in a number of these countries, and the app is not just their only link to other gay guys but now their source of information on HIV.
Hornet and I are committed to looking for ways to eliminate stigma around this disease and share the latest health facts on preventing HIV and empowering those living with HIV with better options for self-expression. With our global reach, targeting men who date men, we can impact an audience that needs this intervention the most.
First among the newest changes are two new options that now appear in the "Know Your Status" section of members' profiles:
The "Positive, Undetectable" option is for those who are HIV-positive, on successful antiretroviral therapy, and, when tested for viral load, register as "undetectable." Studies have shown that this type of treatment can reduce the likelihood of transmitting the virus to HIV-negative partners by as much as 96 percent.
The second new option is "Negative, on PrEP." A recent survey of gay men in the U.S. found that only one in four knew about the existence of PrEP, yet it can be greater than 90-percent effective at preventing HIV infection when taken consistently.
In planning all these changes we were shocked when we surveyed a sample of our members and discovered a widespread lack of understanding of either of these options. In fact, nearly all guys told us that they had to search online to find out what these terms meant before they could answer our questions. Having done so, though, a clear majority felt that these new options were important and should be added to the app.
The interviews conducted with Hornet members underlined the need to explain and educate. The third significant change is that the app now includes comprehensive background on HIV/AIDS, and detailed explanations of all the different KYS profile choices. Recognizing the global reach of the Hornet app, we're translating this information into 26 different languages. Whether Hornet members are in San Francisco, London, Paris, Moscow, São Paulo, Istanbul or Bangkok does not matter; the same information is available to them all.
The fourth new change is the introduction of a much-requested feature to help HIV-positive guys find each other more easily on Hornet. Those members can now filter for other HIV-positive guys. If your status is positive, you will now see a filter in the app to show you other guys who are also positive. This filter is only shown to our members who have set one of the two positive options in the KYS menu.
All these improvements are in addition to the existing features, which include reminders to get tested every six months, and the zip-code lookup for finding an HIV-testing center.
Growing with an online community's ongoing needs is a process of reinvention and determination. However, these changes were easy to make, and we hope many other communities and institutions catch up to ending fear, fighting stigma and sharing the latest science in the fight to prevent HIV.
Profile edit information, with KYS choices, and extra information for those who need it:

In-app reminders to get tested: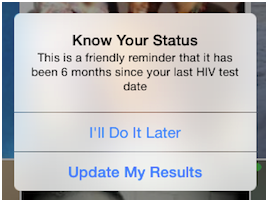 Popular in the Community