Sometimes, it takes a long time for a movement to gain traction within the mainstream Muslim American community. Collaboration and coalition building between National Muslim organizing and advocacy groups and Native Americans is one of them. For Native/ First Nations Muslims/Indigenous people, and the Muslims who answered the call for national mobilization to Support Standing Rock, this type of work makes a lot of sense. In fact, it reflects a long intertwined history between Black Muslims and Indigenous people, from escaped slaves in maroon communities to Native delegates at the Nation of Islam's Justice or Else Million Man March. In the groundbreaking, border collapsing song R.E.D., First Nations DJ trio A Tribe Called Red collaborated with Yasiin Bey (formerly known as Mos Def), Narcicyst, and Black Bear, a drum group from the Manawan Atikamekw Nation in Quebec. This creative production is an indication of the type of synergy that happens when people from diverse backgrounds come together. The Prophet of Islam, Muhamamad said, "The people are partners in three things: water, pastures and fire."
Muslim Anti-Racism Collaborative and MPower Change have joined together in an indigenous people's rights and environmental justice campaign. The have started a LaunchGood campaign #SuppportStandingRock to send a delegation of Native/Indigenous Muslims to send supplies to the Sacred Stone Camp. The campaign was inspired by the efforts of North Dakota's Standing Rock Sioux community, who are fighting an oil pipeline that crosses just a mile north of their Standing Rock Reservation. While farmers and others have fought the 3.7 billion pipeline which crosses four states from western North Dakota to Illinois, Native tribes have brought the issue to the national spotlight. But what is the American Muslim community doing to support the cause? Many are joining the cause. By supporting Indigenous people defend and preserve their way of life, Muslims can fulfill a sacred duty to stand for justice; and by doing so, we can do our part as custodians of the Earth.
Indigenous people have been on the forefront of conservation efforts and advocating for clean energy alternatives. Indigenous people have been disproportionately affected by the toxic industrial contamination; they have been subject to environmental racism, with many tribes coping with irradiated land and contaminated groundwater. Jennifer James , Creek-Chocktaw Muslim woman, said "The Native thinking is congruent with Islamic thinking that the Earth does not belong to us. Without natural resources, we cannot live. Who would poison their children?" Leslie Henderson (Ki'che'), a Spanish speaking Indigenous Muslim woman, shared her experiences at Standing Rock. She said, "Protecting our planet is part of our job as Muslims." Importantly, as the video produced by MPower Change highlights, Supporting Standing Rock is standing up for justice. After centuries of broken treaties and violation of water and land rights, we cannot tolerate our government breaking another promise.
While the political climate and media rhetoric is particularly xenophobic, the original people of this land are struggling to protect their sacred lands and way of life. Dave Thompson writes that Standing Rock has sparked a renewal of Native American activism, but their activism and organizing has been on going. It just hasn't been as visible in mainstream media. The invisibility of Native resistance, as well as their suffering is another form of violence against the indigenous peoples of this land. WBut an unprecedented moment is happening, as indigenous people from all over the world are joining Standing Rock and showing solidarity. Rosa Aqeel, the Associate Director of PolicyLink and Advisory Board member of MuslimARC wrote in a social post while visiting the camp, "This is the most beautiful act of unity I have ever witnessed. 200 Native Nations in one place, in prayer and as protectors."
As the weather cools, foreboding a bitter cold winter, Indigenous people and their allies are asking for support in the long drawn out legal struggle. As part of MuslimARC's commitment to advancing justice, we are supporting the Standing Rock and raising awareness beginning with crowdfunding awareness campaign. MuslimARC's #SupportStandingRock campaign goals are as follows:
Educate the public about Native resilience and how we can be accomplices in decolonization and anti-racism, ultimately, in the liberatory project that frees us all.
Inform readers about #NoDAPL and the protection of sacred lands, as well as amplify Indigenous led environmental justice efforts
Amplify the voices of Native Muslims by supporting their delegations to standing rock. Native Muslims on Twitter include @mocosamoments, @AlyaJessC , @kamirarin, and @kuumbalynx. Turtle Island Muslims is a Facebook group for and by Native Muslims.
By supporting campaign highlighting the importance of replacing Columbus Day with Indigenous People Day of Action and Reflection
Raise money to support Native Muslims delegations to #SupportStandingRock through the LaunchGood crowdfund.
On Monday September 19th, MuslimARC organized our first national call in for #SupportStandingRock. Nearly 60 Muslims from across the country joined the call. That call listed practical items that we can take as individuals and the community. As Leslie points out, "This kind of attention is a starting point." In truth, it was, on October 3rd, MuslimARC organized second national call in, with Indigenous Muslims Leslie Henderson Oaxaca and LaTanya Barlow and Mexica activist, Naui Ocelotl Huizilopochtli. They discussed solidarity efforts and the upcoming Muslim delegation to Sacred Stone Camp.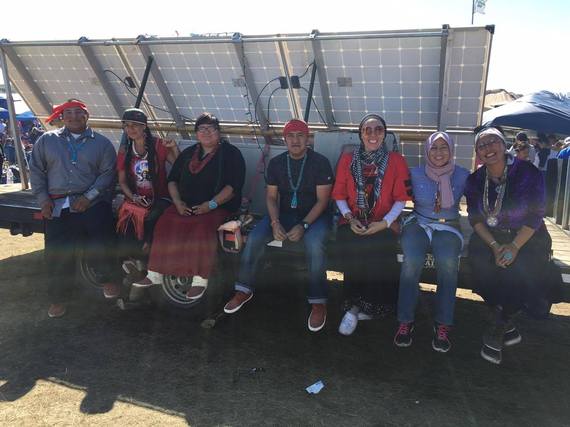 Many Native Muslims feel that their issues are largely ignored by Muslim Americans. Others warn of appropriation of Indigenous struggles, where so called allies benefit from co-opting the struggle. This is the case in immigrant rights. Native Americans have challenged the illegal immigration rhetoric, however Gyasi Ross points out that many have reduced Native Indians to memes in debates about Syrian refugees. These memes depict Native people as passive, welcoming European invasion when in reality there was resistance. Secondly, we must understand the Indigenous cause is global and that there are indigenous groups that are oppressed by Muslim majority states. When we come to Native people as allies, we must understand that their distrust comes from historical experience.With that in mind, for those of us with settler privilege, who have embraced the "we are all immigrants" rhetoric, we must come to terms with how we have benefitted from genocide against the indigenous people of this land. Other oppressed people were used settle stolen territory and displace Indigenous people, as was the case of Buffalo soldiers. We must constantly be vigilant about our intentions and center Native people. As Leslie points out, we must be ready to sacrifice. We have a long road in relationship building and getting to know each other, including our similarities and differences. This is an important turning point, so let us be on the right side of history. Supporting Standing Rocks means we are also supporting environmental and racial justice. We send our thoughts and prayers for this sacred struggle. We pledge to support this struggle with our bodies, words, and hearts.
Calling all HuffPost superfans!
Sign up for membership to become a founding member and help shape HuffPost's next chapter