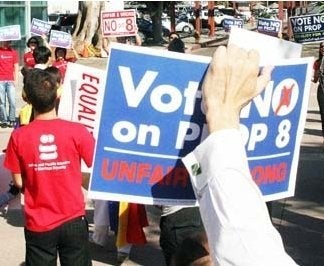 Prop 8 Hangs In Balance as GOP Lawyers Try To Influence Vote Count
Two days after the Nov. 4 elections, a congressional race in conservative Orange County, California that was dismissed by most observers as a lock for the GOP remains unresolved. Democratic challenger Bill Hedrick is down by 4,600 votes against 16-year incumbent Republican Ken Calvert in the 44th congressional district, but nearly 100,000 provisional and vote-by-mail absentee ballots have yet to be counted.
GOP lawyers are descending on registrars' offices in Orange and Riverside, the district's two counties, trying to influence the vote counting which began Thursday:
Rebecca Martine, Riverside County's chief deputy registrar, said there are 38,000 paper provisional ballots and 9,000 electronic provisional ballots to be counted.
This is in addition to approximately 50,000 absentee ballots still outstanding.
Calvert's team has apparently been having private conversations with the registrar's office in Riverside County, which was the last county in California to report its election results. There were numerous reports from Democratic Party officials, voters and even a poll worker in Riverside County that voters were "forced to use provisional ballots" or "denied ballots entirely" on Tuesday.
Hedrick's campaign today issued a call for all votes to be counted. "We are urging any voter within Riverside or Orange County who voted in the 44th congressional race and were issued a provisional ballot to contact the registrar of voters in their county," said Hedrick communications director Lori Vandermeir, "to demand their ballots be counted."

44th district incumbent Ken Calvert (left), and challenger Bill Hedrick (right)
The fate of California's anti-gay marriage Proposition 8 initiative is still up the air, with the measure's foes refusing to concede before all provisional and absentee ballots are counted. Voters in Riverside County approved the initiative by a heavy 64-36% margin, but provisional votes may skew differently.
If you'd like to ask elections officials to count all the provisional votes fairly, free from influence by GOP lawyers, call the Riverside County Registrar's office at (951) 486-7200, where you can leave a message for Registrar of Voters Barbara Dunmore.
The 44th congressional district includes San Clemente, home to Richard Nixon's Western White House. It is a GOP stronghold. The Hedrick-Calvert race was rated solid Republican by Charlie Cook's Political Report as of mid-October. In 2004, Bush beat Kerry in the district by 59-40%.
Calvert has been named one of the most corrupt members in Congress for three years running by the independent watch dog group Citizens for Responsibility and Ethics in Washington. He has served in Congress since 1993. Calvert outspent Hedrick in this race by more than 5-1, raising and spending nearly a million dollars to Hedrick's $150,000.
Despite voting with George W. Bush 94.4% of the time, this fall Calvert distributed mailers without a single mention that he belonged to the Republican party, proclaiming himself "An Independent Voice Working for You." The 44th district has seen a jump in voter registration this year, with Democrats outpacing Republicans, especially in Riverside County. It is the second-fastest growing district in California, adding almost 200,000 new residents since 2000, the majority of that growth in the district's Hispanic population.
The Riverside Press-Enterprise reports Hedrick got an assist from Obama voters:
Republicans still hold a slight edge over Democrats in the Riverside County portion of the district, with roughly 5,000 more registered GOP voters than Democrats. But Hedrick, perhaps aided by the excitement surrounding President-elect Barack Obama, was ahead by almost 6,000 votes in Riverside County, according to the Riverside County registrar of voters.
Voters wait in line in Riverside, CA on election day
National Journal's Hotline on Call blog agrees:
"Calvert...appears to not have taken his re-election seriously enough, and may have gotten tripped up by the big Obama-influenced turnout. An unlikely win by Hedrick would be the story of the cycle."
Although the Obama tsunami wiped out GOP incumbents across the country, this is one congressional contest no one predicted would become a cliffhanger. Help bring public pressure to bear in support of a fair counting of all the votes in this race, which is shaping up as a poster child for meaningful voting reform that takes us beyond the sloppy provisional ballot system. Any form of Election Day confusion that leaves 47,000 citizens in a single county unsure whether their votes will count is not what a true democracy looks like.
Erik Ose is a veteran of Democratic campaigns in North Carolina and blogs at The Latest Outrage.
Support HuffPost
The Stakes Have Never Been Higher
Popular in the Community