The Supreme Court on Tuesday voted 7-2 to uphold a 2016 Indiana abortion law requiring fetal remains be buried or cremated.
The court also refused to hear a question regarding the state's attempt to ban abortions based on a fetus's race, disability or gender. A lower court's decision striking down the controversial measure will remain in place.
The Supreme Court's ruling stems from a lawsuit filed in 2016 on behalf of Planned Parenthood of Indiana and Kentucky against the commissioner of the Indiana State Department of Health over House Enrolled Act 1337.
The bill was signed into law by then-Indiana Gov. Mike Pence (R) in March 2016 and includes several provisions related to abortion and perinatal hospice care ― two of which were challenged by Planned Parenthood and the American Civil Liberties Union.
The Supreme Court on Tuesday reversed a decision made in the U.S. Court of Appeals for the 7th Circuit, which ruled Indiana's law requiring fetal remains be buried or cremated as unconstitutional. In its decision, the Supreme Court said it has already acknowledged that states have a "legitimate interest in proper disposal of fetal remains."
Conservative Justice Clarence Thomas wrote a concurring opinion, stating simply that he "thought it could go without saying that nothing in the Constitution or any decision of this Court prevents a State from requiring abortion facilities to provide for the respectful treatment of human remains."
The court noted that Planned Parenthood did not argue that Indiana's fetal disposition measure imposes an "undue burden" on a woman's right to an abortion so therefore the undue burden test created by the 1973 Roe v. Wade decision was not applied to this case.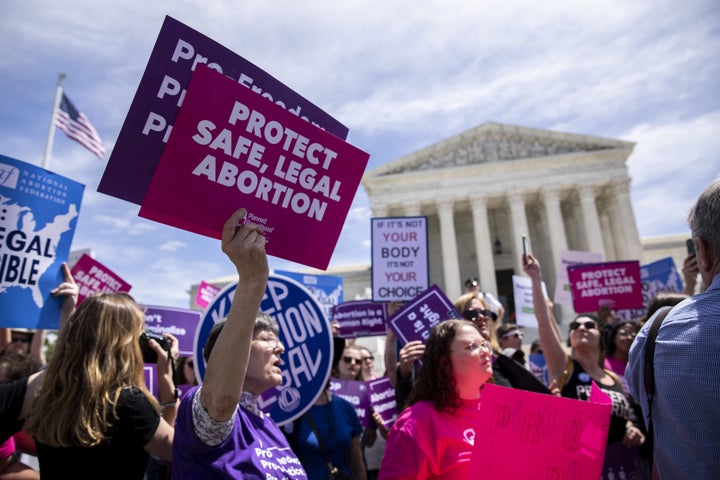 Thomas wrote that he joined the rest of the court in declining to hear the second question on the constitutionality of a ban on abortion based on fetal sex, disability or race, noting that the matter should first be addressed in other courts of appeal.
"The Court will soon need to confront the constitutionality of laws like Indiana's," Thomas wrote as part of his 20-page opinion, stating he believes abortion has the potential to "become a tool of eugenic manipulation."
Justice Ruth Bader Ginsburg and Justice Sonia Sotomayer were the dissenting voices in the court, writing they would not have taken up either question related to the law's challenged provisions. This in effect would have kept intact the 7th Circuit's ruling to strike down both measures.
In her opinion, Ginsburg wrote that she disagrees with reversing the 7th Circuit's decision on fetal burial and cremation and suggested Planned Parenthood did not need to provide evidence of undue burden for the court to consider whether it applied to this case.
"It is 'a waste of [the Court's] resources' to take up a case simply to say we are bound by a party's 'strategic litigation choice,'" she wrote.
The Supreme Court's decision on Tuesday comes amid a wave of restrictive abortion laws sweeping the country. Alabama Gov. Kay Ivey (R) signed into law earlier this month a near-total ban on abortion, including for victims of incest and rape.
The ACLU expressed mixed emotions over Tuesday's ruling, accusing the court of "letting another unwarranted restriction on abortion stand" by reversing the 7th Circuit's decision on the fetal disposition.
"Whether it's a total ban or a law designed to shut down clinics, politicians are lining up to decimate access to abortion," the civil rights advocacy group tweeted. "We will continue our fight to ensure that every person who needs an abortion can get one — without shame, stigma, or unnecessary obstacles."
Pence called the Supreme Court's decision to reverse the 7th Circuit's ruling on fetal disposition a "victory for life." He added that he's "hopeful" the court will protect fetuses against discrimination based on sex, race and disability. 
This has been updated throughout.
REAL LIFE. REAL NEWS. REAL VOICES.
Help us tell more of the stories that matter from voices that too often remain unheard.