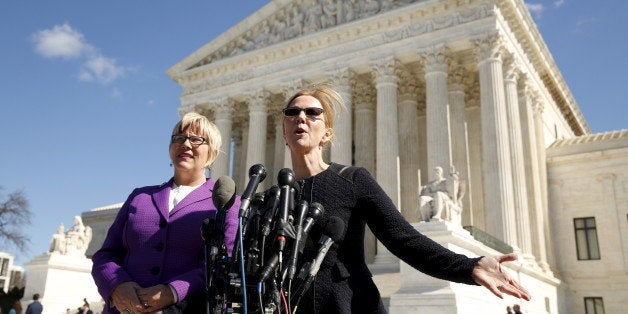 It is altogether fitting that the Supreme Court's term-end affirmation of women's constitutional right to abortion access in Whole Women's Health v. Hellerstadt came with a very brief but valuable separate concurring opinion by Justice Ruth Bader Ginsburg.
In less than two pages, the diminutive but fierce justice, a.k.a. The Notorious RBG, skewered as "beyond rational belief" the bogus health justification Texas proffered for the pair of clinic-closing abortion restrictions the Court rejected 5-3, and warned that similar TRAP laws (for Targeted Regulation of Abortion Providers) "that do little or nothing for health, but rather strew impediments to abortion" cannot pass judicial muster going forward.
Beyond providing a useful citation for future cases, and a possible deterrence to red-state politicians contemplating needless new abortion restrictions, Justice Ginsburg's concurrence also had symbolic resonance -- recalling, even without any explicit reference, her own visionary litigation at the ACLU's Women's Rights Project in the 1970s, before joining the bench. In successfully leading the charge to rescue abortion rights in Texas, and even more broadly, from extreme assaults nationwide, the savvy all-out effort helmed by Nancy Northup, head of the Center for Reproductive Rights, was a continuation, too rarely recognized, of Justice Ginsburg's early legacy of fighting for equality.
By now, much has been written about the disingenuous and hurtful provisions at issue in Whole Women's Health, and the majority opinion's constructive bolstering of the "undue burden" test for assessing the constitutionality of abortion restrictions, insisting that obstacles to abortion access have an actual, overriding health purpose that is rigorously scrutinized by courts for pretext. My limited purpose here is to salute the lawyers whose collective efforts helped bring about this victory.
That legal team, for the record, was led by Stephanie Toti, who ably argued the case in March before the justices, standing up impressively to intense questioning from members of the Court -- much of it unfriendly. She had key support from the Center's David Brown and J. Alexander Lawrence of Morrison & Foerster LLP, a private law firm, as well as from junior attorneys and veteran Center advocates like Janet Crepps, who has been engaged in the legal struggle for women's reproductive freedom for more than 30 years.
For her pre-Supreme Court work (which did not involve abortion), Justice Ginsburg has been justly celebrated and is thought of by many as the Thurgood Marshall of women's rights. The intrepid Ms. Northup, the strategic architect of the larger campaign around the Whole Women's Health case, and her cadre of dedicated and talented lawyers who handled the litigation day-by-day, should be recognized as part of that same civil rights and constitutional law tradition.
Despite sweeping vindication of abortion rights in the dry yet powerful majority opinion written by Justice Stephen Breyer, the favorable outcome was no slam-dunk. The abortion limits at issue had already spread to other states and there were sensitive decisions along the way about which terrible restrictions to challenge and at what stage. The positive trial court findings secured by the Center's lawyers had been rejected by a lower federal appeals court, which castigated the trial judge for daring to hold a four-day trial to independently assess the evidence. There were signals going both ways about where the Court's swing justice, Anthony Kennedy, might land when push-came-to-shove. Without his support, the case could not have been won.
Ultimately, Justice Kennedy did the right thing, persuaded to buck his conservative colleagues, it seems, by the overwhelming legal, medical, scientific and other evidence the Center for Reproductive Rights meticulously gathered and put before the Court and the public, unmasking the "health" restrictions for the fraud they were, and the physical and dignitary harm to women had they been allowed to take effect.
In all, the case is a triumph for honest judging and a freer and more just America. Something to celebrate over this long Fourth of July weekend.
Support HuffPost
The Stakes Have Never Been Higher
Popular in the Community